December 13, 2013 12:00 am
Leave your thoughts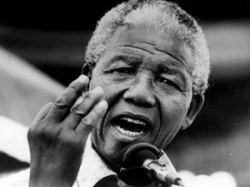 "I was made, by the law, a criminal, not because of what I had done, but because of what I stood for, because of what I thought, because of my conscience." (Statement during trial, 1962)
When I heard of the death of Nelson Mandela (age 95) I was transported back to another era and some uncomfortable images from the past. I could write an article on the history of apartheid and Mandela's imprisonment for 27 years on Robben Island but I will leave that to the official historians. I won't indulge in a flowery tribute, that will no doubt be covered by insincere politicians with selective memory loss that have forgotten that they didn't actually support Mandela and his cause at the time. The revisionists are out in force, rewriting their relationship to "Madiba".
Instead I will remind readers that although some of us in Britain supported Mandela with a passion we must not forget that we did so from a Britain itself riddled with prejudice and racial inequalities. Mandela was as much an inspiration to those of us who fought for change here as he was to his many supporters in South Africa
Although I had from an early age been curious about other races, in the 1970s this was stimulated initially through film as I was brought up in Hartlepool, a distinctly white town where I had few encounters with people of other ethnicity. I remember with fondness a happy but short-lived friendship with Rashmi of Indian origin (the only Asian girl in the entire school) who was whisked off to Darjeeling at the first signs of adolescent hormones. The only multicultural event of any note in my area was the annual Billingham folk festival where dancers from around the world gathered to perform once a year.
However by 1976 I was delving into race relations thanks to an enlightened teacher who taught her pupils to question and not be content with the status quo. Further awakened, I wept at the killing of Steve Bantu Biko in 1977 (my tribute to him here http://activist1.wordpress.com/2013/09/12/steve-bantu-biko-remembered-the-most-potent-weapon-of-the-oppressor-is-the-mind-of-the-oppressed/ I cried again to the song Brother Louie by Hot Chocolate which told of a white man falling in love with a black girl and the difficulties they faced' that was how it was then, a Britain of divisions. The words of the song reflective of those times:-
She was black as the night
Louie was whiter than white
Danger, danger when you taste brown sugar
Louie fell in love over night
Hey man, what's wrong with that?
Nothing bad, it was good
Louie had the best girl he could
When she took him home to meet her mama and papa
Louie knew just where he stood
Louie Louie Louie, Louie Louie Louie
Louie Louie Louie, Louie you're gonna cry
Britain in the '70s was a place where you could be evicted from a public building for being in an interracial relationship (I was told to leave a pub in no uncertain terms) ridiculed for being in the company of Coyde, a young black doctor. We could have stayed and protested but was it worth him risking a beating on a social night out?
In the '80s I moved to Newcastle, although a city, blacks were few and far between at the time. I shared a house with Nick and John. Nick was an aspiring guitarist who made the walls of the property shake with his medley of Jimmy Hendrix songs. He was just 17 and his claim to fame was being the " the only black kid in Ashington" or Ash-n-tn in local dialect. He took care of me for a few weeks after a bad car accident when I was temporarily immobile and used to confide the isolation he had felt living in rural Northumberland, like a fish out of water with no black role models locally to follow. He talked of Nelson Mandela who gave meaning to Nick's own personal experience of prejudice.
Then there was John, who wanted only to "blend in" but found it rather difficult being 6ft 8 and in his own words a "black beanpole" guaranteed to turn heads wherever he went. We would talk into the early hours of the morning about this wonderful society we would create where all were equal and black guys wouldn't constantly be apprehended on the street. This was a time of controversial "sus" law, a form of racial profiling where black men were regularly stopped and searched "on suspicion". We protested the sus law as anger grew at the unfairness of this legislation. This alongside the frustration of high unemployment in the black community culminated in the 1980s race riots in St Pauls, Bristol in 1980 and in Brixton, London, Toxteth, Liverpool, Hansdworth, Birmingham and Chapeltown, Leeds in 1981.
"In 1980, the House of Common Sub-Committee on Race Relations and Immigration began hearings into the law. In the case of the race riots, its alleged abuse was believed to be a contributory factor to those events. The sus law was repealed on 27 August 1981"
Read The Legacy of the Brixton Riots for more understanding of events http://news.bbc.co.uk/1/hi/uk/4854556.stm
The effects of racial discrimination reared its head again when I met a young black girl called Angie at a sociology class that same year. On the first day of the course I invited her to join me for lunch at the college cafeteria. I was stunned when she was abusive to me, I stood my ground and asked her what the hell she thought she was doing being so rude. She apologized and it turned out that on her own admission that Angie had become quite a bully due to constantly being racially abused at school.
We become good friends. I recall one summer Angie went away to Nigeria and when she returned did so with a new name, her African name, Ngozi Onwurah. She brought me back a beautiful brightly coloured local outfit and begged me to wear it when she wore hers. I needed no persuasion as it was lovely but I guess looking back a white girl wandering the streets of Newcastle in an African outfit might have seemed somewhat unusual.
To Ngozi as I now called her, the trip to Africa was about discovering her identity being from a Scottish mother and Nigerian father and wanting to share her happiness at discovering her heritage. She had been to a place where she felt a sense of "belonging". Ngozi attacked colonialism and adored Mandela and what he represented and introduced me to African writers. She went on to study film making Coffee Coloured Children in 1988. The following words based on personal experience of discrimination are a synopsis of the film:-
This lyrical, unsettling film conveys the experience of children of mixed racial heritage. Suffering the aggression of racial harassment, a young girl and her brother attempt to wash their skin white with scouring powder. Starkly emotional and visually compelling, this semi-autobiographical testimony to the profound internalized effects of racism and the struggle for self-definition and pride is a powerful catalyst for discussion.
http://www.wmm.com/filmcatalog/pages/c102.shtml
I was very proud of my old friend when she went on to became the first Black British female director of a feature film with Welcome II the Terrordome (1995). All her works were to feature strongly ethnicity, gender and Black History. Ngozi empowered herself through the screen.
The '80s was also a time where I began travelling round the world experiencing many cultures and became absorbed in personal activism via the anti-apartheid movement in Britain. When I heard of Mandela's death this week, I visualized a battered old briefcase with my "free Nelson Mandela" sticker on the side. I was back once again in the midst of a candle-lit vigil for his birthday and remembered the meetings we had with members of the African National Congress (ANC) and trade union leaders who guided us on boycotts of South African goods. I recalled too the jibes we got for supporting "terrorists". Check out article, The "terrorist" and the Tories: What did Nelson Mandela really think of Margaret Thatcher? http://www.independent.co.uk/news/world/politics/the-terrorist-and-the-tories-what-did-nelson-mandela-really-think-of-margaret-thatcher-8990872.html
Following Mandela's death, it felt important to reconnect to the past and I did so by playing anthems that symbolized the struggle for racial equality. Here I was back in time with Paul Simon's Homeless featuring LadySmith Black Mambazo and UB40″²s Sing our own Song from the 1988 Free Mandela Concert. Then on to the Specials ( a "two tone" band breaking down the walls of racial discrimination) singing Nelson Mandela. The words emersed me in old memories and the hopes we once had of a racially harmonized future. I remembered pure joy as I watched Mandela take his first steps to freedom, hand in hand with Winnie in 1990 and the elation when he was elected President of South Africa in 1994.

I needed to share the feelings at his passing and sent the Specials record to an old friend Jules of Ghanaian heritage that I had first met in 1981, now a professor at a Boston University who set up BEN, the first Black Environmental Network in the UK. Instinctively I knew Mandela's death would stir up emotions for him too. "Fabulous" he said, on receiving the song., "let's skype this week-end". Few words were needed as I saw his poignant blog, "Farewell Madiba, "you belong to the ages". The first paragraph read;

"I cannot even begin to fully assess the influence of Nelson Mandela on my life. From first hearing his name as a teenager to fighting against apartheid through disinvestment campaigns as a student at Durham University in the 1970s; from my outrage at the killing of Steve Biko in September 1977 to my exultation at Madiba's freedom from prison in February 1990; from my tears at his inauguration as President in May 1994 to my awe at his visit to Brixton, South London on July 12 1996 where, only feet away, I took this precious picture, Madiba has been a towering figure, a colossus in my life."

http://julianagyeman.com/2013/12/farewell-madiba-belong-ages/

I have focused on the influence of Mandela on black friends and myself in this article but he is also an inspiration for diverse communities around the globe. Although there have been many positive changes over the years regarding Britain's race relations, this is not a time to be complacent.

Muslims now increasingly suffer the brunt of surveillance, racial profiling and discrimination. They are placed on "no fly lists" and "kill lists". British citizen, Shaker Aamer and others languish in Guantanamo, detained without trial, cleared for release yet remain behind bars.

Only today the Independent has revealed that the Home Office faces investigation by the equalities watchdog over stop-and-check operations aimed at searching for illegal immigrants. Mohammad Butt, leader of Brent Council is calling the spot checks "intimidating" and "racist and divisive" as they are not for example targeting white Australians that might have overstayed visas only "black and Asian looking people" expected to prove their identity. These actions have been condemned by new Labour peer Doreen Lawrence whose son Stephen was murdered in a racist attack in 1993. (It was Nelson Mandela who was credited with starting the Stephen Lawrence justice campaign) http://www.independent.co.uk/news/uk/politics/exclusive-doreen-lawrence-pledges-to-condemn-racial-profiling-spot-checks-in-the-house-of-lords-8742754.html

Let us honour Mandela by reviving our awareness of ongoing discrimination and injustice. Madiba's passing must act as a wake-up call to continue our fight for equality for all.

Carol Anne Grayson is an independent writer/researcher on global health/human rights and is Executive Prod ucer of the Oscar nominated, Incident in New Baghdad . She is a Registered Mental Nurse with a Masters in Gender Culture and Development. Carol was awarded the ESRC, Michael Young Prize for Research 2009, and the COTT 'Action = Life' Human Rights Award' for "upholding truth and justice". She is also a survivor of US "collateral damage".

This article first appeared on http://activist1.wordpress.com/2013/12/09/nelson-mandela-lest-we-forget-madiba-was-supported-from-a-britain-which-is-still-riddled-with-prejudice-and-racial-inequalities/ and has been republished here with the author's kind permission

Tags: Global


Categorised in: Article

This post was written by Carol Anne Grayson