January 9, 2014 12:00 am
Leave your thoughts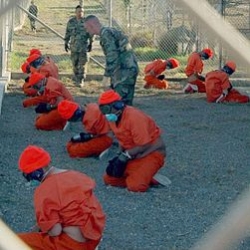 "If they (US officials) fail to take timely action then we warn them about its harsh retaliatory consequences" (Islamic Emirate)
Back in 2013 a number of human rights activists including myself joined a solidarity hunger strike with Guantanamo prisoners. It was led by Clive Stafford-Smith, lawyer at Reprieve representing Shaker Aamer, the only British detainee remaining in Guantanamo and CagePrisoners that advocate tirelessly for improved conditions and prisoner release. Shaker was in fact cleared for release some years back but still languishes in Gitmo. His family fight long and hard for the return of a dearly loved husband and father and Reprieve write that;
"Shaker was a hands-on dad. He changed nappies without complaint, and as time passed, the Aamer family grew and grew. Michael was born in 1999, Saif a year later and little Faris in 2002- after his father had been imprisoned. Shaker has never set eyes on his youngest son" http://www.reprieve.org.uk/cases/shakeraamer/

Clearly the hunger strike was a success in drawing more attention to conditions at Guantanamo. There was increased international press coverage which included poignant letters from Shaker and medical organizations and lawyers repeatedly highlighting a catalogue of human rights abuses on our screens. Brave individuals even volunteered to be force -fed on video to show the inhumanity of this process and the right for prisoners NOT to be forcefed http://www.youtube.com/watch?v=z6ACE-BBPRs
Sadly some US authorities threatened by the ongoing media exposure decided to clamp down even further producing statements saying details of hunger strikers would no longer be disclosed to the public. A White House press release (26th December 2013) showed the frustration of President Obama himself who appears to be continually blocked in his attempts to close down Guantanamo, it reads;
"since taking office, I have repeatedly called upon the Congress to work with my Administration to close the detention facility at Guantanamo Bay, Cuba. The continued operation of the facility weakens our national security by draining resources, damaging our relationships with key allies and partners, and emboldening violent extremists.
For the past several years, the Congress has enacted unwarranted and burdensome restrictions that have impeded my ability to transfer detainees from Guantanamo"
http://m.whitehouse.gov/the-press-office/2013/12/26/statement-president-hr-3304
The situation regarding Guantanamo detainees is also monitored closely by the Islamic Emirate (Afghan Taliban) who have just published the following article calling on human rights activists and media to "to raise their voices in defense of these oppressed innocent prisoners and to expose this unparalleled barbarity" see below:-
Guantanamo prisoners in critical condition due to hunger strike.
"Inmates inside the notorious American prison of Guantanamo have been on a hunger strike for the past twenty days. According to information, the prisoners have deprived themselves of every basic living need due to their absolute necessity from which some ill inmates are said to be in a life threatening condition. Inmates inside the notorious Guantanamo prison are being held in conditions which violate all international principles and norms. The prison is being run in such a state that the cruelty, savagery, barbarity and tragedies taking place against the inmates inside are being mostly kept secret from the public however latest information by some news outlets and Human Right workers suggest that for the past twenty days, the prisoners are spending time in a very depressing condition and if it continues much longer it can lead to a big humanitarian tragedy.
The inmates began their hunger strike due to the inhumane treatment by their American captors, physical and psychological torture as well as insults towards the sanctities of Muslims. Instead of having respect towards the hunger strike and accepting the legal demands of the inmates, their American captors have done the opposite and are treating them in a manner to try and break their spirits of ever again carrying out such actions in the future therefore it must be stated that this reaction by the American officials violates every humanitarian and established international principle.
The Islamic Emirate of Afghanistan strongly urges the American officials to stop their savage treatment towards the oppressed prisoners, to accept their legitimate demands in order to end this hunger strike and stop a humanitarian disaster from taking place. If they fail to take timely action then we warn them about its harsh retaliatory consequences. The Islamic Emirate also calls upon all the Humanitarian organizations as well as media outlets to raise their voices in defense of these oppressed innocent prisoners and to expose this unparalleled barbarity."
The spokesman of Islamic Emirate of Afghanistan
Zabihullah Mujahid
29/02/1435 Hijri Lunar
11/10/1392 Hijri Solar 01/01/2014 Gregorian
This year will be key regarding the war in Afghanistan and it is time to resurrect discussion on prisoner exchange. A conversation this week with a well known Pakistan journalist (whose name I have withheld due to security reasons) led me to question also what progress has been made regarding US soldier Bowe Bergdahl. His captors were seeking release of prisoners from Guantanamo, an update as to present situation is essential. Bergdahl is still (as far as we are aware) held captive by insurgents, was originally thought to have been taken by Haqqani network in Afghanistan and probably now in Pakistan.
Robert Bergdahl, Bowe's father waits for news. He remains hopeful and is now learning Pashto and raising money to plant trees destroyed during years of conflict in Afghanistan. However the following comment from a journalist with close ties to Pakistan's Tribal Areas where Bowe is believed to he held at the present time makes uncomfortable reading and could be a gamechanger, he claims;
"an airstrike was launched to bomb the area where he (Bergdahl) was kept. To kill them all'. His captors died and surprisingly Bowe survived. He ran away but could not track the path to break lose and after 3 to 4 days of wandering in plains and jungle he was caught again by Taliban'. So, he is still there .. bad luck for him. His (alleged) captor was Mullah Sangeen Zadran who was killed in a drone strike around 2 months back."
The following article by Rob Crilly, Telegraph details the drone strike which killed Zadran in September 3013http://www.telegraph.co.uk/news/worldnews/asia/pakistan/10291144/Pakistan-Drones-kill-senior-militant-commander-who-appeared-in-video-with-kidnapped-US-soldier.html
I understand that Bergdal is being treated humanely as a prisoner of war according to Geneva Convention and I was informed by Taliban a few months ago that he is well and in a "safe house". The question I feel compelled to ask however is, did US intend to take out Bergdahl through a drone strike as they have done with so many others? Let's face it, his capture remains an embarrassment to the US government and they have repeatedly stated they don't negotiate with "terrorists". Droning Bergdahl may be seen by US as a solution to the problem'
Bergdahl is allegedly moved around for safety between groups. activists call on the US to cease drone strikes that are killing Pakistanis and putting an American citizen at risk also. The US which is viewed by many around the world to be a "terrorist state" must surely now drop its hypocrisy and at this crucial time rethink its stance on prisoner exchange.
In the UK in 2014, "close Guantanamo" and anti-drone protests continue. On the 11th January campaigners will gather in Trafalgar Square to mark 12 years since the opening of Guantanamo and call once again for its closure. Protests and legal action will be ongoing until we see results http://londonguantanamocampaign.blogspot.co.uk/2013/12/london-marks-12- years-of-guantanamo-bay.html
Carol Anne Grayson is an independent writer/researcher on global health/human rights and is Executive Producer of the Oscar nominated, Incident in New Baghdad. She is a Registered Mental Nurse with a Masters in Gender Culture and Development. Carol was awarded the ESRC, Michael Young Prize for Research 2009, and the COTT 'Action = Life' Human Rights Award' for "upholding truth and justice". She is also a survivor of US "collateral damage".

This article first appeared on http://activist1.wordpress.com/2014/01/02/2014-activists-and-afghan-taliban-slate-guantanamo-and-did-us-attempt-to-drone-bowe-bergdahl/ and is reprinted here with kind permission from the author

Tags: Global


Categorised in: Article

This post was written by Carol Anne Grayson