February 11, 2014 12:00 am
Leave your thoughts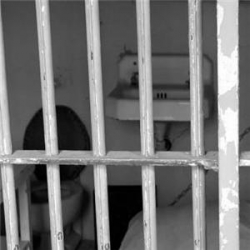 by Carol Anne Grayson
Rolf Kaestel is serving a life sentence without parole for robbing a taco stand with a toy water pistol of $264 in 1981. (The money was returned)
Most of us have read how difficult it has been for whistleblowers Julian Assange and Edward Snowdon since exposing state secrets, now imagine blowing the whistle from behind bars of one of America's most notorious penitentiaries. That is exactly what Rolf Kaestal did to assist film maker Kelly Duda, giving an interview for his documentaryFactor 8, The Arkansas Prison Blood Scandal. Rolf exposed serious US human rights violations and spoke out in support of thousands of haemophiliacs worldwide that has receiv ed contaminated prison plasma as "treatment" for their bleeding disorder where the blood does not clot.
What haemophiliacs didn't know at that time of taking the product was the fact that prisoners selling their blood were deliberately injected with deadly viruses including hepatitis as part of unethical prison experimentation which violated the Nuremburg Code. In exchange inmates received a small reduction of their prison sentence. This was just one of a number of gross safety violations.
Arksansas had a long history of alleged torture and suspicious deaths of inmates and was the subject of a 1980s film Beubaker starring Robert Redford based upon the real life attempts of Warden Thomas Murton to reform the Arkansas prison system. After uncovering widespread corruption at Cummins prison, the powers that be sent Murton packing, just like they did to Rolf following his interview with Kelly Duda. The whistleblower prisoner was quickly relocated against his will to another state penitentiary to serve out his life sentence.
Arkansas Penitentiary has a long and dark history with some prisoners allegedly "relocated" beneath the earth. The Tucker Telephone, an instrument of torture which was applied to the genitals of prisoners to administer an electric shock was actually invented at Arkansas and later an updated version was used by American interrogators at Abu Ghraib. How such a place could have been used for collection of plasma is beyond comprehension.
What Rolf helped to expose was that prisoners glowing yellow with hepatitis were able to sell their blood to US pharmaceutical companies, this commodity was made into factor concentrate products and shipped to hospitals around the globe. Names of infected prisoners were falsified, substituted by using those from a local Arkansas telephone directory to avoid being disqualified from the programme.
Many prisoners were known to use drugs and to have shared needles with some having unprotected anal sex leaving inmates open to HIV infection alongside hepatitis. Once infected this pool of "blood cows" would remain infective to others for years to come. The blood coming from Arkansas was a cesspit of disease and was to kill many recipients, with governments and plasma companies involved in cover-ups that are still ongoing. On the following link, Rolf speaks on homosexual prostitution in Arkansas https://www.youtube.com/watch?v=XupuDdVadzw
One person that knew what was going on was then Governor of Arkansas, Bill Clinton whose campaign finance manager Leonard Dunn held the lucrative contract for the plasma centre. The plasma centre had been closed down by the Food and Drug Administration, FDA for serious safety violations but Clinton later got it up and running again in a classic case of putting profit before safety. This decision helps spread HIV and hepatitis to many countries. Ironically Clinton now tours the world speaking on AIDs prevention, a fact that would make haemophiliacs turn in their grave.
Reviewing Kelly's documentary, Steve Fowler wrote;
"Duda makes it quite clear that knowledge of the contamination was apparent and yet no heads rolled. The violent history of the prison is also laid bare, which was the most shocking part of the documentary, as it seems the precedent of blood taking was begun with a series of scientific experiments performed at the inmates expense, even death, in the early sixties. This was harrowing to say the least.
The documentary then reveals that when the scandal broke in Canada, the blood prison system was shut down, only to be reopened under Bill Clinton's governorship. This is the really world scale impact of the documentary, it seems Clinton appointed friends to oversee the prison blood business, as the levels of money involved seemed to precipitate his aiding of the business remaining in existence, despite the previous contaminations"
Protesting the use of prison blood made into plasma products which killed thousands around the world
It is not difficult to see why some would want to ensure Rolf who is bright, articulate and forthcoming on the details would never be released. His sentence is one of the most severe ever handed down in Arkansas for a crime that did not involve physical violence.
On the Arkansas Department of Correction website, prison history section, there is a key omission, the years between 1976 to 2000 are missing, with all mention of the plasma programme wiped from history.
Rolf's punishment outweighs the crime. He is now being penalized as a living witness to the human rights violations of a dangerous and corrupt prison system. It is time for Rolf to be set free.
Film maker Kelly Duda writes about his contact with Rolf
Kelly quotes Fyodor Dostoevsky ""You can judge a society by how well it treats its prisoners."

In 1999, shortly after I interviewed inmate Rolf Kaestel about the problems with the plasma program for my film FACTOR 8: THE ARKANSAS PRISON BLOOD SCANDAL, he was whisked away involuntarily to Utah, where he was immediately put under 23-hour lock down at the Draper Unit of the Utah Department of Correction. Twenty years of Rolf's belongings were also "lost."

I spoke with an assistant attorney general in Arkansas who confirmed for me at the time that the transfer was indeed a retaliatory action against Rolf for speaking out.

I have known Rolf Kaestel for 15 years, and if there were ever a successfully rehabilitated man, he is the one. If rehabilitation remains even a snippet of consideration in Arkansas's penal system, Rolf Kaestel must see freedom. It's long overdue.

Rolf has served 33 years of a life sentence for robbing $264 from a taco stand with a toy water pistol in 1981.

That's more than three decades since his offense. Many child rapists and murderers have served less time. In fact, the last governor, Mike Huckabee granted clemency to 12 murderers, despite the protests of victims' families and prosecuting attorneys – yet Rolf's requests continue to be denied. Why?

Even the victim in Rolf's case, who wasn't harmed in any way, has come out strongly in favor of Rolf's release – even saying that he believes it is an injustice for Rolf Kaestel to remain behind bars. Again, WHY is he still in prison?

Could it have anything to do with Rolf's decision years ago after he had changed his life to try and help reform the prison system and fight brutality and corruption where ever he saw it?

With more than two million people imprisoned in the United States, and overcrowding so serious in Arkansas that criminals are being let out on a daily basis, I ask you again, why is Rolf not free?

The jurors who sentenced Rolf to life were unaware that the State of Arkansas does not allow parole on a life sentence. Jurors who were later contacted stated that they would not have given him a life sentence had they known that he would be forever ineligible for parole. (Although why the jury thought a life sentence with parole would have been justified is still disturbing.) If Rolf's offense had been a federal crime – let's say in a bank hold-up instead – he would not have received such a harsh sentence and would have been out years ago.

Rolf is the only man in the history of the state of Arkansas to be given a life sentence for a toy gun robbery. (A robbery in which no one was hurt and the money was returned. In fact, he never even pointed the water gun at anyone.) If his crime had been committed in Utah where he is serving out his sentence (while still considered an Arkansas prisoner), he could not have been sentenced to life for such an offense. If such a crime were committed today in Arkansas a life sentence would not be imposed.

In 2013, both the Arkansas Parole Board & the Utah Board of Pardons and Parole recommended that Rolf be released. Arkansas State Representative Warwick Sabin advocates Rolf's release. Doctors at the Arkansas Department of Correction, in separate evaluations, deemed him rehabilitated years ago. Yet Governor Beebe decided to sidestep the issue by recently taking "no action" on Kaestel's clemency application.

Rolf is a model prisoner. He worked for many years as a certified paralegal for a Little Rock law firm while he was imprisoned in Arkansas. In fact, attorney Jim Clouette acknowledged that Rolf's excellent work writing briefs for over fifteen years increased the law firm's stature with the Court of Appeals in the Arkansas State Supreme Court.

Rolf is a principled man, whose continued positive outlook on life and dedication to the legal and justice system, despite his harsh sentence, continues to inspire me. Knowing him gives me hope. ' But for him, hope is running out'. After all, Arkansas is the home of the "Brubaker" scandal, the West Memphis Three, and now this.

As long as the powers that be in Arkansas refuse to release Rolf Kaestel, justice plays no part in the "natural state." Only corruption, cronyism, politics and lip service.

Links

Letters: Excessive sentences not justice http://swtimes.com/sections/opinion/how-you-see-it/letters-excessive-sentences-not-justice.html

Carol Anne Grayson is an independent writer/researcher on global health/human rights and is Executive Producer of the Oscar nominated, Incident in New Baghdad. She is a Registered Mental Nurse with a Masters in Gender Culture and Development. Carol was awarded the ESRC, Michael Young Prize for Research 2009, and the COTT 'Action = Life' Human Rights Award' for "upholding truth and justice". She is also a survivor of US "collateral damage".

This article first appeared on http://activist1.wordpress.com and was reprinted here with kind permission of the author

Tags: North America


Categorised in: Article

This post was written by Carol Anne Grayson