April 23, 2014 12:00 am
Leave your thoughts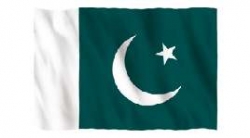 Amina Masood Janjua campaigns from a wheelchair, the stress of missing loved ones is taking its toll on families
Amina Masood Janjua at Defence of Human Rights (DHR) Pakistan expressed her disillusionment once again at the failure of the state and courts to adequately address the issue of missing persons. In a poignant message to supporters on April 17th, Amina, whose own husband Masood became another "enforced disappearance" in 2005 wrote, "my case is fixed again today, kindly pray and issue appeal and support message to the whole world to support me in the struggle against enforced disappearance, I am risking my life for it."
What is evident is that "enforced disappearances" and extrajudicial killings are hitting a number of very diverse communities including journalists, political parties and the Taliban. There is very little in the way of independent inquiries, prosecutions and accountability. Many accuse state agencies of being implicated in disappearances and showing a complete disregard for the rule of law. Families are often afraid to report cases for fear of backlash and legal cases, if established, can linger on for years without producing results. Missing persons cases are reaching epidemic proportions in Pakistan and anger is increasing day by day. Why should the state expect families to uphold the law when the state continually violates it?
This was a week that saw the Supreme Court shocked as another missing person's case against army officials involving the illegal removal of 35 undeclared inmates from an internment camp in Malakand two years ago was effectively closed down by the Khyber- Pakhtunkhwa administration on the request of military authorities. Justice Jawwad S Khawaja questioned the decision to move the case to the Army. The Express Tribune reported that the bench would take up the case next week and if the law does not permit the transfer of military officials' cases then it would deliver a judgment in this regard.
Ansar Burney says "prosecute detainees or release them"
Human rights activist Ansar Burney was also hot on the trail of missing persons urging federal and Sindh governments to disclose whereabouts and produce records of nearly 14,000 individuals arrested in the last seven months during operations on Karachi. Burney highlighted gross human rights violations as reported by Gulf News stating that those detained must either be produced in court or set free. There appears to be no consideration regarding the families of those missing that are left traumatised for long periods unable to determine the location and health of their loved ones, their lives on hold, fighting for every scrap of information that might determine if their relatives are alive or dead.
1st March 2014 Islamabad, DHR team greet Mama Qadeer and supporters on their Long March to highlight the disappeared of Balochistan
The International Voice for Baloch Missing Persons have repeatedly raised concerns regarding missing persons. On 17th April they reported the case of Naseem Jan Mohammad whose body was discovered on Pasni Road, a few kilometres from Turbat showing signs of torture. He had disappeared four days earlier, others are still missing. One acquaintance told Dawn, "I live and work here but I'm afraid to even go to market."
Back in 2013, The Voice for Baloch Missing Persons (VBMP) launched the first stage of a 730 km "long march" from Quetta to Karachi led by Chairman Nasrullah Baloch and Mama Qadeer Baloch to press the authorities for recovery of missing Baloch political workers. Those participating included children of the disappeared. The second phase of the Long March was from Karachi to Islamabad, a distance of over 1,400 kms. The story of this initiative for justice can be read in my earlier article at the following link:
http://activist1.wordpress.com/2014/02/13/long-march-to-protest-state-terrorism-and-the-disappeared-of-balochistan/
Pakistan Taliban (Mohmand Agency) have repeatedly called for an end to torture in custody and extra judicial killings
The Pakistan Tehrik-i- Taliban (TTP) have also highlighted the issue of missing persons by alleging torture of individuals in state custody and extra-judicial killings which cast a shadow over peace talks with the government. Taliban members claimed these actions continued during the recent ceasefire. Omar Khalid al Khurasani (Mohmand Agency TTP) claimed earlier killing of Frontier Corps personnel was in retaliation for the killing of their members by security forces and executions in custody, see my earlier article and letter at the following link:
http://londonprogressivejournal.com/article/view/1757/pakistan-warning-letter-on-human-rights-abuses-in-state-custody-was-ignored-taliban-kill-fc-men-in-retaliation
MQM anger as bodies of missing workers, Mohammad Ali and Syed Kashif Bukhari (alias Qasim Ali) are found trussed up near Korangi Creek, Karachi, Friday (photo Dawn News)
Pakistan's Muttahida Qaumi Movement (MQM) took to the streets over the disappearance of their party activists. On Thursday, members gathered outside Karachi Press Club demanding "that authorities return its 45 missing activists and take judicial action against plain clothed officials who allegedly killed 25 workers of the party in extra judicial executions." Gulf News reported the concerns of Dr Farooq Sattar, senior leader of MQM stating,
"The MQM leader warned that if the extra judicial killings and kidnapping of MQM workers did not stop, they would hold a people's own court and give out their own verdicts against the culprits.
He asked the Supreme Court of Pakistan and Sindh High Court to take action and the government to constitute an independent judicial commission to probe rampant extra-judicial arrests of the party workers.
Sattar said about 300 MQM workers were assassinated in recent months, including 100 during the ongoing operation by law enforcement agencies.
He further said 25 party workers had been unlawfully gunned down by law enforcement officers"
http://gulfnews.com/news/world/pakistan/pakistani-party-stages-protest-over-missing-workers-1.1321003
Amina Masood Janua sent me the following report highlighting the lack of progress regarding her husband's case and appealed to international human rights activists to support those fighting for justice for the disappeared of Pakistan.
Justice for Masood Janjua
A Report by Defence of Human Rights Pakistan by Saddar Rawalpindi (12th April, 2014):

Amina Janjua says that I am heartbroken because of the last hearing of the Supreme Court in my husband's case on 31st March 2014.

Lately It is observed that the attitude of the Supreme Court towards cases of enforced disappearance has somewhat changed. A case fixed on 9th of April 2014 after 8 months wait was dismissed at once on its very first hearing without letting anyone speak. Another case presented in the Court of Justice Anwer Zaheer Jamali was simply adjourned without any date given. All the high profile old cases are gradually being either shifted to the Commission of Inquiry or disposed of.

The prime example of this attitude of the Court was visible in the case of Masood Janjua missing since 2005. The statement of Dr Imran Munir, who has seen Masood Janjua in secret detention, was to be recorded on 31st March 2014.

Amina Janjua stated with a sigh that, "After the order dated 13th March 2014 was passed for recording of [a] video link statement of Masood's star witness, Dr Imran Munir, my hopes were becoming higher and higher expecting that my husband will be home any day. In the same hearing Justice Khawaja remarked that this case was a great trial for the family of Masood and needed a closure."

"Since long the case of my husband was being heard in Bench No 3 under the leadership of Justice Jawad S.Khawaja. It was slowly and gradually moving towards the right direction", told Amina Masood Janjua.

However Amina was alarmed when the composition of the bench was changed at the eleventh hour. Justice Jawad S. Khawaja, Justice Iqbal Hameed-ur-Rehman and Justice Musheer Alam were replaced by Justice Anwar Zaheer Jamali, Justice Saqib Nisar and Justice Dost Muhammad Khan.

Amina was shocked to the point of bewilderment when during the proceedings Justice Anwer Zaheer Jamali addressed her and said, "How far do we go for you? We have already done enough. Now there is a danger of confrontation of the (state) institutions because of your case."

Amina says that it was shocking to hear such comments from a Judge of the same judiciary which was reinstated the two and half year long struggle and sacrifice of the whole Pakistani nation. These remarks raise a lot of questions and serious concerns. Is the court under so much pressure from the establishment that they are unable to deliver JUSTICE . . . ? Can justice be selective?

The remarks, uttered in an unintentional haste were not only heartbreaking but also were a blow to the issue of enforced disappearances. It was a rather rude awakening from the myth of free and independent judiciary in Pakistan. Amina said, "Neither I nor any other victims of enforced disappearance ever wanted a clash of institutions but do they want us to remain quiet over all the illegal activities and atrocities done to us? We cannot and will not accept it anyway".

The new bench had no insight into the 9 year old case. It looked as if a stage was set and everything was done deliberately. It was already in the knowledge of the Supreme Court through an email sent by Dr. Imran Munir to Additional Attorney General Mirza Razzaq stating that he (Dr Imran Munir) will only give direct statement to Supreme Court of Pakistan and not to any other government official. Even then the Superintendent of Police, Haroon Joya, went to Sri Lanka pretending to show efficiency but in reality enjoying a leisure trip. In fact his act was extremely irresponsible, wasting away the hard earned tax money of the people of Pakistan.

The response of UNHCR communicated to the Court by Additional Attorney General was visibly incorrect and misleading and had no logical relation to the earlier email of Dr Imran Munir but the Court closed its eyes and paid no heed to the reality. It seemed that the same negative elements in the security agencies which once sabotaged the whole judiciary were actively taking control of the Supreme Court again. The Court simply ignored the decision of the previous bench [to provide a] video link statement. The judge insisted that if any more witness statement or cross examination is to take place regarding Masood's case, it should be conducted in the Commission of Inquiry formed by [the] Government of Pakistan, a forum which is simply there to prolong the cases and protect the perpetrators of enforced disappearance.

It must be noted that Amina Janjua attends Court hearings on daily basis where she has moved nearly 70 petitions and represented over 750 cases of enforced disappearances. She has appeared before every judge of the Supreme Court of Pakistan in the last nine years.

Under these bleak circumstances Amina is waiting for a response from her supporters all over the world who believe in justice, the rule of law and human rights. Determined to continue her struggle for the release of her husband and all the disappeared come what may she says, "it would be an honour to die for my cause, I will never rest unless I will find my Love"




Carol Anne Grayson is an independent writer/researcher on global health/human rights and is Executive Producer of the Oscar nominated, Incident in New Baghdad . She is a Registered Mental Nurse with a Masters in Gender Culture and Development. Carol was awarded the ESRC, Michael Young Prize for Research 2009, and the COTT 'Action = Life' Human Rights Award' for "upholding truth and justice". She is also a survivor of US "collateral damage".

This article was first published at http://activist1.wordpress.com/2014/04/20/pakistans-shame-missing-persons-at-epidemic-proportions-campaigners-call-for-urgent-action/

Tags: Middle-East


Categorised in: Article

This post was written by Carol Anne Grayson