May 7, 2014 12:00 am
Leave your thoughts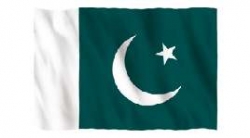 Police rough handling of peaceful protesters for missing persons
The day started out with hope as Amina Masood Janjua, Defence of Human Rights (DHR), rallied the relatives of "missing persons" in Pakistan. Amina's own husband was "disappeared" she believes by state authorities back in 2005 as part of the War on Terror which has allegedly targeted many ordinary civilians caught up in the ongoing clampdown. This brave lady has since devoted all her time to campaigning for Masood's return. Her story can be read on the following link,
http://www.andyworthington.co.uk/2011/03/31/amina-masood-janjua-champion-of-pakistans-disappeared-tells-her-story-to-cageprisoners/
A message on Mrs Janjua's Facebook read that supporters were about to hold "the largest ever protest today at D-Chowk Islamabad" with families from all across Pakistan participating in it with the hope that their loved ones would soon be united with them.
The day starts with optimism
It wasn't long however before the atmosphere darkened with a photo posted of a long line of police facing the protesters. Events took a turn for the worse with the next post reading, "police have been very brutal with the families shelling them with gas. They have taken all the rest into custody including Mrs Amina Janjua. We need your support more than ever. This was a totally peaceful protest."
Police armed with batons line up for action
Soon people were calling out to the international community pleading "help us" as 7 men and 4 women were taken into custody by the federal police, including Mrs. Amina Janjua. The protesters were said to be "badly tortured and injured. They are bleeding from heads and noses. Is this what a democratic government is supposed to do with women and children?"
Trouble broke out as campaigners headed towards Parliament House in Islamabad's Red Zone with DAWN media reporting that,
"Police resorted to baton-charging and aerial firing and also fired tear gas canisters to disperse the demonstrators as a result of which several persons fell unconscious.
The resultant clash also left six police personnel, including two women and four men, wounded"
Videos soon appeared of scuffles as police tried to stop reporters filming and can be viewed on DAWN website
http://www.dawn.com/news/1102844/missing-persons-protesters-tear-gassed-in-islamabad
Mrs Janjua is seen surrounded by police, grabbed by officers which led to her scarf being dislodged and then roughly manhandled, (lifted off her feet at one point) pushed and dragged into a waiting van.
A distressed Mrs Janjua is led away, friends pray for her safe return
Dr Shireen Mazari of Pakistan Tehreek -e-Insaf (PTI) condemned the violence led by the police in Islamabad releasing the following;
PTI STATEMENT
"Central Information Secretary PTI, Shireen Mazari, today condemned the violence unleashed by the police in Islamabad against the peaceful protest and dharna by families of Missing Persons. She said it was brutal and inhumane, and against the constitutional and democratic right of people to protest, for the government to have allowed such a police attack. These protestors included women and children and all were unarmed. The use of lathis and shelling by the police was completely unjustified and those who ordered this brutal action should be held accountable and punished.
She said it was a shameful reflection on the government to see Pakistani citizens, including women and media personnel being brutalised by the law enforcers who should be protecting these innocent citizens. Mazari added that brutalising these protesting unarmed citizens and the media also for merely covering the protest was unacceptable and reflected a fascist governmental streak.
Ironically those in government today used to visit the Missing Persons camps and offer support when they were not in power, today they all stand exposed as only seeking cheap popularity.
Mazari said PTI was the first political party that raised its voice in support of Missing Persons and their families for seeking justice and for Dr Afia Siddiqui. "We believe in rule of law and justice and can never support citizens being picked up and made to 'disappear' with no charges levelled and no legal recourse to a fair trial", Mazari added."
Campaigners continue in the dark
Protesters continued to protest into the night stating "t he survivors of the missing persons protest are still sitting at D – Chowk Islamabad. They are wounded, bleeding, broken but not hopeless." Their ordeal continued as the families sent a message to whoever would listen saying,
"The Islamabad administration has switched off the street lights in order to disperse the missing persons families. The situation cannot be more horrifying for the women and children of this protest. We are also receiving news that police is not letting medical attention reach the injured and wounded. Is this the "PAK SAR ZAMEEN SHAAD BAAD" we live in? Is this what the government of this nation has come down to? We demand justice"
Throughout the day and into the night international human rights campaigners took to twitter to share photos and object to the brutal treatment of families already suffering great anguish. A phone message was also left to alert the International Secretariat at Amnesty International with tweets to Human Rights Watch. Earlier in the week Mrs Janjua had contacted me stating, "my case is fixed again today, kindly pray and issue appeal and support message to the whole world to support me in the struggle against enforced disappearance, I am risking my life for it."
END
Prime Minister Nawaz Sharif called on authorities to release protesters at the earliest opportunity and investigate their treatment. Mrs Janjua bravely returned to the missing persons gathering but was said to be "badly hurt in the shoulders, back and arms." However her hope was "higher than ever" determined to continue with this issue to its end.
Bruised but spirit not broken

The final message from protesters read,

As the dark night falls the missing persons families pray for one last time. Under the shadow of unnumbered police force, the families set their procession with a strong will and hope to be reunited with their loved ones very very soon.

"Justice delayed is justice denied"



Carol Anne Grayson is an independent writer/researcher on global health/human rights and is Executive Producer of the Oscar nominated, Incident in New Baghdad . She is a Registered Mental Nurse with a Masters in Gender Culture and Development. Carol was awarded the ESRC, Michael Young Prize for Research 2009, and the COTT 'Action = Life' Human Rights Award' for "upholding truth and justice". She is also a survivor of US "collateral damage".

This article first appeared at http://activist1.wordpress.com/2014/04/28/pakistan-tear-gassed-baton-charged-and-detained-for-peaceful-protest-on-missing-persons/

Tags: Middle-East


Categorised in: Article

This post was written by Carol Anne Grayson