June 2, 2014 12:42 am
Leave your thoughts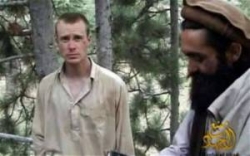 In a long awaited move "the American prisoner" Sgt Bowe Bergdahl (28) was finally released after several attempts in exchange for the following 5 Taliban prisoners;
Abdul Haq Wasiq, who served as the Taliban deputy minister of intelligence.
Mullah Norullah Nori, a senior Taliban commander in the northern city of Mazar-e-Sharif when the Taliban fought U.S. forces in late 2001.
Khairullah Khairkhwa, who served in various Taliban positions including interior minister and had direct ties to Taliban leader Mullah Omar and Osama bin Laden.
Mohammed Nabi, who served as chief of security for the Taliban in Qalat, Afghanistan.
Mohammad Fazl, whom Human Rights Watch says could be prosecuted for war crimes for presiding over the mass killing of Shiite Muslims in Afghanistan in 2000 and 2001 as the Taliban sought to consolidate their control over the country.
Bowe was captured on June 30th 2009, thought to be held prisoner by the Haqqani network and shifted back and forth across the border with Afghanistan/Pakistan. Several videos were released during his captivity where Bowe outlines life as a "valued guest" of the Taliban. He stresses that he is being treated according to Islamic law and is critical of US wars and occupation highlighting the impact on civilians, see my earlier article:
Bowe Bergdahl, US soldier captured by the Taliban, a reflection on his words and time for prisoner exchange,
http://activist1.wordpress.com/2014/02/12/bowe-bergdahl-us-soldier-captured-by-taliban-a-reflection-on-his-words-and-time-for-prisoner-exchange/
Efforts to secure the prisoner exchange were negotiated between US officials and the Taliban through a third party in Qatar. Bowe's release came in Khost province where 18 Taliban fighters delivered their prisoner to Special Operations Forces in a peaceful encounter lasting a few minutes.
Bowe will pass through Bagram air base in Afghanistan, then on to the US military hospital in Landstuhl, Germany and is likely to be reunited with his family at Brooke Army Medical Center in San Antonio, where he will undergo a thorough medical screening and debriefing by intelligence officials.
In discussions with some who served with Bowe, there was a call for aggressive military operations to rescue him. I recall Ethan McCord, a soldier who served and featured in the documentary "Incident in New Baghdad", supporting me to try to persuade them to take a message back to superiors that this was not the best approach, would antagonise the Taliban and risk lives.
My own direct dialogue with the Taliban regarding Bowe began several months ago when I was reassured that Bowe was in good health and keeping occupied and that the Taliban would do what they could to assist me. My own fears regarding negotiations were allayed by Robert Bergdahl, Bowe's father, who told me, "don't worry about getting our hopes up. We have been down this road for so long, we are prepared for everything (and I mean the very worst)."
The most recent effort to work towards his release was communication on the 25th April in the form of a series of questions from myself forwarded by a senior and well respected Taliban commander (who cannot be named for security reasons) to those holding Bowe. I was informed that there were no guarantees however, he was hoping for a response by courier.
On the same day I received word from Robert stating "we go to Washington DC all next week for briefings. Prayers and Pashtunwali are our only hope for BB's survival' Insha Allah! Thank you for all your informative work! Only God knows how this will end."
Robert was making every effort himself to connect with those holding Bowe. He grew his hair, was learning Pashto and raising money to plant trees that had been destroyed in Afghanistan during American occupation. He told me:
"I addressed the Afghan war in front of all networks this summer, including BBC who said they would put it out on BBC Pashto in AfPak. I believe they did. I said, 'After 30+ years of war in Afghanistan even the trees have given up, even the trees have died'We plant trees for our children and our grandchildren'.We plant trees because we have hope in the future.' '.I will do everything I can to help the Afghan people. That mostly amounts to my prayers and advocating for them in front of powerful people (but God is Greatest!) Endurance, Patience, Truth, these things will overcome all adversity in mankind's declining days"
Robert was in some ways walking a tightrope, reluctant to give media interviews in case he jepardized efforts to release his son. He described Bowe as "having nothing but endurance, patience and truth built into his character. He was raised old school presbyterian. Question' What is the chief end of man? Answer' To glorify God and enjoy Him forever. He has a theocentric worldview, highly developed epistemology (for his age) and genuine love for humanity. This is what broke is spirit in Afghanistan. The inhumanity of war."
I intend to keep the larger part of our conversations private however I will share the following:
"I have been in contact with who I believe is the Quetta Shura and have been trying to open communications directly with the Haqqanis and the people immediately around Bowe. While State Department is talking at high levels, I have been trying to talk with the Jihad ranks based in North Waziristan. The US is committed to bringing Bowe out with the 2014 drawdown, while I must have a longer agenda in place. This is more complicated than anyone, however familiar with the complexity, can understand."
The Islamic Emirate have released a statement expressing their feelings with regard to release of the 5 Taliban as follows;
Freed Taliban prisoners
We heartily congratulate the whole nation, Mujahidin of the Islamic Emirate, particularly the kith and kin of the released ones that five heads of the Islamic Emirate of Afghanistan namely Mulla Muhammad Fazal Akhund, Mulla Noorulla Noori, Mulla Khairulla Khairkhwa, Mulla Abdul Haq Waseeq, Moulavi Muhammad Nabi who had been incarcerated for the last thirteen years in 'Guantanamo Jail' are released due to the benevolence of Allah Almighty and the sacrifices of the heroic and courageous Mujahidin of the Islamic Emirate.
These five heads were released in the result of an indirect negotiation between the Islamic Emirate of Afghanistan and the United States mediated by Qatar. They will remain with their families inside Qatar and will lead a normal life.
To get the preceding five heads released, it is worth mentioning that the Islamic Emirate handed over the American soldier to the US government who was captive with us approximately for the last five years.
These five heads of the Islamic Emirate were handed over on Saturday at 07:00 pm Afghanistan standard time to the delegation of Qatar who has been waiting there inside 'Guantanamo Jail' for the previous three days. This delegation including five heads of the Islamic Emirate left Guantanamo at 10:00 pm and will reach Qatar today Sunday. They will be received and welcomed by the Political Bureau of the Islamic Emirate inside Qatar and members of the leading council of the Islamic Emirate. Similarly, the American prisoner 'Bergdahl' was handed over in the suburbs of 'Khost' province to the other side on Saturday at 07:00 pm Afghanistan standard time.
The Islamic Emirate of Afghanistan has been taking all possible measures since long to get all the Afghan prisoners released whether they are incarcerated inside the country or outside and to let them enjoy a free and peaceful life.
In the future too, the Islamic Emirate of Afghanistan is determined to get all the Mujahidin prisoners released as soon as possible. In this regard, we expect all the legal and human rights societies particularly the United Nations to share and accelerate their efforts with Afghan people and the Islamic Emirate on the basis of human sympathy so that all the incarcerated people are freed and their basic legal and human rights are safeguarded and they could lead an independent and peaceful life of their own accord.
The Islamic Emirate of Afghanistan
Robert and Jani Bergdahl had a message for their supporters,

"To every single person who worked so hard to make this recovery possible, WE LOVE YOU! GOD IS GREAT AND HIS MERCY ENDURES FOREVER!"

President Obama highlighted that Bowe had "never been forgotten" and praised the sustained efforts of those negotiating his release. However it is worth reminding ourselves that according to local sources, Bowe almost became yet another victim of a US drone strike aimed at his captors and came close to never seeing Idaho again, see

2014, Activists and Taliban slate Guantanamo and did US attempt to drone Bowe Bergdahl?

http://activist1.wordpress.com/2014/01/02/2014-activists-and-afghan-taliban-slate-guantanamo-and-did-us-attempt-to-drone-bowe-bergdahl/

Not everyone celebrated the release of prisoners, Republicans were quick to criticise with the Chairman of the House intelligence committee. Republican Mike Rogers of Michigan, declaring that, he was "extremely troubled" by the trade, which he called a "negotiation with terrorists" that will incentivise further US troop captures (Guardian).

As part of a newly released message which I received from the Taliban today, they note the tremendous 5 year effort of the parents of Bowe Bergdahl who didn't have to speak out against war. I observed through conversations the respect that Robert had developed both for Islam and the Pashtuns, something I hope we continue to share.

In their press release, the Taliban highlight a young Muslim Ummah saying there is a plenty of work to be done. They state that thousands of men and women prisoners are still held by the "infidels" and a lot of Muslim blood to be avenged. Taliban ask the question, who will rise to free the prisoners and carry out their Islamic duties?

Aafia Siddiqi and Shaker Aamer are two of the remaining prisoners in US custody and work continues to secure their release.

Carol Anne Grayson is an independent writer/researcher on global health/human rights and is Executive Producer of the Oscar nominated, Incident in New Baghdad . She is a Registered Mental Nurse with a Masters in Gender Culture and Development. Carol was awarded the ESRC, Michael Young Prize for Research 2009, and the COTT 'Action = Life' Human Rights Award' for "upholding truth and justice". She is also a survivor of US "collateral damage".

This article first appeared at http://activist1.wordpress.com/2014/06/01/free-bowe-bergdahl-exchanged-for-5-taliban-a-determined-father-and-establishing-dialogue/

Tags: Asia


Categorised in: Article

This post was written by Carol Anne Grayson