June 11, 2014 12:00 am
Leave your thoughts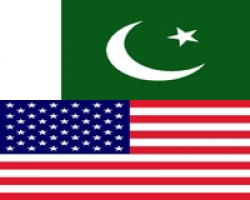 Photos from locals in Waziristan claiming to show child casualties from recent bombardment.
As reports started to emerge regarding the latest airstrikes by Pakistani jet fighters over North Waziristan, a friend posed the question as to whether this fresh operation was the result of the US Foreign Ministry envoy's recent meeting with Pakistan army chief, Staff General Raheel Sharif, putting pressure on the military to "do more" to tackle insurgency. Although the intended targets were militants, traumatised civilians had no place to shelter as the region was pounded by helicopter gunships. Drone strikes have also recently restarted following a break in activity during peace talks between the Taliban and government.
Pakistan seems to operate a policy of "what the US wants, the US gets" and launched a series of airstrikes in the early hours of the morning killing both militants and civilians alike. There followed the usual variation and dispute over figures with most mainstream media appearing to take the attitude that where "alleged" insurgents are killed, information from official sources and figures is accepted without question. When it comes to reporting civilians deaths however, those reporting are subjected to what feels like a 10 page questionnaire to prove their numbers.
An update from the Dawn newspaper stated:
"at least 73 suspected local and foreign militants were killed in a series of pre-dawn air strikes on hideouts and bases in North Waziristan and in a later clash following an attack on security personnel an army major and three other security personnel died in the clash.
The targets of the air strikes were strongholds of the Eastern Turkistan Islamic Movement (ETIM) – a militant outfit comprising largely Turkic-speaking militants from Uzbekistan and Uighurs from China's north-western autonomous region of Xinjiang, a security official said"
http://www.dawn.com/news/1107868/73-militants-killed-in-air-strikes-clash
When I took to social media on Wednesday to tweet information I had received on civilian casualties, trolls appeared in force insisting that attacks were "precision strikes" and no non- militants had perished. Several communications I received disputed this fact. One of these came from Abdul Wahan Khan who wrote, "my village has been attacked by army jets, three people died including two brothers, there was no Taliban dead in this attack. In my village … these people have died that I mention to you, Ali Zuman and Sher Rehman, two brothers and third one is Sher Daraz Khan'..it is reality."
Photo claiming to show digging for bodies, allegedly 27 members of one family killed in one house
Omar Khorasani of Mohmand Agency Teheek -e -Taliban (TTP) stated:
"the deaths of innocent people is increasing in the bombardment of NAPAK army last night according to the fresh reports that in village Musaki more [than] 7 people were recovered from the debris including two women and two children. [Also, according to the] latest report in Mir Ali Bazaar, Haidar Kheil Miranshah and in Miranshah village, Machis (a camp where there are civilian residents) is being pounded by NAPAK army by artillery targeting innocent people."
I came under heavy criticism on Twitter from pro-army supporters objecting to my quoting TTP. I explained that as a researcher, I was simply reporting all sides, a process called "triangulation" in social science, a cross verification of sources to increase the validity and credibility of results. We cannot necessarily assume that one side is always right and another always wrong' we must consider a variety of contacts.
Another source, Hariss Ali Akakhail, a local reporter, Conflict Analysis, informed me, "in today's air-strike (Wednesday) by army gunships at North-Waziristan agency, important TTP commanders Jihadyar and Sabir are down. A total of 55 men went down in today's strikes, including 15 civilians."
There were difficulties for those reporting casualty figures with one freelance journalist stating, "I filed my story at 9 am in the morning. I did mention civilian casualties and instantly "men in uniform" had to intervene and asked me to change my stance. Indeed civilians are killed in today's airstrike"
The Inter-Services Public Relations (ISI) claimed the air attacks were in retaliation for the killing of "a large number of civilians and security forces personnel" by terrorists in FATA, Khyber Pakhtunkhwa and Karachi. However the news of the deaths of non combatant men, women and children brought criticism from a number of directions causing the Hafiz Gul Bahadur group to reconsider their non-aggression treaty with the government, according to the Dawn newspaper.
TTP Commander Ahmadullah Ahmadi is reported as saying that the group "cannot remain silent over bombardment on people," calling it a clear atrocity on the civilians and that the Shura (council) has convened an important meeting to assess the situation and hinted that the peace accord with the government might get revoked.
http://www.dawn.com/news/1107736/hafiz-gul-bahadur-group-reviews-peace-treaty-with-govt
Photos claiming to show casualties of recent airstrikes
Justice for Pashtuns raised another important question for those in Waziristan'. "How do civilian casualties disappear when it is the Pakistani airforce and not American drones that do the killing?" This poignant post appeared on their Facebook page,
"In this short Pashto audio Ilyas Khan from Waziristan could manage to say only this about Pakistan Army's bombing in Mirali before he broke into tears:
'The bombardment has been going on since last night. Is this how you shoot the terrorist hideouts, by destroying the people? Run over there and look at their condition. All those lying dead are civilians. They are lying out on the road. They [the army] have closed the road to the public'"
http://www.mashaalradio.org/audio/audio/1142202.html
Journalist Amir Iqbal emailed me his report which highlighted the difficulties of transporting those injured in the jet strikes to hospitals, a nightmare scenario given the current curfew which is also affecting food supplies. In addition there are problems with telephone communication for those needing help (locals say services went down following the military operation) and in verifying the exact numbers of casualties affected. Iqbal quotes a local man, Sheharyar Khan, who states, "we have no food available with us and we are not allowed to go out and get some food for our families. Why are they targeting us since we are not responsible for any terrorism in Pakistan '. why not the force targeting Taliban only?"
Alleged aftermath of recent attacks on Mir Ali bazzar area

Mohammad Younas Afridi, a community worker and radio journalist who originates from the Tribal Areas, wrote a poignant message for his followers today, it read,

"Tribal areas need to be heard and protected too. They want to live in peace and harmony, it is really important a strong response arrives from public institutions and from government. They deserve, like everyone in the world, a better quality of life; they deserve a future of their children and we all have an obligation not to drop these right demands.

My heart crying to write this story, because this is the story of Tribal areas who live constantly with fear, drops and hopeless every day of their life. They are both VICTIMS and WITNESSES of war they have never asked [for this].

The most vulnerable part of of the population are those people due to financial problems [who] can't leave their lands. The population is at its lowest, and children are paying the highest price."

A tweet has just come in alleging that North Waziristan air strikes continue for a second day though this has been denied by Inter Services Public Relations (ISPR). Is the latest bombardment the end then for any hope of peace talks continuing in the near future? This would appear to be the case with a rather ominous post from Mr Akakhail indicating that the TTP shura is in the process of finalising the break up of peace talks with the government of Pakistan. One can only shudder as to what tomorrow might bring for those remaining in Waziristan!

This article first appeared on http://activist1.wordpress.com/2014/05/22/north-waziristan-suffers-a-fierce-bombardment-civilians-traumatized-by-strikes/

Carol Anne Grayson is an independent writer/researcher on global health/human rights and is Executive Producer of the Oscar nominated, Incident in New Baghdad . She is a Registered Mental Nurse with a Masters in Gender Culture and Development. Carol was awarded the ESRC, Michael Young Prize for Research 2009, and the COTT 'Action = Life' Human Rights Award' for "upholding truth and justice". She is also a survivor of US "collateral damage".

Tags: Asia


Categorised in: Article

This post was written by Carol Anne Grayson