June 28, 2014 12:00 am
Leave your thoughts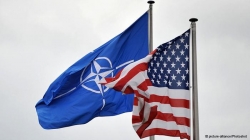 Chargossians involved in years of protest at their island being used as an airbase
The other day on Twitter I suddenly received several tweets from "Rewilding Britain" hailing the merits of the Chagos Islands as a marine conservation site with links on protecting a "fragile ecosystem of coral reefs with a diversity of fish, turtles, birds and other wildlife."
The atoll is approximately 1,970 nautical miles (3,650 km) east of the coast of Africa (at Tanzania), 967 nautical miles (1,790 km) south-southwest of the southern tip of India (at Kanyakumari) and 2,550 nautical miles (4,720 km) west-northwest of the west coast of Australia (at Cape Range National Park, Western Australia.
Sounds good doesn't it, protecting the environment from the excesses of mankind' but something made me feel uncomfortable. I believe in conservation but my social media accounts are largely used for writing on human rights, socio-political issues related to the War On Terror and am not a high profile environmentalist so wasn't sure why this group were targeting me in particular.
The accompanying video of the project looked impressive, pristine turquoise waters and the world's larges living coral atol. I would have likely supported immediately had I not had a nagging thought about the 2,000 human inhabitants displaced from the Chagos Islands by the British government and the fight for those still living to return to their homeland. This was something I had tweeted about on occasions supporting their cause.
Owen Bowcott writing in the Guardian states,
"In 1965, three years before Mauritius attained independence, the UK decided to "detach" the Chagos Islands from the rest of its then Indian Ocean colony. The Mauritian government, supported by every country in Africa, claims this was in breach of UN general assembly resolution 1514, passed in 1960, which specifically banned the breakup of colonies prior to independence.
The Chagos archipelago was subsequently declared to be part of the British Indian Ocean Territory (Biot) from which, in 1971, the 1,500 islanders were deported. The largest island, Diego Garcia, was then leased to the US as an airbase. The lease is due to be renegotiated later this year.
Claims that Diego Garcia was used as a secret "black site" detention centre during CIA rendition operations after 2001 resurfaced this month after Abdel-Hakim Belhaj – a rebel military commander and opponent of Muammar Gaddafi arrested in Malaysia and forcibly returned to Libya with his then pregnant wife – reported that he had been held there"
http://www.theguardian.com/world/2014/apr/21/chagos-islands-diego-garcia-base-court-ruling
Today my attention was drawn by chance to another article on Diego Garcia in the Independent stating that the government must renegotiate with US over the use of the island for rendition flights. What is deeply concerning is that a House of Commons Foreign Affairs select committee found that "there was no 'clear requirement' on Washington to seek UK permission for highly sensitive activity including rendition or combat operations and the arrangements in place are 'entirely informal'".
MPs are now calling for more control over CIA use of this airbase and the foreign affairs committee state that there is "a strong moral case" for the UK to allow islanders to return to Diego Garcia. That however will be contested at a private hearing by a strong team of British and US lawyers. A sentence jumped out at me immediately in a Guardian article (21st April, 2014)
"it (Diego Garcia) is considered of such importance that the attorney general, Dominic Grieve QC, will appear to defend Britain's declaration of a marine reserve around the archipelago"
So could this be why my Chagos tweeters were so pushy with their conservation project? When I raised the issue of the islanders "right to return" and relayed my personal experience of a visit to the Galapagos Islands where there was a balance between protecting wildlife and the needs of local residents, it was very clear humans did not fit into their equation for the region. (So why is there one rule for islanders and another for the US military establishment) stinks of double standards!
The right to return home and a controversial marine conservation project
So what exactly is based on Diego Garcia? Well we know the United States Navy operates a Naval Support Facility (NSF), a large naval ship and submarine support base, military air base, communications and space-tracking facility there. Bombing missions have been carried out over both Afghanistan and Iraq from the island. There is also an anchorage for pre-positioned military supplies for regional operations aboard Military Sealift Command ships in the lagoon. Drones may have been operated from this Diego Garcia also, currently the Cocos islands about 1,700 miles east of Diego Garcia are now being considered as a possible future base. (Eyes must be kept open for any future activity).
We also learned despite denials from Foreign Secretary Jack Straw that at least 2 rendition flights refuelled on the island in 2002 (an apology on this was later given by David Miliband). Human rights group Reprieve alleges that United States-operated ships moored outside the territorial waters of Diego Garcia were used to incarcerate and torture detainees.
The island also featured in the news recently as a possible intended flight destination for missing Malaysian flight MH370 with several theories mooted including hijack. The Daily Mail reported that Captain Zaharie Ahmad Shah had programmed the island into a home flight simulator, the airbase has a runway long enough to accomodate a Boeing 777.
Given what we know about highly militarized Diego Garcia it is not without the realms of possibility than someone may have wished to fly a plane into the base to destroy the buildings as happened with the twin towers on 9/11.
Returning to the conservation issue, Wikileaks highlighted in their cable disclosures that establishing a "marine reserve" would help prevent islanders (that had been referred to by some as "Man Fridays") returning to their land, from fishing the waters and no doubt ensure that whatever activities were being carried out there, those doing so would remain undisturbed. The Mauritian government are challenging plans. looking to the rights of the islanders. For Britain to determine the future of the islands given the enforced nature of the Chagossians departure smacks of current day colonialism and extreme arrogance.
My concerns were further raised after contacting Clency Lebrasse long-time campaigner for the rights of Chagossians, in an article (link below) he writes in relation to the proposed marine project;
"I predicted that the area was being used as a mechanism to pre-empt the judicial action in Strasbourg. Six months later I was vindicated when the release of the Wikileaks cables confirmed that the creation of the zone was being used to place ecologists in direct conflict with Chagossians and their supporters.
Earlier this year I brought to public attention the activities of a minority movement within the Chagossian community who were being misrepresented as the voice of the majority. As I stated at the time, it would be wrong to deny the Diego Garcian Society (DGS) a role to play in determining the future of the Chagos Islands, but that their contribution should be assessed on the basis that they represent the smallest number of Chagossians."
To add insult to injury, Chagossians have had to deal with the fact that 3 persons that oppose resettlement have been recognized in the honours list, the latest being Prof Charles Sheppard who received an OBE, see Honours list dismays exiled people of the Chagos Islands,
http://www.telegraph.co.uk/news/uknews/honours-list/10903548/Honours-list-dismays-exiled-people-of-the-Chagos-Islands.html
It seems this is a key time for Chagossians and their supporters to raise further questions about Britain's role in allowing the US to use the island. and for what purpose. As the contract is up for renewal in 2016 what is most important is that the islanders are given a fair hearing and every effort possible made to return them to their rightful land. I for one would support a conservation site but only if the right of return was facilitated and any marine project came after full discussion, approval and active involvement of Chagossians themselves!
This article first appeared at http://activist1.wordpress.com/2014/06/20/chagos-britain-the-cia-and-diego-garcia-something-fishy-going-on/
Links
The UK Chagos Support Association
http://www.chagossupport.org.uk/background/history
Clency's Blog, "Zoos fooling who"
http://clebrasse.blogspot.co.uk/2013/06/zoos-fooling-who.html
Abdul Hakim Belhaj torture case against UK rejected (alleges rendition flight refuelled at Diego Garcia)
http://www.bbc.co.uk/news/uk-25464362
Carol Anne Grayson is an independent writer/researcher on global health/human rights and is Executive Producer of the Oscar nominated, Incident in New Baghdad . She is a Registered Mental Nurse with a Masters in Gender Culture and Development. Carol was awarded the ESRC, Michael Young Prize for Research 2009, and the COTT 'Action = Life' Human Rights Award' for "upholding truth and justice". She is also a survivor of US "collateral damage".
Categorised in: Article
This post was written by Carol Anne Grayson