August 2, 2014 12:00 am
Leave your thoughts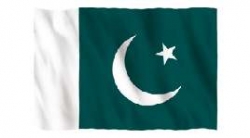 Raising the Pakistan flag in celebration (left, photo from Ben Jones) and in traditional attire (right, from Samina's Facebook page)
What a woman! Samina Baig (23) from Shimshal, Hunza valley in the Gilgit-Baltistan region of Pakistan has once again made the news with the latest in an impressive line of achievements becoming the first female to summit all seven highest peaks in the seven continents in just under eight months.
When I first interviewed Samina and brother Mirza, also a mountaineer, four years ago, they were struggling initially to find financial sponsors but not to be deterred, the young woman began her career climbing in men's boots donated by a friend. Now their enthusiastic supporters include foreign friends, embassies and Serena Hotels though there is no support for the pair from the government.
Samina's earlier achievements include participating in the First Pakistani Women's Winter Climbing Expedition and becoming the first Pakistani woman and youngest Muslim woman to summit Mt Everest. Samina shared her thoughts with Pakistan Newsweek on reaching the top,
"I was thinking about the women of Pakistan, those who are not allowed to get education, those who are not allowed to do whatever they want to do in their life," she said. "I hope that the families will understand that the contribution of women is important and can be more powerful for building a greater country."
The brother and sister duo demonstrate the importance of teamwork (photo from Mirza Ali)
The brother and sister team began in their earlier years by setting up and developing a joint venture project with Pakistan Youth Outreach and the Satwa Gunar Project. The idea was to climb with a film maker and photographer as part of a team of locals and to make a documentary focusing on a high school grade 10 student (Samina) who became the first Pakistani woman mountaineer to summit an unclimbed 6,400m peak. This was the young woman's first expedition and ascent and an amazing achievement for all concerned. The mountain she climbed, Chashksin Sar, has now been renamed Samina Peak in her honour.
Describing her experience for Explorersweb Samina said, "Shimshali mountaineering is sort of inherited. Our ancestors built Shimshal beneath a glacier, and our community survived this harsh environment using mountaineering skills. Our grandparents and great-grandparents climbed with homemade ropes, wooden stakes and animal horns. Modern mountaineering only reached Shimshal in the 1980s, but Shimshali men soon made their mark. Four of the seven Pakistanis who have summited K2 are from my village" http://www.explorersweb.com/everest_k2/news.php?id=19670
Shimshal village and the awesome mountain, Shimshal White Horn (6,400m) local name "Adver sar" (photo, Mirza Ali)
In her latest adventure, Samina scaled the following 7 peaks, mostly accompanied by Mirza.
Mt Everest, Nepal (8,848m)
Mt Aconcagua, Argentina (6.961m)
Mt McKinley, Alaska (6,194m))
Mt Kilimanjaro, Tanzania (5,895m)
Mt Elbrus, Russia 5,642m)
Mt Vinson, Antarctica (4,892m)
Mt Carstensz, Indonesia (4,884m)
Brother and sister are Muslim Ishmailis, a sect that broke away from the Shiites in the 8th century and their religious practice is seen to be less regimented than other Muslim communities. Mirza told me that men and women are deemed to have equal status in Ishmaili societies and the women are used to working at high altitude gathering dry juniper and grazing yaks. They both hope that their activities will help encourage more young people of both sexes in Pakistan to become involved in adventure travel and lead by example. Samina says she is motivated by her faith in Allah and the purity of her environment.
Mirza and Samina's work is in line with the United Nations Millenium Development Goals for women and youth which include gender equality and promoting education http://undp.org.pk/global-mdgs.html Pakistan is a signatory supporting this agenda. Mirza is very proud of his sister's achievements and said "it is my intention to motivate more women to participate as this will give a message of confidence to females everywhere that if a young woman can climb a mountain, she can do anything".
Samina speaking at the International Mountaineering Film Festival in Islamabad was recorded by S Qazi as saying;
"mountains are life for the people living there, and in the plains and downstream by providing water and ecological services. They are huge to fascinate us and challenge our courage, but there are no opportunities for the young to explore the snow covered natural habitats on the mighty glaciers and on the peaks of sky-touching mountains.
The foreigners come to scale the summits on our lands but we have no chance to explore our own mountains. Provision of outbound educational and adventure activities to the youth and other interested ones is not on the priority list of our government. So, we have to depend on the foreign friends."
Mirza along with Pakistan Youth Outreach have devised a long term programme which will incorporate the following, "to educate youth at grassroots level about mountain adventure, trekking adventure, and wilderness which will cover environmental education and the effects of global warming, the focus will be on schools, college and university."
Poster for "Beyond the Heights" from the film Facebook page

As well as this they also have a film coming out soon. Beyond the Heights is described in a trailer as:

"based on true story of the first Pakistani and youngest female mountaineer to climb the Mount Everest. Overcoming the towers of hardships, a fragile woman belonging to a small village, named Shimshal, in Hunza valley touched new horizons with her willpower and motivation"

Samina is a positive role model not only for Pakistani women but for females around the world. Judging by the previous achievements of Mirza and Samina, it is highly likely that this latest film project will become yet another success story for the hardworking duo.

Carol Anne Grayson is an independent writer/researcher on global health/human rights and is Executive Producer of the Oscar nominated, Incident in New Baghdad . She is a Registered Mental Nurse with a Masters in Gender Culture and Development. Carol was awarded the ESRC, Michael Young Prize for Research 2009, and the COTT 'Action = Life' Human Rights Award' for "upholding truth and justice". She is also a survivor of US "collateral damage".

This article first appeared on http://activist1.wordpress.com

Tags: Global, Middle-East


Categorised in: Article

This post was written by Carol Anne Grayson