December 21, 2014 12:00 am
Leave your thoughts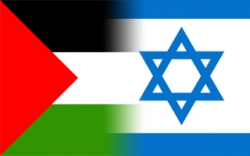 A last good-bye to a brother (photo Younas Ahrar)
Planting a tree should be a joyous occasion, new life, growth and the fruits of labour but not in the West Bank where this simple act cost Palestinian minister, Ziad Abu Ein (55) his life.
Abu Ein, who was part of Fatah and head of the Anti-Wall and Settlement Commission was planting an olive tree alongside international campaigners in recognition of International Human Rights Day. This was a symbolic gesture to protest against Jewish settlements in the Occupied Territory. He died during a peaceful protest in a confrontation with police and IDF during which according to onlookers he was teargassed, pushed and grabbed by the throat by a member of the border patrol.
The minister was taken to Ramallah Hospital but died in transit. An autopsy included pathologists from both Israel and Jordan to establish the cause of death but the results are currently being disputed according to Al Jazeera see link,
http://www.aljazeera.com/news/middleeast/2014/12/palestine-minister-autopsy-results-disputed-2014121161857231665.html
President Mahmoud Abbas declared three days of mourning as anger mounted, his death regarded by some as "murder". Al Jazeera reported that, "Abu Ein, a father of four, previously held the position of deputy minister of prisoners' affairs. As a former detainee himself, he was sentenced to life in prison by Israel in 1982 but was released in a prisoner swap in 1985."
Aggression from border police when attempting to plant an olive tree
(image Younas Ahrar)
The following two tributes come from fellow activists in the region
First tribute from Hamde Abu Rahma
Another life taken Hamde Abu Rahma
"He was one of the nonviolent resistance leaders in Palestine, his name is Ziad Abu Ain, he was murdered by criminal Israeli border police while participating in the peaceful act of planting olive trees.
"If the Olive Trees knew the hands that planted them, Their Oil would become Tears."
Mahmoud Darwish.
Rest in peace, you were a friend to us all .
"ª#I can't breathe
Every time an Israeli murders a Palestinian I know personally, I ask myself over and over, who will be next? Who else will I lose and never see again, my brother, my neighbor, or maybe I myself will fall victim to Israeli violence. Its as if they are killing us one by one, slowly, so that the world doesn't take notice. -"
A reflective moment, who will be next? (image Hamde Abu Rahma)
Second Tribute from Younas Ahrar
Confrontation
"You shall never be forgotten.
Yesterday I was standing next to him, hand in hand resisting the Zionist occupation forces, demanding to put an end to this fascist occupation, today am looking at him for the last time ever, I will never see him again, will never hear again his voice urging us to resist this unjust tyrant occupation, teaching us to do the maximum we can for Palestine and our people, urging us to expose Zionist occupation forces ongoing attacks against our peopl e, land, properties and all other forms of Zionists attacks, urging us to tell the truth, only the truth.
I will never see you again, but you will always stay alive in my heart, my mind, you will live longer than the occupiers Zeyad Abu Ain""".. The Palestinian minister, the Palestinian great leader and human Zeyad Abu Ain who was killed yesterday by Zionist occupation forces in front of the whole world, live, during olive trees planting activity in Turmus Ayya village, north Ramallah. I was honored to be with him yesterday during this activity to the last second of his life, and was with him in every protest and demo he participated in or organized.
Rest in Peace Zeyad, 11 December 2014″
Younes Arar
Paying final respects to Ziad Abu Ein

Carol Anne Grayson is an independent writer/researcher on global health/human rights/WOT and is Executive Producer of the Oscar nominated, Incident in New Baghdad. She is a Registered Mental Nurse with a Masters in Gender Culture and Development. Carol was awarded the ESRC, Michael Young Prize for Research 2009, and the COTT 'Action = Life' Human Rights Award' for "upholding truth and justice". She is also a survivor of US "collateral damage".

Tags: Middle-East


Categorised in: Article

This post was written by Carol Anne Grayson