March 7, 2015 12:00 am
Leave your thoughts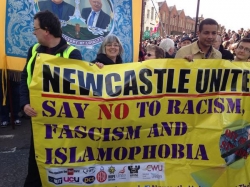 "We're black and white"
As expected the people of Newcastle-Upon-Tyne with a reputation the world over for their friendly attitude and tolerance took to the streets of Newcastle today with a very simple but strong message to Pegida, "we're black and white". This also happens to be the colours of Newcastle United Football Club who are well respected for their work against racism and promoting tolerance for diversity.
Pegida, which stands for Patriotic Europeans against the Islamisation of the West chose the north-east city to promote what critics see as an Islamophobic, racist and anti-immigration agenda that was well and truly kicked out by Geordies. They were joined by supporters from all over the UK and further afield, who made their voices heard showing fascist Pegida the red card.
The political party which attracts right-wing and far-right groups was founded in Dresden by Lutz Bachmann. According to the Express, the 42 year old who runs a public relations agency "has a criminal record for sixteen burglaries, drunk-driving, and drug-dealing" and "stepped down as leader of the group when a picture emerged of him apparently posing as Adolf Hitler, but was later re-instated." Pegida's first demonstration on 20 October 2014 was said by the organization to draw "only a handful of people" but attendance at weekly meetings grew with one demonstration attended by around 25,000 supporters. However a counter- demonstration attracted a larger crowd of 35,000.
German MEP Arne Lietz pictured here with Newcastle MP Chi Onwurah.
The " Newcastle Unites" rally was opened by local MP Chi Onwurah who earlier told the Evening Chronicle, "Pegida is targeting Muslims in our community and we have to stand up and say it is wrong, Islamaphobia is wrong, anti-semitism is wrong, all racism is wrong, we can do better than this, we have done better than this when we saw off the National Front and the BNP".
Around 2,000 good natured Geordies (some say nearer 3,000) and demonstrators from afar gathered in the centre of Newcastle in a "face-off" with an estimated 500 from Pegida. Police kept the two groups apart creating a "no- go area" in between to avoid clashes. Among the crowd for Newcastle Unites was journalist Yvonne Ridley, a Muslim revert and Respect MP George Galloway while Paul Western from Liberty GB spoke on the Pegida side.
David Wilson tweeted, " 1000s of Geordies marching against Pegida, Newcastle Unites. They Shall Not Pass!!"
Winston Smith's tweet read, "I've been unable to attend due to work commitments but I've been fascinated by Pegida's own stream of their demo. Neo-nazi banners and infighting. Mental."
There were some clashes and several arrests but local police soon had trouble makers off the streets upholding Newcastle's reputation as a "safe city" for all whatever race or religion.
Newcastle Unites photos
Councillor Dipu Ahad 'not deterred by beheading threats (Mirror)
Councillor Dipu Ahad, a key figure in Newcastle's Muslim community, refused to be deterred by beheading threats he received after organising the counter-demonstration against Pergida and posted the following on Facebook,
"Special message from Newcastle Unites
Respected brothers and sisters
Get ready for the biggest multicultural, celebration of communities the UK has ever seen
Today the eyes are going to be on Newcastle , the world media are going to be present, witnessing what great people we are
People from throughout the country and beyond, young and old, black and white, people from all backgrounds are going to be uniting against hatred
So let's make it a day to remember and stand up for what is right
It's not Newcastle Unites, It's UK Unites"
Pegida photos
Pegida UK Official on Twitter which may or may not be officially linked to the German body, stated,
"Thank you all for the first peaceful Pegida rally in UK today!
Lefties march! Not a single British flag in sight! Guess they don't like their country! Islamic flag next time?"
Pegida protester David Hetherington, 51, from South Shields, rejected the label of racism and told the Guardian, "I'm not far-right; I'm a patriot."
Pegida given the push on Tyneside
North-east proud of its history of tolerance and respect for diversity
Newcastle has a positive history of promoting tolerance, respecting diverse communities and giving a warm welcome to visitors. In 1977 three-times world boxing heavyweight champion Muhammad Ali came to South Shields for a charity event and had his marriage blessed in the town's mosque stating, "I've never been so honoured, not in America itself by Government officials and authority. I'm overjoyed, and next time I go into the ring, I will remember how many people I have routing for me back here."
Ali visits Newcastle and South Shields, (see video)
https://www.youtube.com/watch?v=IYrYLRJZrKQ
Mohammad Ali inside South Shields Mosque. Photographer Fred Mudditt of Fietscher Fotos Ltd. Courtesy of Brandon Mudditt (son of photographer)
Going back further back to the 13th of November, 1967, Newcastle University gave Dr Martin Luther King an honorary degree – the only UK university to do so during his lifetime, see video link,
https://www.youtube.com/watch?v=TwXfITDyIuY
Students in the city have always campaigned vigorously against apartheid, marching to free Nelson Mandela and inviting trade unionists from South Africa to discuss sanctions and boycotts to put pressure on to release him. Mandela was awarded the Freedom of the City of Newcastle upon Tyne in 1986 when he was in prison on Robben Island. The tradition of fighting against apartheid continues today welcoming Palestinians to enjoy Geordie hospitality. Holocaust Memorial day is also commemorated each year with a number of inter-faith events around the city.
The people of Newcastle have no intention of dropping standards in celebrating diversity and the following message was posted on Twitter to the people of Dresden (home of Pegida) standing together with them to fight fascism.
Greetings of solidarity to the people of Dresden from Newcastle Unites Against 'Pegida' and Unite Against Fascism (open letter)
"As you may know the Islamophobic movement 'Pegida' is intending to march today in Newcastle in a provocative attempt to stir up racism and intolerance. This is the first time that British racists and fascists have attempted to import the 'Pegida' message into the UK.
Pegida's emergence is part of a tide of racism and intolerance sweeping Europe that takes many forms. Whatever problems we may face as a result of economic crisis, recession and inequality we believe that racism can only divide us and offers no solution.
The people of Dresden and those across Germany know only too well that this movement must be stopped and we have taken inspiration from your efforts so far. We must stand shoulder to shoulder against all vestiges of Anti-Semitism Islamphobia, Fascism and anti-immigrant bigotry.
The north east of England has a well-deserved reputation for tolerance and we pride ourselves on the diversity of our communities and our mixed heritages.
We believe Pegida must be prevented from spreading their message of hate and from getting a foot-hold in Newcastle, the UK or anywhere else.
The aim of our protest is to send a clear and simple message: Pegida is not welcome in Newcastle. We believe that by the end of today we will have contributed to stopping them – but the struggle against racism will continue.
We join you today as part of an international movement of solidarity against racism and fascism. We will also be marching on the streets of Glasgow on 21st March alongside hundreds of thousands of others in Barcelona, Paris, Berlin, Athens ' in a day of solidarity and resistance.
Today Pegida may be polluting Newcastle with its message of hate – but we are united in saying that from this time and from this place it goes no further: Never Again! No Passaran!
In Solidarity,
Newcastle Unites Against Pegida Unite Against Fascism
"Show Racism the Red Card began in Newcastle"
Setting an example educating on tolerance (Chronicle)
Newcastle has often led to way on key initiatives promoting anti-racism such as "Show Racism the Red Card". The project began in 1996 when Ged Grebby, a fan of Newcastle United Football Club came up with the idea of using high-profile players as role models to help educate young people on racism in society. The idea spread around the country and also abroad. In 2010 I attended the successful launch of a DVD at St Jame's Park football ground to tackle "Islamophobia" and wrote an article for the Big Issue magazine stating,
"professional footballers and other sports personalities are recruited to address local schools and community organisations. There is an emphasis on exploring prejudice and discrimination sending a strong message to positively embrace the cultural diversity within the north-east of England and further afield."
Newcastle's final message to Pegida was "Auf Weidersehen" (but this time without the "pet")

Thanks to all who shared their photos on social media

Liveleak video of demonstration

http://www.liveleak.com/view?i=c00_1425133352&utm_source=twitterfeed&utm_medium=twitter

Carol Anne Grayson is an independent writer/researcher on global health/human rights/WOT and is Executive Producer of the Oscar nominated, Incident in New Baghdad . She is a Registered Mental Nurse with a Masters in Gender Culture and Development. Carol was awarded the ESRC, Michael Young Prize for Research 2009, and the COTT 'Action = Life' Human Rights Award' for "upholding truth and justice". She is also a survivor of US "collateral damage".

Tags: Domestic (UK)


Categorised in: Article

This post was written by Carol Anne Grayson