March 22, 2015 2:49 am
Leave your thoughts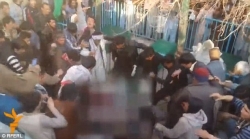 Horrific assault by a frenzied mob violating the body of a female
Let's call a spade a spade! The frenzied killing of a woman by a mob in Afghanistan, beating her to death and setting her body alight for allegedly burning a copy of the Quran was NOT an act to defend the honour of Islam. It had the effect of doing the exact opposite in a very public arena. The irony is, those who claim to be protecting their faith, think nothing of violating the principles of its teachings. The men who participated (there were no women visible on film taking part in this appallingly cruel incident) initiated crowd acts of sexual perversion, males clearly "turned on" by their "out of control" brutality in dishonoring the body of a female alleged to have mental health problems.
Perverted pleasure dragging the burnt remains of a man in Lahore following the bombings of 2 churches.
As someone who once worked in forensic psychiatry it is not difficult to recognize a sexual element to the pathological patterns of behaviour though perpetrators often refuse to recognize it in themselves. I also observed this in the crowd violence which led to the beating and burning to death of two men following the Lahore church bombing incidents in Pakistan last week. The males involved were charged up, excited and almost "orgasmic" in their celebrations and put Christianity to shame. In fact some did not even want me to discuss this killing such was the disgrace to their community and fear of violent backlash.
Men turned on by a blood and burning lust, the ponography of violence
The lynching of Naeem and Babar Noman was deeply disturbing to observe on film, watching faces revel in their perversity, see following article.
Farkhunda, (age 27) the victim of the prolonged and bloody assault in Kabul was alleged to have a history of mental illness according to her mother. Radio Free Europe/Radio Free Liberty (RFERL) who highlighted the case wrote,
"a security official quoted the family of the victim as telling investigators that she had been suffering from mental illness for many years,
Footage obtained by RFE/RL shows a large crowd comprised mainly of young men repeatedly kicking and beating the woman. Some throw stones and buckets at her as she struggles to get off the ground.
The assault on the woman then continues as she lies on the ground, clearly unconscious and bleeding profusely.
Some men in the crowd can be heard shouting "Allahu Akbar" ("God is great")."
Observing site where a woman's body was burnt, many watched, no one intervened

The men who attacked Farkhunda and their supporters are deluded if they think their actions were in defence of Allah. The sick and mentally ill are vulnerable and must be protected. A society is judged by how it treats the ill and the poor in its midst. Compassion is a very important aspect of Islam, the word appearing many times within the Quran to remind us to uphold this practice.

The reality is, these men and those involved in this incident committed a serious criminal offence of a pathological nature which manifested itself in a form of violent pornography not acceptable in Islam. We must condemn such perverts for that is what they are, men who are so inadequate in their learning they clearly do not have even a basic concept of mental health issues, yet chose to act as judge, jury and executioner. These men along with those who pre-judged two men in Lahore are the sad failures of society, their mothers on learning of their proclivities would no doubt be horrified and ashamed of giving birth to such cruel and calculated individuals.

In Islam, men are taught to respect women, to lower their gaze so as not to be aroused by the female form. These men enjoyed violating a woman's body, making physical contact with every area of her being and aroused themselves to ecstacy in doing so. Those in Kabul excelled in cruelty, scaling the heights of misogynistic depravity. We must condemn these lovers of violent porn and their despicable actions.

In Christianity, followers are taught to follow the teachings found in the parable of the Good Samaritan who goes to the aid of a stranger in need when others either engaged in violence or walked on by. The crowd in Lahore, beat, kicked, dragged and incinerated two innocent men to satisfy their blood lust. Both incidents showed the voyeuristic nature of individuals that watched, photographed, made their own "snuff" videos but no effort to intervene to stop the killing.

How many women would want to be in the company or feel safe with such sexual predators who get turned on by beating and burning a person to death. These men are the pits of society, the shit on the shoe, men unable or unwilling to control themselves yet so arrogant and self-deceiving they think they have the right to control and judge others! Society must hold them to account!

Carol Anne Grayson is an independent writer/researcher on global health/human rights and is Executive Producer of the Oscar nominated, Incident in New Baghdad . She is a Registered Mental Nurse with a Masters in Gender Culture and Development. Carol was awarded the ESRC, Michael Young Prize for Research 2009, and the COTT 'Action = Life' Human Rights Award' for "upholding truth and justice". She is also a survivor of US "collateral damage".

This article first appeared at https://activist1.wordpress.com/2015/03/20/farkhunda-and-lahore-killings-acts-of-violent-sexual-perversion-by-out-of-control-men/

Tags: Asia


Categorised in: Article

This post was written by Carol Anne Grayson