March 28, 2008 12:00 am
Leave your thoughts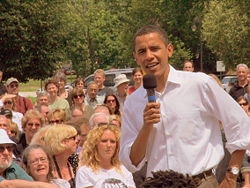 As another thunderous US election year rotates on its axis towards us, it appears that innovation and inspiration are key ingredients this time around. This is certainly required for convincing the traditional and wounded American people. Weathered from a war of our own creation and a fizzling economy, we are ready for our Hero. The saga of chewing up assets to spit out zero jobs must come to a close and our salvation must descend from the staircase. With contenders from the left fashioning and grasping tightly to their pulpits, America projects the crowning of our country's representative as a black man, in Barack Obama from Illinois. If we are speaking of reparations, then his election is a little less than probable, but if we are discussing leadership and a spring-cleaning of damage done by the current administration, then the outlook is alarmingly positive. Or will a Senator Hilary Clinton emerge with clenched teeth, stalwart maternal courage and abound from a controversy laden past to victory?
Traditionalists are not only voting within stereotypical aesthetics, but also from discriminatory ideals based upon background and learned social distinctions. Fearfully I examine the threatening competitor marching in from the right – Senator John McCain – presenting just enough charm and gumption coupled with cowboy arrogance reminiscent of our founding fathers to win the powerful shaken-not-stirred red states. Disheartened, we maintain our stance and scamper away to our high school marching band sidelines within Obama's crowd-pleasing early campaign trail. However, tradition will not be able to mend out layered issues. Obama is drill captain and his latest strategy has been timely and simplistic – honesty. He is asking what great leaders of the past have been asking us to do for years – to think differently. In his recent speech, "A More Perfect Union", he addressed these as "the contradictions of community" specifically referencing his former pastor, Reverend Jeremiah A. Wright, Jr., who'd "God damned" America a few days prior. Wright's comment forced Obama to defend himself to the American people, yet again. A triumphant leader, he used this as an opportunity to empower. His words delved into America's unspoken dark truth – the foundations of race and accepting that it is still an issue. Knowing this, Obama is asking us to utilize the same ambition that he is putting forth as he campaigns for presidency. A black man pursuing the highest position in a land that is still dealing with issues involving youngsters hanging ropes from trees in an attempt to threaten their black counterparts.
Therefore, how prepared are we to combat such intrinsic and possessive identities?
We must throw out our old, tired plans and step forward with a fresh new vision requesting less pragmatism and more ambition. To begin to work together as a country is to determine a collective worth. First, we must understand that we all have a history coupled with persecution and tribulation thus giving us our unique colouring amidst an equal footing. And, for the traditionalist, this will coincide with the "we the people" and "land of the free, home of the brave" ideals our country was founded on. Delivering us from our eight years maintaining a fractured everyman stasis to more hopeful citizens of the world.
"We may have different stories, but we hold common hopes."
With a recent death count of 4,000 American soldiers in Iraq, hope is declining and information such as this unfortunately becomes lumped in with the status quo. Recently, I spoke to an injured soldier preparing to return to Iraq on his third term. The soldier's remarks were sardonic and biting, "I hate Bush – but the money is good." We've exchanged paltry paycheques for our self-worth, ushering in less than the best for our families, our communities, and ourselves. I refuse to accept this. Neither our country nor its citizens are helpless, but somehow our disappearing morale has made this so. Our problems can be fixed and everyone should have the opportunity to dream. It is passed time for a leader.
"We are the ones we've been waiting for. We are the change that we seek."
As a black woman, bouts of fear have distracted me from history in the making -the possibility of a black man in office. America has a reputation for welcoming nuance with violence and a conspiratorial stab in the back. The most recent example of this would be this month's recent resignation of Eliot Spitzer, former governor of New York. The ferocious yet effective governor was bugged, ousted, and booted on charges of prostitution all within the same week, ending his career. It is clear that if someone wants you out, you're gone.
Nonetheless, we are rotating heavily on a brittle axis. The wheel has been invented, broken, and re-invented and has now become irrelevant as we examine America's political and socially incredulous desired future. Let's get reacquainted and realize that this is a time to look around and assess the damage – a time to turn off the television and decide to believe.
Categorised in: Article
This post was written by Erica Cardwell