April 4, 2008 12:00 am
Leave your thoughts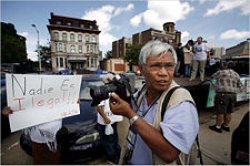 Dith Pran, the journalist whose story became the inspiration behind the Oscar-winning film The Killing Fields has died.
Pran stayed behind in Cambodia with New York Times journalist Sydney Schanberg to report on the fall of Phnom Pehn to the Khmer Rough in 1975. Pran saved the life of Schanberg and several other foreign journalists and enabled them to escape the country. Pran, however, was not permitted to leave and had to stay behind.
His following years were spent in labour camps with fellow Cambodians enduring horrifying acts of deprivation and suffering. On the journey to these camps in the north of the country Pran encountered thousands of corpses of his countrymen. It was from this experience that Pran coined the term 'The Killing Fields'. The invasion of the Vietnamese signalled the end of the Khmer Rough command, and Dith Pran was able to escape.
The Khmer Rough was the term used to refer to the leading Communist government in Cambodia. They were responsible for an estimated 2 million deaths during their murderous rule. The Khmer Rough forces were ordered to arrest, torture and murder anyone that they considered an 'enemy' of the state. Any person with an education (this even included people that merely wore glasses), homosexuals, people with connections to the former government or foreign governments, Vietnamese, Chinese, Cambodian Christians, Muslims and Buddhist Monks were all to be slaughtered. To save on ammunition, most were brutally executed using pickaxes, sharpened bamboo sticks and hammers.
The genocide occurred at the height of the Khmer Rough's power between 1975-1979. The world stood by and did nothing.
Today only a few Khmer Rough leaders are still alive to be held accountable for the atrocities committed by their regime. Comrade Duch, real name Kaing Guek Eav is one of several Khmer Rough leaders being questioned before the UN-backed genocide tribunal in Cambodia. In November 2007 Duch made his appearance before the court and was charged with war crimes and crimes against humanity.
Duch was the head of the Tuol Sleng Prison. More than 20,000 people perished there under his command. Heads of infants were smashed against trees, prisoners were thrown in pits and drowned, toenails were extracted with pliers and people were burnt alive and electrocuted. Duch allocated specific days of the week to particular executions. On one day the wives of prisoners would be murdered, on another children were to be put to death. In an interview with a British newspaper prior to his arrest Duch was candid about what lay ahead for his prisoners: 'No answer could avoid death. Nobody who came to us had any chance of saving himself'. Only seven people are known to have survived incarceration at Duch's prison.
Although Comrade Duch looks certain to pay for his crimes, many of his fellow murderers have escaped arrest- including Khmer Rough leader Pol Pot, who died in a jungle retreat in 1998. It is hoped that the tribunal will bring a form of justice for the thousands who were murdered and tortured under the Khmer Rough regime.
Prior to his death Dith Pran established the Dith Pran Holocaust Awareness Project (www.dithpran.org). Pran sought to educate people through his experiences on the terrible history of Cambodia: 'I am a one-person crusade, I must speak for those who did not survive and for those who still suffer…Like one of my heroes, Elie Wiesel, who alerts the world to the horrors of the Jewish holocaust, I try to awaken the world to the holocaust of Cambodia, for all tragedies have universal implications.' Dith Pran died on March 30th 2008 in the USA following a short battle against pancreatic cancer.
Categorised in: Article
This post was written by Chris Bath