April 25, 2008 12:00 am
Leave your thoughts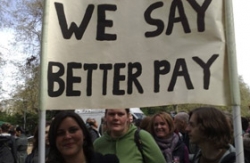 Rain, drizzle, hail' nothing could dampen the enthusiasm of the estimated ten thousand who marched through the centre of London in support of the industrial action being taken by the teachers' union the NUT today. This is the first national strike by teachers for over a generation. They were joined by members of the public sector union PCS and the lecturers union UCU who are also taking 24 hour strike action in what is intended as a unified show of force.
It is believed that the teachers' strike has nationally affected over 8,000 schools and 2.5 million pupils as teachers seek to win a 4.1% claim. The marchers assembled at Lincoln Inn's Field at 11.00 where they were greeted by a speedily arranged concert from none other than Billy Bragg. After this they headed off down to the Strand to march to a mass rally at Central Hall, Westminster. Despite the weather shifting backwards and forwards between rain and sun, the marchers kept going singing songs and chanting demands for a fair deal.
Even the arrival of a hailstorm didn't deter the marchers who filled the Westminster Hall to overflowing to hear speeches from Christine Blower, Acting General Secretary, NUT (who has stepped in following the untimely death of Steve Sinnott), Sally Hunt, General Secretary, UCU and Mark Serwotka, PCS General Secretary. Rallies and meetings have also been called in over 50 other locations throughout the country. Socialist Appeal's were sold both the London demo and at other events and copies of the special leaflet called in support of unified action across the whole public sector were also handed out.
This article first appeared on Socialist Appeal.
Categorised in: Article
This post was written by Steve Jones