May 2, 2008 12:00 am
Leave your thoughts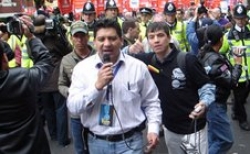 The Ecuadorean community in London has recently suffered from a brutal attack perpetrated by the British police. On 24th April, police units forcibly entered Ecuadorean premises located in Elephant & Castle and carried out what has been reported as a highly aggressive raid. During the raid, police forces allegedly displayed an excessive use of force against unarmed and harmless Ecuadoreans, treating them, in the words of one witness, as though they were terrorist suspects. Apparently, the raid had been organised in response to rumours indicating the illegal sale of some medicines, the seriousness of which accusation does not seem to merit the level of force used.
Following the raid, some people have been arrested, among whom are Jimena Espinosa and her son Paul Junior, aged 11, respectively wife and son of Paul Fierro(pictured). In complete disregard of any basic humanitarian rule, they have kept mother and son in prison and have treated them in an effort to induce Paul to surrender to police forces. Paul had sought asylum in the UK on the basis of his importance within the local community of migrants, but his application was turned down. His arrest has happened only a few months before he would have been eligible to ask for permission to remain in the UK, on the basis of the 7-year stay of Paul Junior in the UK. This would have regularised the position of the whole family. What seems to be emerging is that police has tried to force Paul Fierro to deliver himself under the pressure exercised by the detention of his family.
If true, it constitutes a daredevil attempt to oust a person from the country only for not having his papers in order. In a dispatch published on www.movimentoecuador.co.uk, Paul Fierro has declared: 'They treated our families like delinquents putting them against the wall, many of our children have witnessed this act….all norms of respect have been violated, my son has been sleeping in prison for two days, in a cell that does not guarantee the most minimal attention for a child, they obliged me to surrender as a bandit, pressing my wife to call me, and now I am with them because I cannot abandon them.'
Paul Fierro and his family were repatriated on 30th April, after the desperate attempt of the Ecuadorean and other Latin American communities of London to gather support in order to press the Home Office to revise its position. The hundreds of e-mails and solidarity appeals launched by various Latin American networks have not been enough to prevent his deportation. Paul Fierro was a renowned community leader, famous for his social commitment towards his Latin American fellows. In particular, he was a journalist, a profession through which he always tried to give a voice to the many Latin Americans that live in the Southern Central part of the city. He was also highly active in a number of civic and social associations that attempted to foster aggregation among immigrants.
Among the Latin American community of London, sentiments of fear and rage have spread in recent days. The deportation of one their most representative members happens at a time when these communities seem to have gained a good organisational strength, which has led to the launch of important initiatives in order to defend their working conditions and to push for the regularisation of undocumented migrants.

Photograph appears courtesy of www.comunalatina.com
Categorised in: Article
This post was written by Samuele Mazzolini