May 2, 2008 12:00 am
Leave your thoughts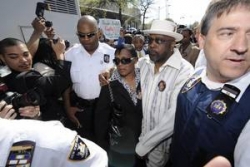 "We call each other brothers and sisters because we feel like we've been here together before." – Archie Cardwell
Over the phone several weeks ago, my father said this into my ear during our most recent fist pounding discussion on race, art, and current events. He is the original cowboy in my life. On Friday, April 25th, the officers that murdered young, black male, Sean Bell on November 24th 2006 at the Kalua nightclub in Jamaica, Queens, were acquitted of all charges. Flashback to 1999, another innocent black man – Amadou Dialo – falls victim of a cop firing squad, complete with bullet holes in the bottoms of his feet. Cops were also acquitted in that case. It is easy to label these men as "cowboys cops" for so mercilessly taking this man's young life presumably emblazoned with the power that firearms and heightened circumstances can spark in the wrong hands.
And fear, always a factor, remains a tired component that cannot be overlooked. The repeated issue amongst cop killings and unlawful treatment by law enforcement is justice. The cops were reportedly in pursuit of a prostitution and narcotic ring at the nightclub and Bell and his friends were simply out in celebration, the night before his wedding. Bell was gunned down in front of the strip club, after his car checked the back bumper of a patrol van filled with undercover cops. Allegedly, they proceeded under the assumption that Bell and/or his friends had a gun. Three officers fired fifty shots – two black, one white, the white cop reloading – killing Bell and injuring both his friends.
This verdict has served as a time machine, zipping us back to the Civil Rights movement and the uphill battle that was the 1960s for blacks. However, it is 2008 and unfortunately this decision reinforces the private, yet unspoken consciousness that blacks still have minimal value in America. As a 26-year-old black woman, my position within "the good fight" becomes more visible. This should also remove any excessive speculation as to the causes of the rising suicide rate amongst black youth. The strain of a weak social scope will take its toll on even the strongest inhabitant, especially among vulnerable youth. Let's just say that, Nina Simone's "Young, Gifted, and Black" is on heavy rotation in my house.
After the announcement, blacks swallowed hard and with furrowed brows and frustrated gazes continued about their days. The next morning, the front page picture on the AM New York was of a small brown child on his father's shoulders, carrying a sign that read "I am Sean Bell." The headlines on the NYPost and the Daily News were still relishing in the smut of the Spitzer spiral and any Giuliani drama surrounding the recent papal visit, thus perpetuating the stagnancy of justice that validates the criminal profiling of black America.
This certainly makes it difficult to "spread our wings" and "believe we can fly", when the very people that are appointed "to protect and serve" can get away with murder. What's even more alarming is that a presumably ethical judge felt it feasible to proclaim this as justice. If justice is, in part, for the betterment of society, then after such a decision, justice needs to be redefined. Following the announced verdict, the NYPD tripled patrol officers in anticipation of a raucous reaction – the black taxpayer's cherry on top, basically. My father's comments ring true. Blacks need to reach out and grasp hands of our nearest brother and sister. We need to unite as a family and decide not to retaliate in the way we're expected to.
Categorised in: Article
This post was written by Erica Cardwell