May 30, 2008 12:00 am
Leave your thoughts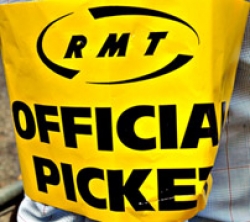 The RMT is balloting more than 17,000 workers in a dispute with Network Rail. The Union has been negotiating for months for the harmonisation of terms and conditions for maintenance staff.
The talks have broken down because Network Rail have failed to come up with a serious offer to address the needs of 12,000 infrastructure workers, many of whom were transferred to Network Rail from the private sector. The RMT demands for infrastructure workers are for:
1) Working week: a 35 hour week with no loss of pay, moving toward a 34 hour week with where possible a maximum 4 day rostered week over a 13 week cycle.
2) Annual leave: 28 days annual leave on entry plus bank holidays. 30 days after ten years service plus bank holidays. No compulsory working on Christmas, Boxing and New Year's Days and agreed enhancements for working those days.
3) 39 weeks full sick pay.
4) Pay issues: one grading system, one set of job descriptions, highest basic rates of pay with allowances, recognition that allowances can be reduced to increase basic pay and 100% pensionable pay.
The company have been trying to use the negotiations to drive down conditions instead of answering the Union's requests.
It became inevitable that a ballot would have to take place and the workers threw out the companies' offer by more than one hundred to one against.
The balloting of the 5,000 signal grades and other operational staff follows the rejection of a pay and conditions offer that would in real terms mean cuts in living standards.
The offer of 4.8 percent this year and RPI plus 0.5 per for next year cent was rejected as it would not protect staff against rising costs of fuel and other commodities that are rising rapidly above inflation levels.
This offer was rejected by a margin of two to one.
The company then insultingly offered another tenth of one percent on condition that we did not go to ballot.
With no sign of serious negotiations from the company, a strike that could close down the entire network rail seems inevitable.
This would be one of the biggest actions that the country has seen since the late 1980s. The Union must get the message out to the general public and bring them on board. The media are going to go into overdrive to run down the union's leadership and portray railworkers as lazy and overpaid. We must do all that we can to counter these lies and put the truth out on a consistent basis.
The left should rally around this dispute and, putting aside their differences, give as much support as possible.
This article first appeared on Socialist Appeal.
Categorised in: Article
This post was written by Rick Grogan