July 11, 2008 12:00 am
Leave your thoughts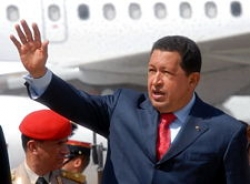 While celebrating Venezuela's Independence day on Saturday, Venezuelan President Hugo Chávez expressed his desire to renew anti-drug collaboration and re-open dialogue with the United States. Chávez also guaranteed that his administration has no desire for war.
In a brief conversation with the US Ambassador to Venezuela, Patrick Duddy, Chávez recalled how he had met several times in the presidential palace with John Maisto, the U.S. Ambassador to Venezuela from 1997-2000.
"We ate breakfast, we talked. We must return to that situation," Chávez told Duddy, according to Venezuelan newspapers.
Referring to the upcoming US presidential elections, Chávez commented, "whoever wins, we should be able to sit down and converse. I did this with Clinton, we sat down to talk."
Venezuela froze anti-drug collaboration with the US Drug Enforcement Agency in 2005 after DEA operatives were allegedly involved in illegal espionage. Venezuela subsequently presented several plans for renewing anti-drug efforts with the DEA while guaranteeing Venezuelan sovereignty, but relations have remained frozen.
During an Independence Day parade led by the Venezuelan Armed Forces, Chávez warned those who wish to topple the Venezuelan government militarily to put a halt to such plans because the Venezuelan armed forces and reserves are well-trained and ready to defend their nation.
However, Chávez assured, "We do not want war." "We have in our country a peaceful revolution, but not an unarmed revolution," Chávez explained.
On Monday, Chávez addressed a military academy graduation ceremony.
"Venezuela today is living a true revolution. There exists a revolution within the Armed Forces, just as in South America. This revolutionary force is of the People," Chávez told recent graduates.
"If we do not construct our future they will impose it on us. That is the difference between a free country and a dominated nation," added Chávez, whose administration has deployed the National Guard to help the functioning of social programs such as the government's growing food distribution network, PDVAL.
Venezuela became independent from the Spanish Empire on July 5th, 1811.
Categorised in: Article
This post was written by James Suggett