July 11, 2008 12:00 am
Leave your thoughts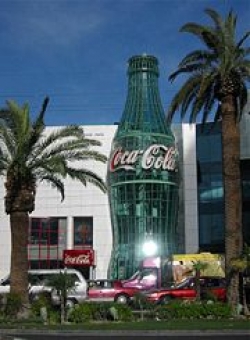 The soft-drinks giant Coca-Cola is being held responsible for the murder, kidnap and torture of Colombian trade unionists by paramilitary security forces, often working closely with plant managements. According to the International Confederation of Free Trade Unions, over 3,000 Colombian trade unionists have been assassinated since 1990, in a country where union work has been likened to "carrying a tombstone on your back".
In 2001 and 2006, lawsuits were filed against Coca-Cola in the US by the International Labor Rights Fund and the United Steelworkers on behalf of SINALTRAINAL (National Union of Food Industry Workers). The cases were contingent upon the 1789 Alien Tort Claims Act which allows foreigners to bring incidents of human rights violations to American courts. The act concerns "the law of nations", which encompasses genocide, war crimes, extrajudicial killings, torture, unlawful detention and other crimes against humanity. The courts heard of how Coca-Cola bottlers in Colombia had "contracted with or otherwise directed paramilitary security forces that utilized extreme violence and murdered, tortured, unlawfully detained or otherwise silenced trade union leaders."
On December 5, 1996, at the Carepa plant, Isidro Segundo Gil, a member of the union executive board, was shot dead. Two days later, heavily armed forces informed workers that they too would be killed if they failed to leave the union by 4.00pm. Coca-cola's plant manager had conveniently prepared resignation notices in advance and, as expected, the union members resigned and fled.
SINALTRAINAL Vice President Adolfo de Jesus Munera fell victim to Coca-Cola on August 31, 2002 in Barranquilla. A year later, the Constitutional Court of Colombia deemed that he was unlawfully terminated by the bottler. The 2006 lawsuit charges that management of the plant collaborated with paramilitary forces and the Colombian Administrative Department of Security to kill Munera.
The 2001 lawsuit ended with the dismissal of Coca-Cola under the order of Jose E. Martinez, a U.S district judge. However, the case is now on appeal as critics have argued that the backbones of the case were overlooked. Further complaints were made by the Campaign to Stop Killer Coke in 2007 over a potential conflict of interest regarding Judge Martinez and his ties with the University of Miami, his previous private law firm and the Coca-Cola Company.
The level of violence employed by Coca-Cola in the intimidation of its Colombian workers is a serious issue. However, if we look more closely at Coca-Cola's sinister history a number of other crimes become visible. The United Nations' International Labour Organization was prevented from "examining violations of workplace rights in Colombia" by Coca-Cola executive Ed Potter.
A similar attempt to preserve the integrity of Coca-Cola within the soft-drinks market was made in 2007 advertisements that linked the company directly to Martin Luther King Jr. in a celebration of Black history. The campaign failed to mention his call for a boycott of Coca-Cola during the Civil Rights Movement following the discrimination of Black employees. Coca-Cola's tendency towards racial discrimination can also be observed in its alleged support of the 1936 Berlin Olympics and the advertisements placed in Hitler Youth booklets. Furthermore in 2001, Coca-Cola had to pay the largest racial discrimination settlement in US history of $192.5 million – a huge contradiction for a company that boasts of its " long-standing commitment to equal opportunity and intolerance of discrimination.
Perhaps after reading thus far into the dark side of Coca-Cola, it may no longer shock you that this reputable company has long been practicing anti-worker and anti-environmental policies worldwide. The UK's Channel 4 Production, "Dispatches: Mark Thomas on Coca-Cola" of 2007, exposed child labour in El Salvador sugar fields. During sugar harvesting, the young workers suffer from smoke inhalation, burns and cuts from machetes yet have no access to healthcare. Despite this, Coca-Cola continues to spend $3 billion a year on advertising and claims to firmly oppose child labour.
Coca-Cola also stands accused of overexploitation and pollution of water sources in India, Mexico, Ghana, El Salvador and elsewhere. The Environmental Law Research Center in Geneva concluded in 2007 that "the availability of good quality water for drinking purposes and agriculture [in India] has been affected dangerously due to the activity of the Company [The Coca-Cola Co.]. Apart from that, the Company had also polluted the agricultural lands by depositing the hazardous wastes".
Meanwhile, Coca-Cola continues to reward executives with hefty incomes whilst thousands of other workers are made redundant or labeled as "subcontracted or flexible workers" who work for the minimum wage and lack job security. Not surprisingly, Director Donald McHenry is a big earner, laying claim to 35,066 stock shares. What may come as a shock after discovering the brutal truth about Coca-Cola, however, is that McHenry was previously a US ambassador to the United Nations and even defended human rights in the Carter Administration. It remains a mystery, then, that a figure of such authority is unable to stop the severe violations of human rights within his own company.
The Stop Killer Coke campaign was founded in a bid to erode the influence and brand value of Coca-Cola amongst consumers. It is also anticipated that 'Coke's Bank', SunTrust Banks, will suffer a loss of profit and credibility. The campaign director, Ray Rogers, stated that "The world of Coca-Cola is a world full of lies, deception, immorality, corruption and widespread labour, human rights and environmental abuses. When people think of The Coca-Cola Company, they should think of a company that has inflicted great hardship and despair upon many people and communities throughout the world. When people see Coca-Cola beverages and ads, they should think of crimes and other misconduct so unthinkable that all of Coke's products become undrinkable." As a result of the campaign, at least 50 universities have kicked Coke products off their campuses.
Speaking on behalf of Coca Cola's victims, Javier Correa, the President of SINALTRAINAL declared "We want justice. We want people to know the truth about what is going on in Colombia against Coke workers. Now that you know, will you please help us?" If you would like to help the victims of Coca-Cola's vicious crimes, visit the official website of the Stop Killer Coke campaign to join the petition, gain advice on student activism or to make a donation.
The Killer Coke campaign website is www.killercoke.org/
Categorised in: Article
This post was written by Kacie Morgan