July 18, 2008 12:00 am
Leave your thoughts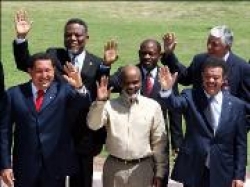 Member countries of Petrocaribe, the Caribbean energy integration organization that Venezuela initiated in 2005, agreed Sunday to adjust the terms of financing for the purchase of Venezuelan oil in order to lower the impact of soaring oil prices on Caribbean countries. Also, Guatemala joined the association as its 18th member.
As long as Venezuelan oil costs $100 per barrel or more, Petrocaribe members will pay only 40% of their oil imports from Venezuela within 90 days, instead of 50%, as agreed upon previously. The remaining 60% would be paid over 25 years at a fixed interest rate of 1%, in accordance with changes ratified Sunday during the Fifth Petrocaribe Summit held in Maracaibo, Venezuela.
"This could compensate for this horrible curve in the petroleum markets," said the President of Venezuela, Hugo Chávez, who proposed the "urgent" changes.
If the price of Venezuelan oil surpasses $200 per barrel, which Chávez said would be a "not desired scenario," member countries will pay 30% within 90 days, and 70% over 25 years.
So far, Petrocaribe countries have received a total of 58.9 million barrels of Venezuelan oil, approximately 56,000 barrels per day.
Chávez encouraged countries to pay part of their debt in "goods and services," assuring that "a distinct market will be born in Petrocaribe" which creates "opportunities for integral development."
Chávez also proposed that Petrocaribe nations create mixed enterprises with the Venezuelan state oil company PDVSA to extract oil from the Orinoco Oil Belt, where Venezuela has some of the world's largest oil reserves.
This way, each country in Petrocaribe would produce its own oil supply, strengthen its economy, and be less affected by the soaring oil prices, Chávez explained.
So far, Petrocaribe participants have constituted 8 mixed enterprises to make joint investments in oil refining and distribution in the region, according to Venezuela's Energy and Petroleum Minister, Rafael Ramírez.
To help Caribbean countries improve domestic food production and be less affected by global food price inflation, Venezuela also offered to form bilateral agreements to build fertilizer production plants in Petrocaribe countries, starting with Nicaragua, Dominica, and Cuba, where such bilateral projects are already underway.
In addition to these long-term "structural solutions of our region," Chávez announced that in the short term, Venezuela will supply Petrocaribe nations with 100,000 metric tons of urea, an ingredient in fertilizers, at a 40% discount from the international price. This will cover half of the region's growing urea consumption, which Chávez estimated to be 200,000 tons per year.
"It is impossible that in a summit in today's world the food crisis is not discussed," Chávez declared. "We should convert Petrocaribe into a type of anti-hunger shield, a shield to protect ourselves from misery, from hunger."
Petrocaribe nations also agreed to start a special fund in the Bank of ALBA (Bolivarian Alternative for the Americas), to boost food production and combat food shortages. ALBA is another regional integration initiative based on cooperative, fair trade principles as an alternative to global capitalism, whose members are Venezuela, Cuba, Nicaragua, and Bolivia.
The Jamaican Prime Minister, Bruce Golding, offered to contribute $5 million to the ALBA Caribbean Fund, and Venezuela said it would contribute half a dollar of every barrel exported.
The vision of both the Petrocaribe and ALBA initiatives is the economic integration of Latin America and the Caribbean based on the principles of justice, solidarity, equality, cooperation, complementation, common will, and respect for the sovereignty and self-determination, with emphasis in human and social development, according to the website of Venezuela's state oil company, PDVSA.
Venezuelan opposition leaders have criticized Petrocaribe and ALBA for being examples of the "diplomacy of bribery," and accused the Chávez administration of attempting to buy support for the Venezuelan government.
Moreover, some officials from Petrocaribe nations have opposed the initiative because it favors accords among governments and de-emphasizes the private sector.
Petrocaribe is now composed of 18 Caribbean countries, including Guatemala, which joined the group Sunday. Costa Rica, which is still considering membership, sent a representative to observe the summit.
Upon ratifying his country's membership, Guatemalan President Álvaro Colom said Petrocaribe was "founded on a new vision' the search for solutions which complement our economies, not absorb them."
Likewise, Cuban Vice President Carlos Lage described the regional organization as "a mechanism of integration oriented toward development which takes in to account the particular circumstances of smaller economies."
Minister Ramírez encouraged the expansion of the organization, commenting, "I am satisfied with our system, that our mechanisms of cooperation have generated such a level of trust that in each summit more countries are incorporating themselves."
James Suggett writes for Venezuela Analysis.
In other regional integration initiatives, Venezuela is currently discussing plans to build an oil pipeline through Suriname and Guyana, and President Chávez discussed the construction of a transnational railway with Colombian President Álvaro Uribe during their meeting last Friday.
Categorised in: Article
This post was written by James Suggett