July 25, 2008 12:00 am
Leave your thoughts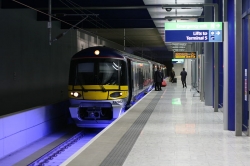 We're all aware of the fiasco that occurred when Heathrow Airport opened Terminal Five in February.
What many readers may not be aware of is that back in April the British Aviation Authority announced a public consultation into a planned scheme they're calling Heathrow AirTrack (http://airtrack.org and http://www.heathrowairport.com/airtrack). This is effectively a south-west London version of the Heathrow Connect service which currently runs to and from Paddington and calls at various places like Ealing, Hanwell and Action.
The plan is to build a short railway line (approximately 4 km) south from Heathrow Airport to Staines railway station, as well as building an extra station in Staines, and from there a further short connection to Reading. The aim of the scheme is very simple: by building this short stretch of track they will be able to run trains to and from Waterloo station to Heathrow, calling at Clapham Junction, Richmond, Twickenham and Staines. The short connection will enable them to run further trains to and from Reading, which is not currently possible with the Heathrow Connect service. They will also be able to run trains to and from Woking and Guildford using existing railways lines.
AirTrack isn't a new idea. There have been various proposals going back about fifty years to build something to improve access to Heathrow Airport, but none have ever come to fruition. The current idea dates from 2000 and has slowly been building momentum and undergoing feasibility studies. There will not be any major issues with regards to installing the network – part of the planning permission for Terminal Five insisted that provision had to be made for a southern rail connection, and there is the space on the current network to support the connections and services, whether by taking over existing trains or by adding further services.
This scheme will open up the whole of the South West Trains network to a simple train journey to the airport, eliminating a big cause of traffic on the M25. It will also open up the Southern and London Overground train services, both of which use Clapham Junction. The scheme will make it a lot easier to get to and from the airport via public transport, as commuters can't currently get a train there from south-west London and Surrey. Whatever your views on air travel, this has to be a good thing as it will significantly reduce the need for people to drive to Heathrow, as well as eliminating the shuttle buses which run from Woking and Reading, again removing further traffic from the roads.
BAA plan to have a further public consultation later this year and apply for planning permission later this year, with an intention to have it up-and-running by 2014.
Categorised in: Article
This post was written by Demetrius Notice