July 25, 2008 12:00 am
Leave your thoughts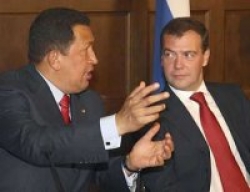 President Hugo Chávez of Venezuela met for the first time with Russian President Dimitri Medvedev on Tuesday, to strengthen bilateral relations and discuss economic and military cooperation, which could expand the relationship between Russia and Latin America as a whole.
By strengthening relations with Russia, Chávez said he is pursuing "polycentrism," which he described as "a world based in a multi-polar order that permits the rights of peoples to liberty, self-determination, and sovereignty to be fully exercised."
Expanding on this idea, Venezuela's Communications and Information Minister, Andrés Izarra reported after the meeting that the two leaders "consolidated a new world geopolitical architecture," and progressed toward "the construction of new poles of power that permit the breaking of uni-polar hegemonies."
Medvedev, who was elected last March, told the press upon Chávez's arrival to Russia that "energy security depends on our joint actions," and that the two oil-producing nations will enhance cooperation, "but our cooperation is not directed against third countries."
This cooperation will be "mutually advantageous not only for our countries but also those who cooperate with us will benefit," Medvedev added.
During the visit, Venezuela's state oil company, PDVSA, signed memoranda of understanding with the Russian oil company Lukoil and Russian-British TNK-BP to form mixed enterprises to exploit the oil reserves in Venezuela's Orinoco Oil Belt, which were nationalized in May 2007 and are considered to be among the largest in the world.
"Venezuela is a strategic business partner in the exploitation of gas and petroleum outside of Russia," said the Vice President of Lukoil, Andrey Kuzyaev, after signing the accords.
Lukoil recently purchased a 320,000 barrel per day refinery in Italy that can manage Venezuela's heavy crude, which Lukoil has been exploring in team with PDVSA since 2005. Kuzyaev told Reuters that the deals signed Tuesday could "become an important element in building Lukoil's relationship with Venezuela, which is interested in European markets."
PDVSA also signed an accord with the Russian Gazprom, which controls a quarter of the natural gas in the world, to carry out a quantitative analysis of the gas reserves in the Orinoco Oil Belt and the Gulf of Venezuela.
While the details of Venezuela's potential arms purchases from Russia have not been made public, the Russian newspaper Kommersant reported that Venezuela plans to purchase more than $1 billion worth of anti-aircraft weapons, torpedo-equipped submarines, and tanks.
"We are going to continue equipping Venezuela's defense system, so we can guarantee the sovereignty of our country, which is threatened by the United States," Chávez said upon arriving in Moscow Tuesday.
"We want peace, but in order to preserve the security and tranquility of the nation it is necessary to strengthen our defense," Chávez reaffirmed.
Likewise, Medvedev declared that relations between Russia and Venezuela "are one of the key factors in the security of the regions."
Chávez denounced the recent re-activation of the United States Southern Command Fourth Naval Fleet in Latin America, railing, "The United States has filled this world with blood and pain, but this empire will fall in this century," and give way to the existence of a "polycentric balance that assures world peace."
President Chávez boasted Tuesday that Venezuela is "little by little" becoming a "powerful country in Latin America," but emphasized that this power is not just military, but also social, scientific, and economic.
"There is a tendency in the media, dominated by imperialism, they want to make technical-military cooperation the only theme, but that is only one of the areas of cooperation," the Venezuelan leader explained.
Venezuela and Russia are also preparing to launch a joint bank and business council, initiatives that Chávez said he had been planning with former President Vladimir Putin for two years.
The bank's objective will be to "contribute to the consolidation of the social development programs required to obtain greater common economic prosperity," according to a memorandum of understanding signed by both nations.
Chávez also expressed hope that the bank will provide "financing to alternative countries in order to transform the financial architecture of the 20th Century, which was a uni-polar system of world domination."
Commercial relations between Russia and Venezuela had a total value of $34 million in 2003, but rose to more than $1.1 billion in 2007 and included fertilizers, aluminum, steel, and maritime products, according to Venezuelan government figures.
President Chávez now plans to meet with the leaders of Belarus and Portugal to concretize economic accords signed in the last year and move forward mixed enterprises to exploit Orinoco oil. Chávez will also visit Spain, where he is expected to meet with King Juan Carlos I for the first time since the King told Chávez to "shut up" about European imperialism and fascism at an Iberian-American summit last November.
Categorised in: Article
This post was written by James Suggett