August 1, 2008 12:00 am
Leave your thoughts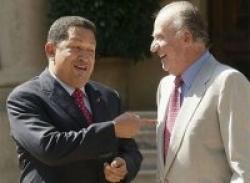 Rounding off a diplomatic tour of Europe that began with Tuesday's controversial visit in Russia, Venezuelan President Hugo Chávez mended relations with the Spanish government, set up a bi-national commerce commission with Portugal, and eliminated visa requirements to facilitate bilateral accords with Belarus this week.
"Our friendship is with Spain and with all that Spain represents, the Spain that sings to the world, to peace, to brotherhood," Chávez declared in a press conference after meeting with Spanish Prime Minister José Luis Rodríguez Zapatero in Madrid Friday.
Chávez highlighted the gravity of the "epochal" food, energy, and financial crises currently affecting the world, concluding that "it is good to close old chapters and open new chapters in order to work together with Europe, with Latin America to face these issues that preoccupy all inhabitants of the planet."
Zapatero commented that "between Venezuela and Spain there are commercial and investment relations and new camps to explore that could be of interest to citizens of both countries."
This sentiment was echoed by the Venezuelan Ambassador to Spain, Alfredo Toro Hardy, who said Chávez's visit "consolidates the re-launching of relations" between the two countries.
"Venezuela, an energy power, always has the capacity to lend a hand to Spain, which needs energy; Spain, a food power, always has the capacity to extend their hand to Venezuela," said Hardy.
President Chávez also had his first meeting with King Juan Carlos I of Spain since the King told Chávez to "shut up" about Spanish fascism at an Iberian-American Summit in Chile last November.
During the one-hour visit in the Mallorca archipelago, the two leaders shook hands and symbolically normalized relations, and Chávez joked that because of the summer climate, "I feel as though I were in Cuba, Jamaica, or Margarita."
Chávez was greeted warmly by Spanish student organizations, immigrant rights groups, and other civil society organizations that demonstrated their support for the political changes underway in Venezuela.
"The Venezuelan Revolution is a new liberation, it is the new liberation of the oppressed and of the peoples who are suffering under the yoke of imperialism," said Spanish student union leader Juanjo López, one of the pro-Chávez demonstrators. "The principal fear of the capitalists and the multi-nationals is that the revolution will spread throughout Latin America, and that as a result Spain will also be affected."
On Thursday, Chávez met with Portuguese President Aníbal Cavaco Silva to establish a bi-national economic commission. The commission will facilitate the accords signed by the two countries last May, which include the joint exploitation of oil in Venezuela's Orinoco Oil Belt, liquid gas and wind power projects, and imports of Portuguese food products.
Also, within days Venezuela will send its first shipment of oil to Portugal in an effort to diversify the destinations of Venezuelan oil. According to plans concretized last May, Venezuela will start by exporting 10,000 barrels, then steadily increase the amount to 96,000 barrels, nearly a third of Portugal's national demand.
"We would like the flow of products from Portugal to Venezuela to grow," said Chávez, emphasizing that, with a GDP that has nearly tripled in the last ten years from $90 billion to $250 billion, "Venezuela is a country amidst expansive growth and it is very opportune to increase commercial flow."
The Venezuelan leader capped off the visit by granting credits worth 1.7 million bolivars ($790,000) to 344 Portuguese small and medium-sized enterprises in the manufacturing and service sectors. It was the third of six such investments planned for this year, according to Portuguese officials.
Portuguese Prime Minister José Sócrates Carvalho Pinto de Sousa thanked Chávez for opening Venezuela to Portuguese capital, and said relations between the two countries "are not only political nor purely economic. It is a relationship between peoples, between persons who know each other, who esteem one another and have common interests."
On Wednesday, Chávez made his third visit to the former Soviet-bloc nation of Belarus, where Belarusian President Alexander Lukashenko awarded him a prize of friendship.
"Without the contribution of the esteemed President Hugo Chávez we would not have the results that we have so far," said Lukashenko, referring to the economic accords signed by the two countries over the last two years. "The socialist idea blossoms again in the world."
Chávez responded, "You and I struggle against the same enemies. Our peoples struggle against the same adversary: imperialism."
When Lukashenko visited Venezuela last December, the two countries launched a mixed enterprise to exploit Venezuelan oil reserves and signed agreements to create joint factories to produce heavy-duty mining machinery, tractors, and automobile parts.
Also, 40 members of the Venezuelan armed forces, 32 men and 8 women, began a five year course in military technology at the Belarusian military academy last November as part of military cooperation agreements between the two countries.
"In hardly two years we have constructed a plan and a first floor of a strategic alliance. We will continue constructing a political, economic, social, scientific and technological alliance in order to walk into the future in freedom," Chávez declared.
To facilitate their alliance, Belarus and Venezuela agreed to allow people participating in the joint projects to travel in each other's country for 90 days without a pre-arranged visa.
James Suggett writes for Venezuela Analysis.
Categorised in: Article
This post was written by James Suggett