August 8, 2008 12:00 am
Leave your thoughts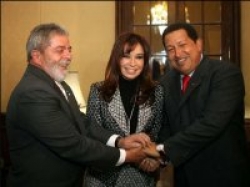 Countries in South America are constructing a new international financial system, said the President of Venezuela, Hugo Chávez, after meeting with Argentine President Cristina Fernández de Kirchner and Brazilian President Luis Inacio "Lula" da Silva in Buenos Aires on Monday.
Along with this, Chávez announced over the weekend that the recently nationalized Bank of Venezuela will be expanded to serve more municipalities in Venezuela and emulate the model of the Caixa Económica do Brasil, the largest state-owned bank in Latin America, with assistance from Brazilian officials.
"We are amidst a world financial crisis, that is why the creation of a new financial-economic system is necessary," Chávez said in a press conference in Argentina.
Chávez also met with Argentine business leaders to improve commercial ties and discuss the projects with Argentina's National Agricultural Technology Institute (INTI). One such project is a contract with INTI to construct 200 "socialist" factories with Argentine technology, 30 of which are planned to be underway this month.
The agreements include technical assistance and training of Venezuelan officials through a contract with Venezuela's renovated National Institute for Socialist Education and Training (INCES), to strengthen Venezuela's training programs for the newly acquired technologies.
"We are determined to industrialize Venezuela and I know that you are ready to re-energize the industrialization of Argentina," Chávez told Argentine business leaders Monday.
President Chávez suggested that after Argentina and Venezuela consolidate these projects, they might work together to "spread these marvelous projects to other countries that need it."
In addition, Chávez proposed a bi-national investment fund with Argentina that "would be a powerful motor" for the integration of the two countries. Venezuela has already purchased several billion dollars worth of Argentine debt in the past three years, and the two countries have signed economic accords to exchange Venezuelan energy for Argentine food.
Venezuela is currently launching similar bilateral investment funds in team with Iran, Russia, and China. Chávez highlighted the Chinese Development Bank's $4 billion contribution to the bilateral investment fund with Venezuela last November as another sign that a new international financial system is taking shape.
A further indication of Venezuela's burgeoning financial networks on the South American continent is Chávez's plan to model the Bank of Venezuela after the Caixa Económica do Brasil, which serves 33.6 million Brazilians mainly from lower income strata. Last Tuesday, Chávez and several federal ministers held a private meeting with representatives of the Caixa.
"One of the plans I have with the Bank of Venezuela, once it is nationalized in the coming weeks, will be to municipalize it, so that it reaches the whole country," Chávez explained Sunday.
"Here, there are many municipalities that do not have a banking agency," he continued. "We must copy the good experiences, making adaptations to our particularities," he said, referring to the Brazilian bank.
Chávez added that the bank shall be "an ultra-modern entity" that will benefit "not only the rich and the middle class, but also the people."
The Caracas stock market index rose by .37% on Tuesday, compelled in part by the rally of 6.67% in Bank of Venezuela stocks, according to Reuters.
Finally, concerning Venezuela's eminent membership in the Common Market of the South (MERCOSUR), for which congressional approval from both Brazil and Paraguay is still needed, Chávez highlighted during the press conference in Buenos Aires that those who oppose the admittance of Venezuela are not the majorities of either country, but rather "very well-defined political sectors" who are working to "impede unity."
James Suggett writes for Venezuela Analysis.
Categorised in: Article
This post was written by James Suggett