September 5, 2008 12:00 am
Leave your thoughts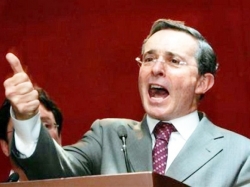 In an unprecedented move, three judges of the Superior Tribunal of Sincelejo, a city in northern Colombia, have ordered that President Alvaro Uribe and several of his top ministers be arrested and jailed. Others named by the court include Interior Minister Fabio Valencia and Housing Minister Oscar Ivan Zuluaga.
The court has ordered that the officials spend three days in jail for failing to enforce a judgement pertaining to wages for workers in the judicial sector. While it is common in Colombia for governors and mayors to serve short prison sentences for failing to comply with judicial orders, it is the first time that such a sentence has been ordered for the President.
The ruling came after a group of judicial workers appealed to the Sincelejo Tribunal, the highest court in the region, that the deadline for government action had passed following a February 29th order that wages for judicial workers should change.
It is understood that the ruling will now be sent to the Supreme Court for a review and that no arrest warrant has yet been issued for the President.
Categorised in: Article
This post was written by Justice For Colombia