January 23, 2009 12:00 am
Leave your thoughts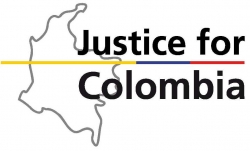 The wife of the leader of the health workers trade union ANTHOC in the Colombian region of Narino has been shot dead in what the union describes as the latest in a series of state-sponsored attacks on trade unionists. Cecilia Montano was shot three times in the head in the town of Tumaco on January 5th and, according to a statement from ANTHOC, those responsible left the area without the authorities attempting to apprehend them. Ms Montano was the wife of ANTHOC Narino President Jorge Caicedo.
According to ANTHOC the region it which the latest killing occurred is suffering from extreme levels of violence perpetrated by army-backed paramilitaries which the Colombian State is doing nothing to stop. In a statement the union rubbishes claims by the Colombian regime that the paramilitaries no longer exist and says that in and around Tumaco they continue to operate albeit using different names from those they used in the past. The union claims that unidentified 'interests' are attempting to gain control of the area which is rich in natural resources and that wiping out the trade union movement is part of the strategy.
To illustrate just how bad the violence is, ANTHOC pointed out that during the last weekend of 2008 there were ten violent deaths in Tumaco municipality, where some 170,000 people live. This compares with 16 deaths reported during the same weekend in the nearby city of Cali, home to over 2.5 million people.
Narino, where Tumaco is located, has been the scene of intense violence in recent years.
For further information visit /www.justiceforcolombia.org
Categorised in: Article
This post was written by Justice For Colombia