March 13, 2009 12:00 am
Leave your thoughts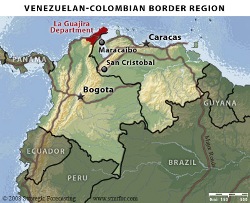 Venezuelan President Hugo Chávez said Colombian Defense Minister Juan Manuel Santos's justification of cross-border attacks on Colombian rebel forces "is a threat to peace in South America" and a violation of agreements that the two countries have signed, and said Venezuela will respond militarily to any violation of its border by a foreign nation.
"I don't want to return to past conflicts, but I don't understand. If my defense minister says something that contradicts agreements that I have signed, I dismiss that minister immediately. It is strange that Minister Santos says whatever he wants and remains in his charge," Chávez said during his weekly Sunday talk show Aló Presidente.
Last week, on the anniversary of Colombia's deadly raid on the Revolutionary Armed Forces of Colombia (FARC) encampment in Ecuador, Santos called the air and land strike "an act of legitimate self-defense" and indicated his government will continue to attack "terrorists" wherever they are found.
Venezuela's Foreign Relations Ministry denounced Santos's remarks in a formal statement, saying the remarks contradicted an accord signed by many presidents in the region at an emergency summit a week after last year's attacks. The accord affirmed that no state may violate the territory of another for any motive or length of time.
Colombian President Álvaro Uribe told Santos not to make declarations that should be made by the Foreign Relations Ministry, but left Santos in his post. On Sunday, Chávez said this is worrisome because just days before Santos's declarations, the Colombian press reported that the Colombian military had located several guerrilla leaders within Venezuelan territory.
"Be careful, President Uribe. I don't want to think that it occurs to Santos to do to Venezuela what they did in Ecuador," Chávez told the Colombian president. "Although it hurts my soul, I would give the order to bring out the Sukhois [fighter planes] and the war tanks. I am not going to permit disrespect for Venezuelan sovereignty for anything in the world."
The Venezuelan President also asked the Colombian government to consider if Venezuela were to implement a policy of similar nature to fight drug trafficking. "Imagine if I were to say that in order to end the problem of cocaine and drug trafficking, we have to go looking for all the farmers and producers of cocaine wherever they are found. This cannot be permitted!" said Chávez.
The Colombian government and its ally the United States have accused Venezuela of not doing enough to stop drug trafficking through from Colombia through Venezuelan territory to the U.S.
The Chávez administration has responded by pointing out that Venezuelan drug interdictions have doubled since 2005 and by telling Colombia to focus on its production problem and the U.S. to focus on its consumption problem.
"We respect the sovereignty of each country," Chávez announced Sunday. "The Colombian civil war is a Colombian issue," he said, adding that there is no way for Venezuela to have troops "on every square meter of the border" to make sure a Colombian guerrilla does not cross over.
Following Colombia's attacks in Ecuadoran territory last March, the Uribe administration claimed it had found email evidence in laptops recovered from the bombing that Venezuela was supporting the FARC, but critics pointed out that such evidence could easily have been manufactured.
On Sunday, Chávez reiterated a past speculation that the U.S. and the Colombian government "are trying to convert our beloved Colombia into the Israel of Latin America," using Colombia as a military platform to destabilize the region and break up the political and economic integration efforts underway.
Uribe and Chávez have drawn up extensive plans for economic cooperation and met more than a dozen times, most recently in Colombia in January.
Referring to the last meeting, Chávez said Sunday, "Hopefully, President Uribe can bring to life and implement the spirit in which we spoke the last time we met, which was very good."
Categorised in: Article
This post was written by James Suggett