March 20, 2009 12:00 am
Leave your thoughts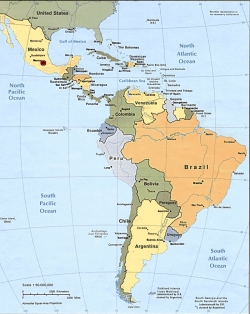 During a meeting in Washington, DC on Saturday, Brazilian President Luiz Inacio Lula da Silva urged United States President Barack Obama to "approach" Venezuela, Bolivia, and Cuba, despite ideological differences.
"What I said to President Obama, and I hope it will occur, is that it is indispensable that he approach Venezuela, Cuba, and Bolivia," said Lula in a press conference after meeting with Obama.
Venezuela, Cuba, and Bolivia are among the more left-leaning Latin American countries and that have formed an alternative trade bloc based on cooperation and mutual benefit. Venezuela and Bolivia both expelled the US ambassadors from their countries last September for allegedly conspiring with separatist movements in resource-rich provinces.
President Obama has accused the government of Hugo Chávez in Venezuela of "impeding progress in the region" and supporting "terrorist" rebel troops in Colombia. President Chávez has repeatedly expressed his desire to improve relations with the US while insisting that the US end its military occupations worldwide, stop intervening in the governments of Latin America, and end its embargo against Cuba.
Lula's administration has governed more from the center, and positioned itself as Latin America's ambassador to the United States.
"I think Latin America and the United States should construct a new relationship, a relationship of trust, and not of intervention," Lula said Saturday. "It is indispensable that the United States understand that Latin America is living a rich experience of economic growth and democracy," he said.
Lula called Chávez on the phone earlier this month to ask permission to speak to Obama about Venezuela. Chávez agreed, but said Venezuela "in principle [does not] need any intermediaries to talk with any government on this planet."
Categorised in: Article
This post was written by James Suggett