March 27, 2009 12:00 am
Leave your thoughts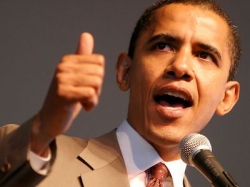 America will this week unveil its $1 trillion Public-Private Investment Programme in President Barack Obama's latest attempt to kick-start the economy. The Obama administration hopes to jump-start this crucial machinery by effectively subsidising the profits of big private investment firms and buying up toxic debt. The Treasury Department and the Federal Reserve plan to provide low-cost loans and guarantees to hedge funds and private equity firms.
Timothy Geithner, Obama's embattled Treasury secretary, will ask investors to form partnerships with the American government to buy the troubled mortgages and other bad loans from financial institutions. The US government will put up matching funds and hundreds of billions of dollars in debt to help private investors buy the toxic loans. Low-interest loans will also be offered by the government to encourage investors, while an auction of the assets will attempt to fetch the highest price for taxpayers. Officials say the move will "generate $500bn in purchasing power" and should eventually expand to $1 trillion.
However, the move may face a difficult passage through Washington, where the row over the $165m in bonuses handed to executives at AIG, the insurance giant that was bailed out by the government, looks set to intensify this week. On Saturday Connecticut's attorney-general said documents that had been turned over to his office showed that AIG paid out $218m (£150m) in bonuses, higher than the $165m previously disclosed.
Also, the investment companies involved stand to financial benefit considerably from the arrangement. These new public-private partnership deals are being cut to allow hedge funds to make up to 20% profit from taxpayer money. That's $200 billion in Wall Street profits. Johnson, an economics professor at the Massachusetts Institute of Technology and a former chief economist at the International Monetary Fund, said many people might take a dim view of government subsidies to hedge fund investors.
A number of other initiatives have been announced to accompany the new spending plans. Taxes will be raised on couples earning more than $250,000 a year, generating $636 billion over the next decade. Obama also proposes to raise the top marginal income tax rates to 39.6 %, limit itemised tax deductions and increase taxes on capital gains to 20 percent from the current 15 percent.
The plans also propose to raise taxes on venture capitalists, executives of private equity firms and other investment partnerships by $24 billion by eliminating the so called carried interest tax loophole. The provision currently allows investment managers to pay 15 percent tax rates on their compensation rather than the usual income tax rates.
Obama also would raise $210 billion by cracking down on offshore tax havens and another $5 billion by clamping down on business transactions that are solely designed to reduce companies' tax bills. He would also generate $61 billion by ending a tax accounting technique called "last-in, first-out" (or LIFO) that primarily benefits oil and gas companies but is widely used across industries.
Republicans say Obama's budget plan taxes, spends and borrows too much, and they have been sharply critical of his $787 billion economic stimulus measure and a just-passed $410 billion omnibus spending bill that awarded big increases to domestic agency budgets. The tax rises for the top 5% salary earners have also been opposed by the Republican right.
Peter Wehner, a former White House aide to George W Bush and senior fellow at the Ethics and Public Policy Center in Washington, said the budget was "a frontal assault on every tenet of Reaganism from the size of government to taxes, the attitude towards entrepreneurs, small businesses and pro-growth policies". America "was on a glide path to European-style democracy", Wehner said. Many on the US right have accused Obama of moving too far to the left, of embracing socialsim and nationalisation.
Obama has said his $787 billion dollars economic stimulus and efforts to unlock the credit crunch behind the financial crisis that dragged the economy into a recession are beginning to work. He cited mortgage rates falling to record lows, increased home sales and price stability on the housing market as evidence of the economic progress made under his administration during its two months in office.
Categorised in: Article
This post was written by Christopher Vasey