March 27, 2009 12:00 am
Leave your thoughts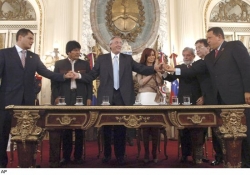 Top government officials from seven South American countries met in Caracas Monday to draft constitutive plans for the Bank of the South, an international initiative launched in 2007 to improve regional integration and invest national reserves in social and economic development on the continent.
Venezuela, Argentina, and Brazil agreed to contribute $2 billion each as initial capital for the bank, while Ecuador, Bolivia, Paraguay, and Uruguay will contribute $1 billion each, bringing the total capitalisation of the bank to $10 billion, according to Venezuelan Finance Minister Ali Rodríguez.
Rodríguez said Monday's agenda also included discussions about the integration of regional energy production, infrastructure, and finance.
"We are called to fulfill an increasingly important role in the concert of nations, that is why it is indispensible to advance processes of regional integration," said Rodríguez following the marathon meeting Monday.
The leaders scheduled a follow-up meeting in Buenos Aires in early May to finalise plans for the regional bank.
Since the global financial crisis erupted in banks in the United States and Europe last year, South American leaders have touted the Bank of the South as a method of insulation from the crisis and as a safer depository of their national reserves.
The Bank of the South was originally proposed by Venezuelan President Hugo Chávez as an alternative to the US-based International Monetary Fund and World Bank, which are considered by many South American nations to have trapped the region in debt and then used this as an excuse to impose policy conditions dictated by the US government.
The Bank of the South would be headquartered in Caracas, and was endorsed in 2007 by Joseph Stiglitz, the Nobel Prize-winning former chief economist of the World Bank.
Categorised in: Article
This post was written by James Suggett