April 17, 2009 12:00 am
Leave your thoughts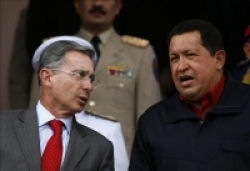 In a private meeting on Tuesday, Presidents Hugo Chávez of Venezuela and Álvaro Uribe of Colombia signed accords for a bi-national investment fund and for joint exploitation of the Orinoco Oil Belt, and also promised to forge stronger, more peaceful relations.
Uribe and Chávez repeatedly clashed in rhetorical battles regarding Colombia's deadly assault on guerrilla rebels in Ecuadoran territory last year. Uribe has accused Chávez of financing the guerrillas, while Chávez has said that the US government is plotting to destabilize Venezuela using Colombian paramilitary troops backed by the Uribe government, Washington's principal Latin American ally.
In economic terms, however, Uribe and Chávez have consistently coincided and held more than a dozen formal meetings over the past seven years. On Tuesday, they moved a step closer to the creation of a $200 million bi-national development fund for transportation, energy, infrastructure, health care, and food.
Colombia's Energy and Mining Ministry and Venezuela's Energy and Petroleum Ministry affirmed their intent to jointly exploit the Orinoco Oil Belt, of which Venezuela's state oil company PDVSA purchased the majority share in 2007. Chávez described his vision for "a pipeline that runs from the Orinoco Belt, through the plains of Venezuela and Colombia, and over the mountains, 1,500 kilometers."
Venezuela agreed to import 10,000 Colombian taxis, trucks, cars, and buses, which is a 78% reduction since 2007 but "a great relief to Colombian business owners" who feared greater import restrictions, according to Colombian Commerce Minister Luis Plata.
Also on Tuesday, Chávez and Uribe signed agreements to boost investments in small and medium-sized enterprises involved in cross-border trade, and to channel electricity from Colombia's southeastern Guainía department to Venezuela's Amazonas state.
In a press conference following the private meeting, the two presidents shook hands and pledged to maintain a close diplomatic relationship.
"We are not going to permit our relations to be disturbed in any event or circumstance, whatever it may be," said Chávez. "We have re-launched our relations."
Uribe said Colombian and Venezuelan citizens "have a common homeland and an inseparable future," adding, "You can be sure that not only commercial but political and cultural exchange will continue growing, despite the distinct positions that we must recognize exist. Those who attempt to break apart our relations will fail."
When asked about his relationship with the Revolutionary Armed Forces of Colombia (FARC), Chávez declared that his administration "does not support nor will it support a violent movement in Colombia or in any part of the world."
In 2007, Uribe had invited Chávez to negotiate a peace accord with the FARC, but later ousted him, claiming Chávez had made inappropriate contact with the Colombian military.
In 2008, Uribe denied peaceful negotiations, reinvigorated his military campaign against the FARC, and accused Chávez of financing the rebels. Chávez repeatedly called for a return to peaceful negotiations, asked the FARC to free all their hostages, and declared that "guerrilla warfare is history," to the dismay of his more radical supporters.
On Tuesday, Uribe announced his renewed willingness to dialogue with the FARC on the condition that the FARC, who have operated for more than four decades, cease operations over a four month period.
Chávez commended Uribe's gesture, and said, "Venezuela is ready, despite all factors, to help in this effort that we believe is necessary in the search for peace, respecting Colombia's decisions and sacred sovereignty."
Alongside Chávez on Tuesday, Uribe said his administration wants "true peace," and told the several armed rebel groups in Colombia, "If you want to construct peace, then show it in the coming months."
The two presidents previously met in Colombia in January to discuss economic relations. According to official figures, commerce between Colombia and Venezuela reached $7.2 billion in 2008, with Colombian exports accounting for more than $6 billion of this.
James Suggett writes for Venezuela Analysis.
Categorised in: Article
This post was written by James Suggett