May 1, 2009 12:00 am
Leave your thoughts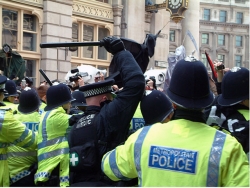 April has not been a happy month for London's Metropolitan Police. The aftermath of the G20 protests in the City of London began with widespread disquiet over the "kettling" techniques, which led to the imprisonment of several hundred protestors in pens for hours, followed by a number of complaints of disproportionate force on the part of the City police. The death of newspaper vendor Ian Tomlinson provided a focal point for these complaints, and soon enough, testimonies and video evidence started to appear on mainstream media websites. When footage came to light that utterly contradicted the falsified version of events offered by official Met sources, regarding police interaction with Tomlinson, the floodgates burst open, and video after video surfaced on the internet, each more disturbing than the last.
The clips include: police wearing the insignia of medical offers beating protesters with batons; riot police with batons charging at press photographers; a man with his back turned, walking away from the police, being bitten by a police dog; a young male protester, facing away from police officers, being struck in the face with some force by an officer with his riot shield; Ian Tomlinson, with his hands in his pockets and his back to the police, being shoved violently to the ground, minutes before he collapsed and died; and the tent-based Climate Camp being rushed by lines of officers in full riot gear, with shields and batons.
Taken in isolation, it was just about possible to suspend disbelief long enough to entertain the idea that each of these incidents may have been close to justifiable. Context is difficult to come by in this age of YouTube and Twitter, so perhaps before being assaulted, the young men and women at the climate camp were hurling obscenities at police officers and threatening violence upon them. Perhaps medical uniforms were the only ones available to the front-line officers who were so quick to raise their batons. However as the days and weeks passed, matters deteriorated at an alarming rate for the Metropolitan Police.
Following requests from the Liberal Democrats under the Freedom of Information Act, it was revealed on the 20th of April that civil servants from the Department for Business, Enterprise and Regulatory Reform had passed on secret intelligence reports from the Metropolitan Police to a private company – energy supplier E.ON – prior to a planned peaceful demonstration at Kingsnorth. Officials forwarded a Metropolitan police intelligence document to E.ON, detailing the movements and whereabouts of climate protesters in the days leading up to the protest. This discovery prompted fierce criticism, over the blurring of public and private interests.
Another worrying pattern to emerge this month was the concealment of police identification numbers on shoulder insignia, video footage of which surfaced alongside the more violent aspects of the Met's April misdemeanours. In one video, a City of London police officer cheerfully refuses to supply his interlocutor with his details, despite the cameraman's reminder that to refuse to do so is unlawful. April's events have shown that the Met lack restraint; this tactic ensures that they also lack oversight.
Consolidating these disparate failings into an ominous whole were the statements emanating from superiors within the police community. The chairman of the Police Federation, Paul McKeever, commented: "Attacks on police must end. The policing of protests in the UK is the most successful and public-engaging in the world, using the least aggressive tactics and methods available to ensure the right to a democratic, peaceful demonstration is given." The origin of McKeever's confidence in the Met's global supremacy is unclear, however it is hard to imagine that there isn't a single police force in the world which doesn't resort to arbitrary violence against peaceful protesters, perpetrated by unaccountable and indeed unidentifiable armour-clad officers.
Predictably, Met Commissioner Paul Stephenson publicly decried the lack of context employed by journalists in covering the violent aspects of April's policing. Sharing McKeever's penchant for hyperbole, Stephenson claimed: "the context is that this was one of the most challenging policing operations in police history." Compared to marches such as 'Liberty and Livelihood' in 2002, and the anti-Iraq war protests in 2003, which saw 400,000 and around a million people respectively descending upon London, the estimated 4,000 crowd outside the Bank of England seems like a small bump in the road. It must be remembered that, as Shami Chakrabati acknowledges, "public order policing is a tough and thankless job," and indeed it is an occupation where failure is documented with much more alacrity than success. Yet this is true of many professions. Paramedics are not lionised in the press for doing what they are paid to do. The Police exist to protect democratic ideals such as the right to protest, not to undermine them.
However, the Metropolitan Police didn't limit its controversial behaviour this month to the field of public protest. On the 16th, the Crown Prosecution Service confirmed that it would not be bringing a case against Conservative MP Damian Green, who was arrested in November 2008, on Sir Ian Blair's last day in office. On the 18th, it emerged that investigating officers had searched Green's emails and computer documents for the name "Shami Chakrabati." The organisation she leads, Liberty, has been an persistent thorn in the side of the current government, especially regarding the 42-day detention row, but the idea of arresting opposition MPs and trawling through their private documents to find evidence of contact with a strong dissenting voice was hardly a PR coup for a police force struggling to cling to the moral high ground. Suppose Green had received emails from the leader of a legitimate British pressure group: what then? Charges? Imprisonment?
April finally descended into farce when tourists Klaus Matzka, a 69-year-old retired TV cameraman, and his 15-year-old son Loris, were forced by Metropolitan police officers to delete all their digital photos of transport-related subjects, such as London buses and Vauxhall bus station. No statutory basis exists for this action, and as Mr. Matzka himself asked in his letter to The Guardian, "isn't it naive to think terrorism can be prevented by terrorising tourists?" If Britain is indeed so vulnerable that the mere sight of a London bus, or a photo of a bus station, can provide life-of-the-nation-threatening intelligence to would-be terrorists from such friendly EU members as Austria, what next? Are all postcards to be burnt? Mr. Matzka, having travelled relatively widely, commented: "I've never had these experiences anywhere, never in the world, not even in Communist countries."
All told, April's events have undoubtedly contributed to an ongoing loss of confidence in the Metropolitan Police. What kind of places around the world have police forces that take advantage of the arrest of opposition MPs, to see if they've been consorting with public dissenters? And, as regards the unfortunate Matzka family, where else in the world is photography of public transport prohibited? The pejorative term "police state" is easy to throw around, but its implications are damning and should not be invoked lightly. However, current policy among the capital's police force appears intent on making it a legitimate criticism.
Categorised in: Article
This post was written by Tom Bangay