May 22, 2009 12:00 am
Leave your thoughts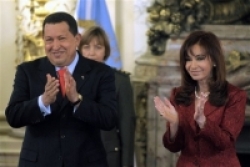 Venezuelan President Hugo Chávez and Argentine President Cristina Fernández de Kirchner met in Buenos Aires last Friday to increase the cooperation between the two countries in gas production, agricultural production, and regional finance.
"The crisis of world capitalism obligates us to secure the integration of Argentina and Venezuela," said Chávez in a press conference in Argentina.
Venezuela's state oil and natural gas company, PDVSA, and Argentina's natural gas company Galileo initiated a feasibility study on the creation of a bi-national company to produce natural gas compressors, transport natural gas, and construct gas stations for natural gas-powered vehicles.
"Argentina consumes a lot of gas but it does not have enough reserves to assure its development in the long term," said Chávez, who announced last November that the Caribbean Gas Belt along Venezuela's coastline contains 200 trillion cubic feet of natural gas reserves. PDVSA and the Russian gas giant Gazprom began drilling for these reserves that same month.
Last month, Venezuela implemented a quota so that 40% of the automobiles manufactured and sold in Venezuela will contain dual engines that can run on gasoline and natural gas by the end of next year.
"Next Wednesday we are going to be in eastern Venezuela and we are going to recuperate all the companies that perform gas injection in oil wells that have been nationalized," Chávez added.
Also on Friday, the science and technology ministries of Argentina and Venezuela signed accords to accelerate the transfer of technology from Argentina to Venezuela, especially in the area of agricultural production.
According to Venezuela's minister of agriculture and lands, Elias Jaua, Argentine experts will train Venezuelans in the production of seeds and harvesting technology, and in the management of cattle, pasture, and cold storage facilities, in order to fortify Venezuela's plan to create 200 "socialist" state-owned production companies in the coming years.
"We want to move forward so that Venezuela may be a sovereign country with regard to food, that is why we are working with Argentina," said Jaua.
President Fernández and President Chávez also emphasized the importance of mutual financial support, which Chávez said would help the countries gain "financial independence" from the "dictatorship" of the U.S. dollar.
Chavez announced that Venezuela is willing to buy more Argentine debt in the form of bonds, if Argentina decides to emit them. Fernández said Argentina does not plan to emit more bonds in the near future. Between 2005 and 2008, Venezuela purchased nearly $7 billion in Argentine debt bonds to help Argentina overcome its debt to the International Monetary Fund (IMF).
Fernández, in turn, reiterated her support for Venezuela to become a full member of the Common Market of the South (MERCOSUR), a free trade bloc comprised of Argentina, Brazil, Uruguay, and Paraguay, with Bolivia, Chile, Colombia, Ecuador, Peru, and Venezuela as associate members.
Since 2007 Venezuela has been promoting the creation of a Bank of the South to concretize regional financial integration and independence from the U.S.-dominated international financial institutions. At a meeting in Caracas in March, Argentina, Brazil, and Venezuela agreed to capitalize the bank with $2 billion each, while Ecuador, Bolivia, Paraguay, and Uruguay offered $1 billion each. These countries have also discussed the creation of a new regional currency.
To round off his visit to Argentina, Chávez took a walking tour of Glacier National Park in southern Argentina, and repeatedly commented on the importance of combating global warming.
"I am marveled by this beauty that is, for us, very significant in the battle for a new world, for balance in the world, and for ecological struggles," said the Venezuelan leader. "Imagine if these glaciers were to disappear! Life all over the world would be put in danger," he said.
Fernández and Chávez plan to meet every three months to evaluate and impel the hundreds of bilateral cooperation agreements they have signed in diverse economic sectors.
Chávez said the integration of South America today is the continuation of Venezuelan independence hero Simón Bolívar's quest to unite the continent nearly 200 years ago, and that Venezuela and Argentina have crucial roles to play based on their geographical location.
"I firmly believe that we are designated by geography, history, and sentiment to be the great motors pushing this process of integration forward, Argentina from Patagonia and Venezuela from the Caribbean," said Chávez.
Categorised in: Article
This post was written by James Suggett