June 12, 2009 12:00 am
Leave your thoughts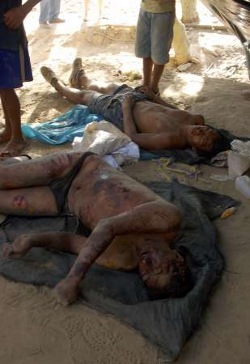 In response to the fatal clashes between indigenous protestors and the Peruvian government over the weekend, the Venezuelan Foreign Relations Ministry has released a statement expressing its solidarity with both the security forces and the indigenous people killed, while Venezuelan Indigenous Affairs Minister Nicia Maldonado called the Peruvian government's violent repression "terrorism."
Over the weekend, an estimated 30 to 50 indigenous activists were killed and 150 injured when Peruvian police launched an air and ground attack using live ammunition against a road blockade in the Peruvian Amazonian province of Bagua. The activists set up the blockade to protest a series of recently passed laws they say would take away their right to be consulted about potential oil, mining, and logging projects in their communities. More than twenty police died in the clashes, according to official government reports.
The Venezuelan Foreign Relations Ministry offered words of encouragement for a peaceful solution to the conflict. "The government of the Bolivarian Republic of Venezuela manifests its solidarity with the people of Peru with regard to the events that have occurred in recent days in the Amazon region, of which hundreds of Peruvian brothers and sisters have been victim, in particular members of indigenous communities and public security forces," said the Ministry in a statement.
Venezuelan Indigenous Affairs Minister Nicia Maldonado called the crack down on indigenous protestors "a terrorist act against those who wish to express themselves in the Amazon jungle."
"If anyone still had a doubt about how the neoliberal and fascist governments act, there we have it. We condemn in a categorical manner this genocide against our brothers and sisters," said Maldonado.
Maldonado said the Inter-Ethnic Association for the Development of the Peruvian Jungle told her that the number of dead and injured as a result of the clashes is much higher than has been reported.
Peruvian Indigenous leader Alberto Pizango, a principal organizer of the blockade, went into hiding after the crack down and has been granted political asylum in Nicaragua. Following the attacks, he said, "We had mobilized peacefully for 45 days and we did not expect this reaction and much less this air and land attack. The government used weapons of war as though we were delinquents. That is why the indigenous peoples denounce this genocidal act."
Also in protest against the government's actions, Peru's Minister for Women, Carmen Vildoso, resigned from her post on Monday, citing "obvious political reasons."
Peruvian President Alan Garcia called the indigenous activists "death mongers" and defended the police repression, arguing that the opinions of 40,000 indigenous people should not be allowed to direct 28 million Peruvians toward "irrationality and a backwards primitive state."
On Wednesday, the Peruvian Congress approved a ninety day suspension of the Forest Law that sparked the indigenous protests, falling short of the indigenous protestors' demand to revoke the law.
Categorised in: Article
This post was written by James Suggett