June 26, 2009 12:00 am
Leave your thoughts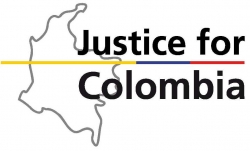 Two-hundred-and-forty members of the UK Parliament, the majority from the ruling Labour Party, have called on the British Government to freeze UK military aid to Colombia. The MPs also express their concern at the increasing numbers of trade unionists being assassinated in Colombia and note that the UN High Commissioner for Human Rights has accused the Colombian military of "widespread and systematic" killings of civilians. Though the British Government, in a move that was welcomed by JFC, recently ended a small portion of their military aid to the Colombian regime, a classified amount of assistance is worryingly still provided for what the British Government describes as "counter-narcotics" work.
The MPs, who come from all parties, have signed Early Day Motion 713 which was tabled by Tony Lloyd, the Chair of the Parliamentary Labour Party, along with colleagues from the Conservative and Liberal Democrat parties – including Liberal Democrat Shadow Foreign Secretary Ed Davey. So many parliamentarians have added their signature to the motion that it is currently ranked third highest in terms of support out of over 1,700 Early Day Motions tabled this parliamentary session.
Human rights groups in Colombia say that no distinction is made by the Colombian military between 'counter-narcotics' and 'counter-insurgency' operations and fear that UK military aid could be benefiting army units involved in murdering civilians. At least 1,500 Colombian civilians have been killed in so-called 'counter-insurgency' operations in recent years though the British Government refuses to reveal which Colombian military units they provide assistance to – making it difficult to verify if those benefiting are involved in the murders.
The only units whose personnel are known to have received British training, the High Mountain Battalions, are notorious for abusing human rights and have been involved in the torture and murder of trade unionists among others.
In a recent parliamentary debate Labour MP Jim Sheridan, who recently visited Colombia, explained how civilians were regularly being murdered by the Colombian Army who then subsequently dressed their bodies in guerrilla uniforms and claimed that they had been killed in combat in order to receive a bonus – a practice that he described as 'grotesque'. He went on to say that this was "being done with British taxpayers' money" and called for military aid to end.
Those MPs that have so far given their support to Motion 713 are listed at www.justiceforcolombia.org. If your own MP is not listed please contact him or her and urge them to add their backing to the motion.
Categorised in: Article
This post was written by Justice For Colombia