August 14, 2009 12:00 am
Leave your thoughts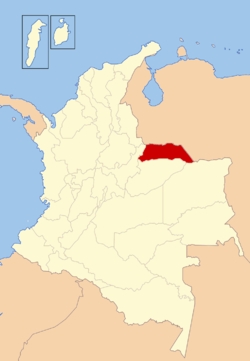 Reports from the Colombian region of Arauca, on the country's northeast border with Venezuela, indicate that large numbers of civilians are trapped amidst heavy fighting between guerrillas and the Colombian Army. The CPDH, Colombia's largest human rights group, also says that soldiers in the region have murdered a civilian whilst other reports from local organisations document a further ten assassinations including those of two trade unionists. As has been reported on previously, Arauca is one of Colombia's most violent regions.
The fighting, which started on Thursday this week in a rural part of the municipality of Tame, has trapped at least 80 families in the village of Filipinas as combat rages between troops of the Colombian Army's 18th Brigade and leftwing rebels. Trade union leader Antonio Amaya, speaking from Filipinas, has alleged that soldiers are using civilians as human shields and says that he, several other trade unionists and the civilian population, including a large number of children, are in grave danger as the military are bombing and machine gunning the area from the air.
A large number of 18th Brigade soldiers have been present in the village for around a month despite calls from local residents for them to leave. Earlier reports say that before the fighting began soldiers had been harassing, intimidating and threatening residents including trade unionist Jose Luis Torres who troops stopped on the road between the village and the municipal capital of Tame on July 29th. Mr Torres was told that he would be killed if he did not return to the village. Two days previously the same soldiers shot and wounded peasant farmer Wilson Javier Garces as he collected corn in the nearby community of Cano Azul.
Earlier in the month the Permanent Committee for Human Rights (CPDH), reported how 18th Brigade soldiers had shot and killed 23-year-old William Alexander Santos and wounded his friend Jose del Carmen Jimenez (53). According to the CPDH the troops opened fire on the two men without warning as they were tending a rice field at the 'Clavelitos' farm in the village of Chiguira, Arauquita municipality. Mr Santos was shot twice in the back with a machine gun by the soldiers, killing him instantly in the June 21st attack.
Local organisations have also reported the following assassinations which follow a long line of similar killings.
June 15th: Hector Alfonso Parra (46) is shot dead by a group of masked men who arrive at his farm in the village of Los Jardines, Fortul municipality.
June 12th: Ramiro Castellanos Mantilla is assassinated at around 8pm in the town of Saravena.
June 12th: Alexis Moreno Merchan (26) is shot at around 4pm in 'Las Flores' neighbourhood of Saravena, he dies of his injuries three days later.
June 11th: Trade unionist Jose Humberto Echeverri (40) is assassinated in Arauquita municipality.
June 9th: Trade unionist Pablo Rodriguez Garavito is assassinated in the Marreros area of Puerto Rondon municipality. The same day local rancher Jairo Pinto is killed in the same area.
June 8th: Indigenous teenager Linderman German Farias (16) is disappeared from outside the community of Botalon, Tame municipality. He has not been seen since and is believed to be dead.
June 6th: Luis Eduardo Leon Moreno (28) is shot dead in the village of El Oasis, Arauquita municipality.
June 5th: Wilman Navarro Najera (39) is murdered in the village of Islas de Reinera, Arauquita municipality.
May 16th: Ana Leon Moreno (37) is assassinated in the village of El Amparo, Arauquita municipality.
Categorised in: Article
This post was written by Justice For Colombia