August 21, 2009 12:00 am
Leave your thoughts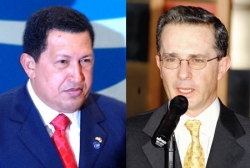 Last Friday the president of Colombia, Alvaro Uribe, said his government was interested in repairing relations with Venezuela and Ecuador. On the same day he also said that the Colombian government had sealed negotiations with the United States to allow U.S. troops to be deployed on seven of its bases in Colombia. Chavez responded that for such actions, the mending of relations was impossible.
"I apologise for the bombardment in Ecuador, I think that there can be a dialogue with Ecuador and this can be resolved. What interests us is to repair these relations with Ecuador and Venezuela," Uribe said. He said the military agreement with the United States aimed to "fight terrorism and drug smuggling," and added that "this agreement doesn't exclude the possibility of making other agreements with our neighbouring countries."
On 1 March 2008 Colombian troops entered Ecuadorian territory to attack a temporary Armed Revolutionary Forces of Colombia (FARC) camp. Since then Ecuador and Colombia have ceased their relations. Tensions also increased between the two countries when the Colombian government accused Ecuadorian President Rafael Correa of receiving money from the FARC for his election campaign, which Correa denied.
Correa accepted Uribe's apology, but said the apology should be "consistent; there area series of commitments that Uribe hasn't carried out." He clarified that while he was open to dialogue and to renewing relations with Colombia, this wouldn't mean forsaking Ecuador's national sovereignty.
Chavez, speaking on his weekly TV show on Sunday, said it would be impossible to renew relations with Colombia because of Colombia's verbal attacks on Venezuela and the threat posed by the US military bases on its territory.
Venezuela also froze its relations with Colombia after hearing about the planned US bases, and then being accused of selling weapons to the FARC by the Colombian government. It withdrew its ambassador to Colombia on 28 July, reinstalled it on 7 August and is seeking alternative trading partners.
"Uribe said extremely cynically that he wants to repair relations. They are attacking us, they are slandering us, and then he says that he wants to mend relations between Colombia and Ecuador. But how? He can't. It's already impossible, there's no way to repair this," Chavez said.
Chavez, referring to the US bases in Colombia, said if there were any attack on Venezuela there would be a global response because "a large anti-imperialist movement would rise up."
"I have the feeling that any aggression against Venezuela would receive a response not just from Venezuela, but many countries would take up arms… we should be aware that it's necessary to prepare ourselves for this," he said.
"We are the main target of imperialism, [which is] using Colombia and the bases here on [the Caribbean islands of] Aruba and Curazao. They're surrounding us."
Chavez reiterated that Venezuela doesn't want war. However, he said it is necessary to prepare to defend the country. "Imperialism is forcing us, and the Colombian bourgeoisie is forcing us," he remarked.
Ten years ago, Venezuela was importing little from Colombia,and trade amounted to scarcely $1 billion, but now in 2008, it came to $7 billion, Chavez explained.
"Now we're going to buy from other countries… as a result of what? Of the imperial policy of dividing us… in the case of Colombia and Venezuela, unfortunately, they have been successful," he said.
Last Thursday, the head of the FARC, known as Alfonso Cano, publicly denied receiving weapons from Venezuela and any financing by the FARC of Correa's election campaign.
Uribe "resorted to media terror to insinuate that the Venezuelan government supplied us with some rockets that we had captured a long time ago in a military confrontation on the border, a fact of which was widely known at the time," Cano said.
Categorised in: Article
This post was written by Tamara Pearson