September 25, 2009 12:00 am
Leave your thoughts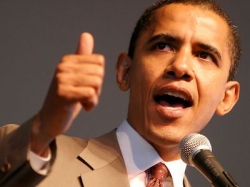 During his election campaign President Obama promised a timely end to the war in Iraq, an easing of tensions with Latin America and immigration reform. A whole host of other reforms were promised including the Employee Free Choice Act (EFCA) and health care reform for the millions of Americans without coverage. The most pressing issues may concern the subject of the economy and reform of the financial system.
In terms of foreign policy, what has been achieved so far? US troops remain in Iraq and even more are being sent to Afghanistan; the democratically-elected government of Honduras has been overthrown, more US troops are to be sent to Colombia, and the embargo on Cuba remains. There are more positive developments, President Obama stated in his election manifesto that he planned to withdraw 80,000 of the 130,000 of US troops currntly stationed in Iraq by the end of August 2010. They would be withdrawn gradually until all US forces are out of Iraq by December 31, 2011. Obama and the Democrat administration are still committed to this time scale and the arrangements are being put in place. As part of this strategy, Iraqi internal forces assumed formal control of Baghdad and other cities in July 2009 after American troops handed over security in urban areas.
In related developments, on January 22, 2009, President Obama signed a detailed executive order on torture and extreme rendition. The order said that prisoners "shall in all circumstances be treated humanely and shall not be subjected to violence to life and person (including murder of all kinds, mutilation, cruel treatment, and torture)". It also specifically nullifies interpretations of federal law on interrogations issued by the Department of Justice between September 11, 2001, and January 20, 2009. The plan to close the detention center at Guantanamo Bay, Cuba, has proved more problematic. Not least due to significant opposition, most notably from members of his own party who stripped £80 millions of dollars to shut the facility from a war funding bill. While the move has stalled, it is still ongoing.
Arguably the most contentious and divisive issue in the US this year, has been the argument over healthcare. Now that Obama has attempted even the most modest of reforms, all the pent up contradictions are bursting on to the surface. As has been the case for nearly a century, socialist health care advocates are being red-baited, intimidated and even assaulted. The Republicans and right wing media have repeated claims that "Obamacare" is "socialized medicine" and an increase of federal power. In recent months the Obama administration has begun to waver on a federal progamme and is leaning towards a greater role for private insurance companies.
The original health care reform package, outlined in March 2009 would create a government-run public option and a National Health Insurance Exchange where individuals and employers could purchase private or public insurance. In September, Obama stated that health care bill would mandate health insurance in the same way states require car insurance, essentially it would negotiate with insurance companies for affordable options. Tax credits would be introduced for those who can't afford insurance.
On the economic front, many of the economic forecasts paint a gloomy picture. The White House estimates that the 10-year federal deficit will top $9 trillion; more than the total of all previous deficits since the USA was founded. By 2020 the national debt will equal three-quarters of the entire US economy. There are signs of recovery internationally and in the US. Economic experts have praised Obama's $787 billion stimulus package as a stabilizing force and believe the downtown has been minimized. The International Monetary Fund (IMF) released its forecast for the next few years, in September 2009. US GDP during 2010 is expected to grow by 1.8% in 2010, compared to -2.4 % this year. Unemployment rates are predicted to peak this year at 10% and fall below 9% by the end of 2010.
In terms of social and labour policy, the Employee Free Choice Act (EFCA) is presently being considered by Congress. It would establish an efficient system to enable employees to form, join, or assist labour organisations and provide for mandatory injunctions for unfair labor practices during. The current forty Republican Senators and a number of Democrats announced that they did not support the bill early this year. Certainly, the bill faces a difficult and turbulent future. One election plege that Obama has kept is major extension of unemployment benefits. The new proposals will increase unemployment benefits and temporarily suspend taxes on benefits. States with the highest deprivation levels will experiences the largest extension.
There have been many success for Obama's administration already. George Bush's policies on such controversial subjects as talking to Iran and the treatment of enemy combatants are steadily being reversed. On other issues such as health care and the economy, it appears wider corporate and politically practical interests have shaped the debate. Nationalised healthcare would be the most cost-effective, efficient way of providing free, health care for all. But this would mean challenging the very foundation of the existing private health industry, something the Democrats are clearly not willing to do. It remains to be seen, whether Obama will challenge the prevailing hegemony, or push forwards his plans for a more liberal and equal America.
Categorised in: Article
This post was written by Christopher Vasey