October 2, 2009 12:00 am
Leave your thoughts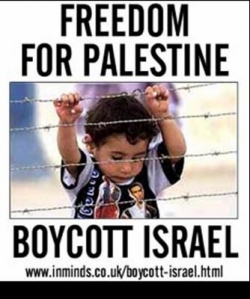 Congress showed its rejection of previous "on the one hand, on the other" attempts to bestow equal blame on occupiers and those resisting occupation by backing an excellent motion from the Fire Brigades Union.
Those who are a bit long in the tooth will recall the bitter resistance to effective sanctions against apartheid in South Africa, cloaked as concern for the possible effect on the African majority.
This case was undermined by the fact that the representatives of South Africa's colonised black population were unequivocal in their support for sanctions and, indeed, complete isolation of the apartheid regime.
Commenting on the TUC statement, which watered down the FBU demand for a total boycott of Israel, Trade Union Friends of Israel president Roger Lyons told the Jewish Chronicle that "the sensible voices of the TUC have prevailed."
And he sang the old tearjerker from apartheid days, suggesting: "Over 50,000 Palestinians working in Israel could lose their jobs as a result of a boycott, as well as many workers producing exports to Israel."
He omitted to mention that Palestinians are already losing much more than their jobs.
No fewer than 1,450 lost their lives in the Israeli onslaught against Gaza at the beginning of this year and they are losing huge swathes of their land because of Israel's unrestrained Jewish colonisation of the West Bank.
Lyons called the FBU motion "extremist," welcoming the TUC decision "to increase its support for Israeli and Palestinian trade unions that are opposed to boycotts and back the peace process initiated by President Obama."
Far from being opposed to a boycott, the Palestinian General Federation of Trade Unions welcomes such international solidarity, while the Israeli Histadrut – a cross between a trade union and an employers' federation – expresses its backing for peace by defending the Israeli armed forces' pulverisation of Gaza.
It is also disingenuous to express support for the TUC general council statement when it reiterates the TUC position that, "only when a sovereign, independent, democratic contiguous and viable Palestinian state is created, living side by side with a secure Israel, will there be a chance for peace and stability in the Middle East."
This implied commitment to a two-state solution has nothing in common with the expansionist aims of the Israeli establishment, which include annexation of east Jerusalem and the illegal West Bank settlements, Israeli control of any Palestinian state's borders and acceptance of Israel's racist self-declared status as a "Jewish state."
While a major TUC-led mobilisation to encourage a boycott of products from Israel's illegal West Bank settlements would be welcome, there are two major obstacles.
First, as FBU president Mick Shaw said in moving the motion, "We think that impractical. These goods do not come with a label which says: 'These goods are produced on an illegal settlement'."
Second, the TUC general council statement specifies: "The TUC calls on the British government to:
"(a) condemn the Israeli military aggression and the continuing blockade of Gaza;
"(b) end arms sales to Israel which reached a value of £18.8 million in 2008, up from £7.7 million in 2007;
"(c) seek EU agreement to impose a ban on the importing of goods produced in the illegal settlements; and
"(d) support moves to suspend the EU-Israel Association Agreement which provides preferential trade facilities to Israel."
Even if the British government agrees, the issue will be punted into the EU long grass and may be lost for a lengthy period.
However, it is important that the popular understanding will be that the TUC is in favour of a boycott of Israel and that Britain's trade unionists are advocating membership of the Palestine Solidarity Campaign.
And it should not be forgotten that general council agreement to put forward a document to undermine the clear, principled position moved by the FBU was not easily won.
UNISON and Unite fought against agreeing such a document and opposition carried the day early in the week, sparking a furious finger-jabbing row between Barber and Unite joint general secretary Derek Simpson.
Even after further political pressure to change position, it is believed that the eventual general council decision was carried by just 13 votes to 10.
PSC chairman Hugh Lanning welcomed the "landmark decision," following a number of positive decisions taken at union conferences this year.
And, giving notice that the movement will not hang around waiting for white smoke to emerge from the chimneys of Downing Street or Brussels, Shaw said: "We will now try to identify goods and products where the most pressure can be put on the Israeli government to persuade them to change their policies."
This article first appeared in the Morning Star newspaper.
Categorised in: Article
This post was written by John Haylett