October 9, 2009 12:00 am
Leave your thoughts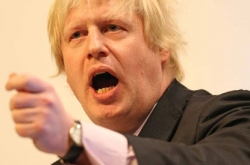 A Youtube video showing Boris Johnson, Mayor of London, peacefully 'ambushed' by a number of 'Boris Keep Your Promise' activists, attracted widespread viewing nationally and internationally. Johnson was recorded surrounded by a number of activists demanding he fulfill his pre-election promise of funding four London based Rape Crisis Centres. Johnson attempted to side-step the issue by focusing on praising the women activists for their determination in not allowing this issue to 'disappear.'
Why have a large number of women and some men too, all of whom live in the London area decided to campaign on the issue of rape crisis centres for London. Johnson, before he was elected as Mayor of London, made a series of promises to Londoners in his manifesto. One of these promises was that if elected, he would immediately provide funding for four London based Rape Crisis Centres. These centres would be paid for by reducing the number of press officers employed by the Mayor. To date Johnson has still not fulfilled his promise to Londoners and in the Mayor's current budget only £220,000 extra has been allocated for such centres with no notable reduction in the number of press officers working in City Hall.
On August 4, 2009, more than a year after Johnson had been elected to office he finally made a public announcement, saying the Greater London Authority would fund The Rape and Sexual Abuse Centre in Croydon for the next three years – with £60,000 being allocated to them in 2009/10 and £100,000 annually for the years 2010/11 and 2011/12. Ealing Council would receive just £375,000 in total over the next three years as a contribution towards their setting up a Rape Crisis Centre in Ealing. This is contrary to Johnson's pre-election promise that funding would emanate from the Mayor's budget. Rather, Ealing Council will be expected to provide the balance despite most local councils experiencing financial difficulties due to the recession. Contrary to Johnson's one not three new Rape Crisis Centres will be set up and funding will not be £744,000 each year for four years but just £6,35,000 over a three-year period. This means a reduction of some £2m.
Matilda Mitford, Spokesperson of the 'Boris Keep Your Promise' Campaign, responded by saying 'While any amount of Rape Crisis funding is always welcome, today's announcement is in truth a huge £2m cut, cynically spun by the Mayor as a funding announcement. Since his election, Mr. Johnson has made repeated changes to his original Rape Crisis pledge. When confronted by our campaigners only a few weeks ago, Boris reaffirmed his manifesto to commitment to fund an extra three Rape Crisis Centres, thereby showing himself as Mayor of Spin. Trying to score political points at the cost of some of society's most disadvantaged women is no way to defuse this row.'
So why did Johnson initially consider it vital Londoners should have four Rape Crisis Centres rather than the existing one in Croydon.
RASASC centre in Croydon constantly faces closure due to endemic under-funding and deliberate short-term funding from central government.
On June 24, 2009, one month prior to Johnson's reneging on his promises, Commander Mark Simmons reported to the London Assembly Public Health Committee. Simmons said the number of women reporting to metropolitan police a male(s) had raped them has increased by 15 per cent in just one year. The number of women reporting has increased from 1,094 to 2,180 for year ending March 2009. Simmons told committee members this figure is a serious underestimate as about 90 per cent cases of males raping women continues to go unreported to police. The latest figures for Metropolitan Police show that only 8.2 per cent males were convicted of raping a woman/women for year ending 2007.
RASASC in Croydon is the only Rape Crisis Centre for some 3.9m women living in London. Due to chronic sustained under-funding the staff and volunteers at Croydon are only able to support and help 18 per cent of all women who contact this centre. Furthermore not all women who contact this centre live in or near Croydon.
Not all rape cases are ones wherein a male(s) has allegedly raped a woman within the last twelve months. Many women report to police alleged offences committed against them by a male(s) when they were children, teenagers, or a male family member allegedly committed sexual violence against them some years previously. This means the woman is not eligible to access professional support and/or counseling provided by the four central government Sexual Assault Referral Centres in London. SARCS can only provide support and counseling to women who have experienced male sexual violence within the last twelve months.
Rape Crisis Centres however, provide expert counseling and support to any woman who reports a male has raped and/or committed other forms of sexual violence against her person. This is irrespective of whether the alleged male sexual violence committed against the woman or girl happened within the last twelve months, the last two years or even decades previously. Many women do not immediately seek expert support but only decide much later when they feel able to begin the long journey of dealing with the trauma and aftermath of male sexual violence. This is why one Rape Crisis Centre in Croydon is not adequate given women who have experienced male sexual violence do not all live within the vicinity of Croydon but encompass all geographic areas of Greater London.
Johnson recently recorded a message on Youtube saying "We are of course going to be rolling out more funding for centres in the East and in the North of the city as well. So keep fighting everybody who is campaigning on this issue and work with us to give London the rape crisis provision it needs."
One wonders why the 'Boris Keep Your Promise' campaigners should have to 'keep fighting' in order to ensure Mr. Johnson keeps his pre-election manifesto promises. The 'Boris Keep Your Promise' campaigners message to London Mayor Johnson is this: 'Deeds not words Mr. Mayor.'
Categorised in: Article
This post was written by Jennifer Drew