December 11, 2009 12:00 am
Leave your thoughts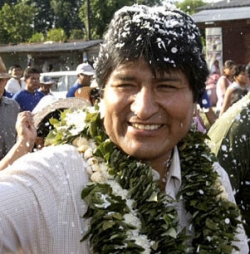 Venezuelan President Hugo Chavez congratulated his Bolivian counterpart Evo Morales for his landslide electoral victory on Sunday saying it was a victory for all of Latin America.
"Yesterday there was jubilation throughout the continent," Chavez said Monday during his speech at the First International Conference celebrating 10 years since the adoption of the Bolivarian Constitution of Venezuela.
Chavez said he was sure Morales would continue "fighting without rest to diminish poverty" and improve the welfare of his people, "based on indigenous philosophy."
Morales, Bolivia's first indigenous president, was re-elected with 63% of the vote, 35% ahead of his nearest rival Manfred Reyes Villa.
Chavez said that governments like that of Morales embody a social movement which he dubbed "popular constitutionalism," that exists throughout Latin America is also promoted by the governments of Rafael Correa (Ecuador), Luiz Inácio Lula da Silva (Brazil) and Cristina Fernandez (Argentina).
"This process that I dare to call constitutionalism is a new force," and "I say with humility that the initial outbreak began here in Caracas," he said, referring to the adoption of the new constitution in 1999, which many refer to as the beginning of the 'Bolivarian revolution', as the process of progressive social change underway in Venezuela is known.
"Here in Caracas was where it was born and I believe we must stay strong and I think the [US] Empire is clear on that and that's why it has concentrated its fire on Venezuela," he added.
He stressed that more needs to be done to deepen this social process across Latin America "with the variations of each case, of each country… to build a new path in peace…The other way would be to take up arms. I think that is what the bourgeoisie wants but they are at a disadvantage even though they count on the support of the Empire."
Chavez pointed out that when the president of Honduras, Manuel Zelaya, made the proposal to consult the people about the possibility of convening a Constituent Assembly; he was deposed in a military coup, which, according to the Venezuelan president demonstrates "the terror of the Honduras bourgeoisie has of popular constitutionalism."
As in Honduras, the threat of a military coup also exists in Bolivia and Ecuador, in order "to stem the rising tide" of independent governments Chavez said.
Categorised in: Article
This post was written by Kiraz Janicke