January 8, 2010 12:00 am
Leave your thoughts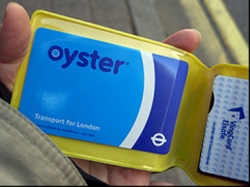 As of January 2, 2010, Oyster Pay As You Go (PAYG) was extended to all train services within Greater London and those outside areas which fall within the zonal fare system: including an extension on train services to and from Grays in Essex.
Usually this would be a welcome and long-overdue development for anyone who uses public transport. As most Londoners know, the whole idea of PAYG is that the card is scanned at the ticket barriers at one station, the destination is reached and the card is scanned again when the exit barriers are passed through and the system deducts the correct amount from the balance on the card. Unfortunately, the implementation in the new areas is not as simple as that.
Oyster PAYG was already accepted for certain train journeys within Greater London, usually where there is a parallel route served by the Tube, DLR and/or London Overground. These journeys have not been affected by the new system and so the old rules apply, i.e. in order for it to be valid then swiping in at the start of a journey and swiping out at the end is all that is required. However, this does leave a big area – almost the entirety of south London plus the outer suburbs of north London – which will have to get used to certain procedures.
The main problem with the new system is that it is advertised and promoted as "One Ticket for London". However, this is not accurate. In order for PAYG to be valid in the new areas, passengers will still have to queue up at a ticket office in order to buy an "Oyster Extension Permit" (OEP), i.e. an add-on to your card, or else the passenger will be liable for fare dodging. The card will then be valid for that journey, but if a passenger wants to come back the same way then another OEP will need to be added to the card in order to make the return journey. A further complication is that only one OEP can be added to an Oyster card at any one time, i.e. passengers will need to queue up twice to make a journey on the trains outside any travelcard that is loaded onto the ticket. TfL have said that this will only cover 0.04 per cent of journeys. While this is a minuscule amount of journeys, 1 in every 2,500, the question needs to be asked that if only a tiny amount of journeys will be affected, is there any real need for this process? Also, it is unfair for people to have to be penalised in this manner, simply because they happen to live in an area which did not previously accept PAYG.
As an aside, it is likely that there will be court cases regarding alleged fare dodging, presumably in a situation where passengers have heard that they can use their PAYG card but did not have an OEP placed onto it.
There are also various fare schemes which stem from the new PAYG areas, which, frankly, can only be described as bizarre. Say, for example, a passenger wanted to travel from Wimbledon (zone 3 and in the new PAYG area) to central London. TfL's fares planner says that a journey to either Victoria, Cannon St or Charing Cross train station will cost £2 at off-peak times, but a journey to Victoria, Cannon St or Charing Cross tube stations will cost £2.40 at off-peak time.
However, on both occasions the fares guide advises passengers to use the District line. The same prices are also quoted for journeys from Wimbledon to Waterloo and Waterloo East, with the cheaper fare being quoted for the rail journey, but a Tube route is provided. This poses a difficulty in that while at Wimbledon station both the tube and trains use the same ticket barriers, at each of the central London stations, completely separate ticket barriers are used by the trains and tube. Therefore, passengers are being told to do an impossible task in order to get the lower fare. It also raises an interesting legal argument if the higher fare was challenged on the grounds that a passenger was following the suggested route for the lower fare.
As an aside, if instead a passenger wanted to go to London Bridge, St.Pancras or Blackfriars station from Wimbledon, the fares planner quotes four different fares, ranging from £2 to £3.10 depending on whether the tube is used the whole way, the train is used the whole way, the tube is used to central London and then onto a train or if a passenger chooses to change at Vauxhall. There are further examples of odd fares on BorisWatch.co.uk, including the fact that if a passenger is heading to Oxford Circus a cheaper fare can be obtained by changing onto the tube at either Vauxhall or Elephant & Castle.
Something needs to be done to sort this out. It cannot be correct or indeed practicable to have the situation whereby there are different fares for a journey between the same two stations, especially when different fares can apply for a journey along the same route! It should cost the same amount for a journey from say zone 3 to zone 1,irrespective of whether a passenger has used the Tube or the train.
Categorised in: Article
This post was written by Demetrius Notice