January 22, 2010 12:00 am
Leave your thoughts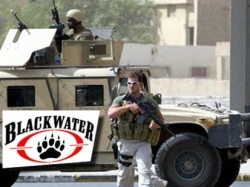 Exploitation and robbery – colonial style – is alive and well and now, more than ever mercenary soldiers are doing the dirty work. Unaccountable and secretive, contracted armies are the preferred method powerful western states use to destabilize governments and secure control of natural resources. With state complicity, soldiers for hire are uninhibited by fear of prosecution and use what ever means necessary to undermine national liberation movements and impose imperialist chains and the rule of Western big business.
Private armies are being used in covert operations in every major conflict around the world. Their numbers are amassed from demobilized national armies and often recruited from a violent, alienated population of ex-military and police whose job prospects are limited. The financial backers of mercenary armies are usually from the wealthy political elite and with a tendency to ruthlessness.
The story of Blackwater Worldwide and its rich boss, Erik Prince, is well known. It includes torture at Abu Graib, war crimes in the Nissor Square massacre in Iraq and videos showing their soldiers for hire on 'turkey shoots'. A former employee alleged that Prince "views himself as a Christian crusader tasked with eliminating Muslims and the Islamic faith from the globe," and that the company "encouraged and rewarded the destruction of Iraqi life." With so much bad press the name of the company was changed to Xe.

Simon Mann and his failed African coup

Lesser known but equally contemptible are the intrigues of British private military companies. We were afforded a rare glimpse when Simon Mann of the British based mercenary company Sandline International was recently pardoned after serving 4 of a 34-year sentence in Equatorial Guinea for his role in the failed coup attempt of 2004. Mann admitted attempting to acquire assault rifles, grenades, anti-tank rocket launchers and other weapons from Zimbabwe Defense Industries en route to overthrowing Teodoro Mbasogo Obiang, the President of the oil-rich West African country.
Mann and his group were offered $1.8 million and lucrative oil rights by the Spanish-based opposition leader, Severo Moto, who was to depose Obiang. Apparently, the plan unfolded with the full knowledge of the Spanish government. Not surprising – since Equatorial Guinea had excluded Spain, its former colonial master, from access to their oil. Several British establishment figures and a right-wing coterie of businessmen like former Conservative Party official and millionaire Jeffrey Archer and Margaret Thatcher's son, Mark Thatcher, have been implicated as well. Talking about Thatcher, Mann said, "He was not just an investor. I mean he came on board completely and became a part of the management team." He was managing what Mann described as 'a nice, orderly, gentlemanly coup d'etat.' (BBC Storyville, Simon Mann's African Coup)

British big business implicated

Also said to be involved is oil tycoon Ely Calil who is from a rich, well-connected family based in Nigeria. He brokers transactions between oil companies and African governments using discreet payments and backroom deals. Like his cohorts, Mann was born into privilege. As befits the heir to a brewing fortune, he studied at Eton, followed by Sandhurst, the prestigious military academy. From there, it was a natural progression to the Scots Guards, an army regiment associated with royalty and the upper class of British society and then rose swiftly to the rank of SAS commander. After serving in Cyprus, Central America, Northern Ireland, and the Gulf, he left the military to set up the South African based company Executive Outcomes with his associate Tony Buckingham (now a successful executive of Heritage Oil Corporation) in the early 1990s.
Executive Outcomes specialized in the work of protecting businesses operating in conflict zones and earned millions in places like Angola. They recruited most of their soldiers from disbanded apartheid-era military and police units. Eeben Barlow, another of the company's founders, was a commander in the 32 Battalion and the covert Special Forces organisation called the Civil Cooperation Bureau that was involved in beatings, bombings and assassinations. Many of the 64 mercenaries arrested with Mann in the failed Equatorial Guinea coup were former members of the 32 Battalion of South Africa.
In the mid-1990s Mann went on to establish another private security firm called Sandline International, which was linked to the civil war in Sierra Leone. His partner was controversial former Scots Guardsman Tim Spicer, who defended soldiers under his command after they shot dead a reportedly unarmed Catholic civilian in Northern Ireland in 1992.

Dirty work in Papua New Guinea

In 1997 Sandline teamed up with Executive Outcomes in Papua New Guinea in a sequence of events that came to be known as the 'Sandline affair'. The government of Papua New Guinea hired Sandline (who subcontracted Executive Outcomes) to suppress the Bougainville rebellion. Bougainville is an island rich in copper and gold with a large mine owned by a subsidiary of Rio Tinto. Disputes over the social, financial and environmental impact of the mine resulted in the creation of a mass secessionist movement led by the Bougainville Revolutionary Army, who crippled the mine in acts of sabotage that forced it to close in 1989.
By 1996 a deal was struck with Sandline to help put down the rebellion and regain control of the mine. The money for the $46 million contract was to be acquired from cutbacks to the education and health ministries. The contract was approved without a vote in Parliament and was implemented without the support or knowledge of the head of the military, Jerry Singirok. When he discovered that 44 mercenaries had arrived in the country Singirok condemned the government and had the entire Sandline mercenary band disarmed and arrested. He accused Prime Minister Chan of corruption, and gave him 48 hours to resign. Chan refused and sacked Singirok and ordered him arrested instead. The police and the army faced off against each other. News got out and disaffection with the Chan government spread to the general population. Thousands of students, workers, youth and soldiers participated in angry demonstrations against corruption. With large crowds outside Parliament, Chan finally agreed to cancel the Sandline contract and to resign.
Sandline was closed in 2004 but Tim Spicer, along with much of the former personnel, reappeared as Aegis Defense Services. The same year, Aegis won a $293 million contract in Iraq, effectively putting Spicer in charge of the second largest military force in Iraq – some 20,000 private soldiers. Soon enough there was trouble when a 'trophy' video was posted on an Aegis employee website showing its security guards randomly shooting Iraqi civilians from their vehicle.
Alarmingly, the trend to privatize war has increased. Licensed to kill, mercenaries are available to the highest bidder. But, whether American, British or South African, private armies have the same mandate wherever they are deployed; to work directly with big business or indirectly through governments to provide the military strength that enables big business to control the world's natural resources, markets and labour.
This article first appeared on Socialist Appeal.
Categorised in: Article
This post was written by Melanie Macdonald