January 22, 2010 12:00 am
Leave your thoughts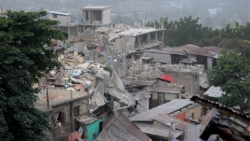 Venezuela has stepped up its aid effort to Haiti as a second earthquake rocked the Caribbean country again today. This follows a 7.3 magnitude earthquake which destroyed the Haitian capital, port-au-Prince last week leaving at least 75,000 people confirmed dead, 250,000 injured and millions homeless.
Echoing his Nicaraguan counterpart Daniel Ortega, who accused the United States of "manipulating the tragedy to install North American troops in Haiti" and French Secretary of State for Cooperation Alain Joyandet who criticised the US role in Haiti, saying the priority was "helping Haiti, not occupying Haiti," Venezuela's president Hugo Chavez also questioned the US military response to the disaster.
"It seems that the United States is militarily occupying Haiti, taking advantage of the tragedy, 6000 have soldiers arrived. Thousands of men are disembarking in Haiti as if it were a war," Chávez said during his weekly television program Alo Presidente on Sunday.
Haiti, "needs doctors, tents, rescue teams and machinery'Now, who said soldiers, rifles and machine guns are necessary?" he asked.
As of today, the US has donated $130 million (according to US AID), sent more than 11,200 military personal, 265 government medical personal, five Navy ships, as well as five Coast Guard cutters and seven cargo planes "to assist in aid delivery, support and evacuations," Associated Press (AP) reported. The US has delivered "more than 90,000 pounds" or 40 metric tonnes of aid and supplies the AP report continued. The US has also taken control of the airport at Port-au-Prince.
Aid organisation Doctors Without Borders has also criticised the US's prioritisation of military logistics over food and medical aid saying planes carrying urgently needed surgical equipment and drugs have been turned away five times, even though the agency received prior authorisation to land.
"Urgent and vital attention to the people has been delayed [for] military logistics," Francoise Saulnier, head of the Doctors Without Borders legal department was quoted by Reuters today. "So it's just apocalyptic at the moment with people in a very, very bad and deteriorating condition," she added.
Venezuela was the first country to send aid after the disaster struck on January 12, with an advance team of doctors, search and rescue experts as well as food, water, medical supplies and rescue equipment arriving in Port-au-Prince on the morning of January 13. However, Venezuelan Foreign Minister Nicholas Maduro said since than aid shipments to Haiti were being diverted via the neighbouring Dominican Republic to avoid restrictions imposed by the US at the Port-au-Prince airport.
So far Venezuela has sent 616 metric tons of food aid and 116 metric tons of equipment, including water purification systems, electrical generators and heavy equipment for moving rubble.
Venezuela, the largest oil exporter in South America, is also sending free fuel to the devastated country, with Chavez pledging "The Venezuelan people will donate all the fuel the Haitian people need."
The fuel will be used to operate power plants and public transportation. "We are coordinating with the president of the Dominican Republic Leonel Fernández, who put the terminal of the refinery of his country at our service," the Venezuelan president continued.
A tanker with 225 000 barrels (worth approximately US$18 million) of diesel fuel and gasoline departed from Venezuela on Sunday.
The Venezuela-Cuba initiated Bolivarian Alliance for the Peoples of our Americas (ALBA) fair trade bloc, which also includes Bolivia, Ecuador, Nicaragua, Dominica, Antigua and Barbados, and Saint Vincent and the Grenadines has also sent two ships carrying 4,761 metric tons of food aid.
Speaking at the inauguration of the San Agustín cable car system in Caracas today, Chavez announced that another five ships loaded with food and medical supplies departed for Haiti yesterday, adding, "We have sent one or two Venezuelan soldiers to support and protect the safety of everyone there, but not to militarily occupy them as the US intends to do."
He said the Venezuelan government is doing everything in its power to provide as much help as possible while at the same time respecting the independence and sovereignty of Haiti.
Chavez pointed out that Haiti was the first free republic in Latin America, and called for reflection on the situation of poverty in the Caribbean country, for which he said capitalism is responsible. "We all need to help the Haitians. Long live the people of Haiti!" he urged.
Categorised in: Article
This post was written by Kiraz Janicke