May 28, 2010 12:00 am
Leave your thoughts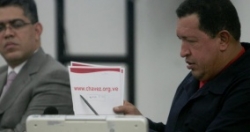 Venezuelan President Hugo Chavez announced the launch of his new interactive blog www.chavez.org.ve today, as part of a broader campaign to take the "media war" to the internet.
Available to users of the site are news articles, speeches, videos, feeds to his weekly column, Chavez's Lines, and his weekly television program, Hello President, as well as Cuban leader Fidel Castro's regular column, Fidel's Reflections, and section featuring suggested books such as Eduardo Galeano's Open Veins of Latin America.
The site will also feature a section called the "people's wall" where you can leave messages and suggestions to the president.
The site also links to Chavez's Twitter account @chavezcandanga, which has gained more than 430 000 followers in just under four weeks, making him the most followed Latin American leader and the most followed Venezuelan.
In response to the huge number of messages Chavez has been receiving following the launch of his twitter account, he announced the creation of a special program, Mission ChavezCandanga, staffed by 200 people to deal concretely with various requests.
Radio, television, print & web-based media have become hotly contested battlegrounds in politically polarised Venezuela, as most of the private media corporations either directly participated in or indirectly supported a 2002 military coup against Chavez.
In 2007 the government refused to renew the public broadcasting concession of one of the coup plotting television stations, RCTV, for violations of Venezuela's media law, prompting opposition claims of a crackdown on free speech. Despite this the overwhelming majority of the media remains in private hands and maintains a vehemently anti-Chavez line.
In addition to a government policy of expanding state radio and television to combat the corporate bias of the private media, Venezuela has seen a massive explosion of community media, in particular, community radio & television stations, reflecting the voices of Chavez's support base, the worker's and the poor.
Until recently pro-Chavez voices were a tiny minority in web-based media and social networking sites, however, the web presence of "Chavistas" is also expanding, with many new blogs, Facebook fan pages and so on springing up.
Chavez has rejected opposition and international media claims that he wants to "censor' the internet, and has in fact greatly expanded internet access to the poor under his presidency with more than 600 free info-centres being established around the country.
Categorised in: Article
This post was written by Kiraz Janicke