July 9, 2010 12:00 am
Leave your thoughts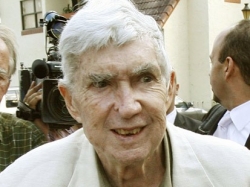 Venezuelan President Hugo Chavez announced last Friday that intelligence services at the Caracas airport have arrested a man wanted in connection with terrorist activities in Cuba from the 1970s.
According to the government, El Salvadorean Francisco Antonio Chavez Abarca tried to enter Venezuela on Thursday on a false Guatemalan passport but Interpol alerted them to his identity and requested his arrest.
Chavez said that he believed El Salvadorean Francisco Antonio Chavez Abarca may have come to assassinate him.
"This man didn't come here for tourism, he came here to plant a bomb. My head has a price and there are people willing to pay. What did this well-trained terrorist come to do in Venezuela?" Chavez asked.
However, Chavez Abarca's wife Karla Guadalupe Trigeros said yesterday that her husband had been kidnapped in Guatemala and taken to Venezuela by force.
She said: "He was in Guatemala; in fact, he told me that his telephone card was running out of balance and that he would call me later. How is it possible that he appears overnight in Venezuela?"
Chavez Barca is accused of being an accomplice of Luis Posada Carriles, a Venezuelan-born CIA operative, who is wanted in both Venezuela and Cuba for the bombing of a 1976 commercial Cuban airliner that killed 73 people on board.
Carriles is also wanted for bombing several hotels in Havana, Cuba, in the 1990s which he has publicly admitted carrying out.
He was arrested in Venezuela in 1976 where he was imprisoned until 1985, but he escaped.
After the escape he worked in Nicaragua for the Contras attempting to overthrow the Sandinista government and in 2000 he was detained in Panama for plotting to kill then Cuban President Fidel Castro.
Venezuela has requested the extradition of Carriles on numerous occasions but, despite professing to be antiterrorist, they have so far failed to do so.
On Saturday, the lawyer in charge of extradition proceedings for Carriles on behalf of the Venezuelan government Jose Pertierra declared that Chavez Abarca had arrived to Venezuela with a "terrorist plan" to attack Venezuela.
He said: "Chavez Abarca recruited citizens from Central America, more specifically El Salvadoreans and Guatemalans, on behalf of Posada Carriles, in order that they carry explosives to Cuba and blow up hotels and restaurants on the island," he said.
He went on to say that one of the bombs exploded in a hotel in Havana, Cuba, called the Copacobana, where an Italian tourist died in 1997.
Carriles is currently free and living in Miami, and the United States refuses to extradite him.
Categorised in: Article
This post was written by Steven Mather