November 11, 2011 12:00 am
Leave your thoughts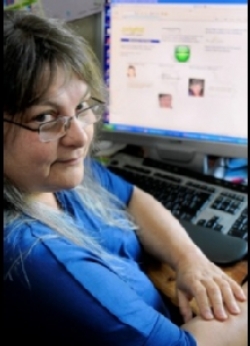 When Dadaist Marcel Duchamp appended the strange appellation L.H.O.O.Q. to his deliberate defacement of a postcard image of the Mona Lisa with a mustache and goatee, he invited us simultaneously to share his joke and view da Vinci's classic with new eyes.

Just as Picasso wanted us to see a bull's head jokily disembodied in a bicycle seat, Duchamp revealed a saucy pun attached to La Giaconda. For, though the weird word is pronounced "Look," taken letter by letter LHOOQ becomes "Elle a chaud au cul", translated as She's horny.

This other way of 'looking' Duchamp dubbed "The ReadyMades."

With his new online zine LHOOQ, polymorph Christopher Panzner aims to re-focus our cultural vision.

And, though he fails to credit Duchamp as his inspiration, Panzner defines his own aleatory compendium by a similar sensibility. It wears a mask composed of objets trouvés.

Panzner calls it "mindstyle," akin to lifestyle, an antidote to the glib surface cultural trends by and for those who prefer commercially driven glib presentations of empty lives. Hello, People, come Closer, grab your Fashion! coat, you've pulled. OK?!

Given not only these fierce economic times, but also the dwindling stamina of a reading public used to clichés and sound bites, it sure is brave to launch such a hefty catalogue. It weighs in at 255 pages – though, to be fair, in cyberspace no can hear you scream "How many pages?!"

The zine is a download thing. You pays your money and you gets your pdf copy. I'm a big fan of subverting an overfed publishing industry, wasteful of resources and promoting bottom lines over top content. And I'm all for taking full advantage of the web to do it. But content, especially online, needs some community of interests. And I don't believe Panzner's protestation that the zine represents one big open house, and it isn't aimed at anyone specific.

Lhooq's web taster promises a look and feel reminiscent of Robert Crum's comix, New York's shocking East Village Other, and London's equally shocking Oz, but most especially the mimeographed/stapled Fuck You, A Magazine of the Arts. It was launched in 1962 by Ed Sanders and Tuli Kupferberg who co-founded The Fugs. All fulfilled the brief of addressing a new readership, culturally aware, raging against the machine, iconoclastic.

Panzner's maiden voyage invites you into the staterooms of the cultural equivalent of a huge liner. While each article may or may not be of interest, sadly there's very little tying it all together. For a zine promising a different way of seeing it feels unfocused and, if I'm honest, a bit staid.

I could just about forgive all that if only it were leavened by humour, but there's precious little. What does come across is an amorphous idea that sounds good until you start reading. Then, the strongest impression is of an overly wordy tome of self-promotion and favours from friends.

The first 102 pages of the zine are by editor-in-chief Panzner. And there are a couple of profiles of animators with no by-lines, which may well also be by him.

Following his intro to the lhooq concept is a reprint of his two year old profile of Michael Holman and the hip hop/art scene, featuring Basquiat bigtime. At least this piece borrows some energy from the music scene. But most of the articles come from the college essay or encyclopedia entry school of journalism. Like the zine entire, they have no premise, no focus, no journalistic shape.

The overbalance of animation-related pieces belies Panzner's previous forays into the film world. But some of the articles do hold the promise of an interesting take on, for example, what might be more than a puff piece. In one case it's a personality portrait of drag-racer Adam Sorokin, by Art Ames. I looked for some off-the-wall agenda, but there's not a lot of revelation here. Sorokin gets a hard-on from racing, "It's life in one big explosion and I love it!"

There's no challenge that motor racing at whatever level only exacerbates the fuel crisis facing the world and is doing so much destruction both of our planet's resources as well as our health. The article reads more like a chapter in a book titled Polishing Your Helmet.

Lhooq around and you can learn of Sorokin's day-job as head of a company that does quality control for digitally remastered products for television. But search where you like, if you can trace Superior QC you're a better woman than I am! What we can find is Sorokin's endorsement of Panzner's Re:Animation project, rotoscoping live action into toons.

Sue Dunham's portrait of animator L. Elliot Taylor, may have actually been written by fellow animator Ben Mitchell who sometimes uses the female alias. Mitchell was one of the artists on Guard Dog Global Jam; Panzner was on the crew working Continuity.

Forgive me, Sue, if you are actually a woman. The only other female contributors to the zine are Panzner's photographer wife (or daughter?) Emma, and dancer/choreographer Hélène Lesterlin. Lesterlin's piece concerns one of her older works Praxis, which is heartfelt, but provides no real insight into the process of the artists, or of possible influences such as similar work pioneered by Martha Graham's late partner Robert Cohan who started The Place in London. Still, it's a change from Panzner's voice.

And another is an interesting piece on a growing scepticism of Science by ignorant proponents of popular culture. It's by Johns Hopkins AIDS researcher Dr. Chris Beyrer.

A well illustrated article intriguingly titled Sci-Finance by Philip Volkoff writes from "the future" seeking a pseudo-retrospective analysis of the effects of the wonky global economy on sections of society which never expected to relive the stresses of their Depression Era forbearers. Volkoff gives trading tips online, but he's probably the same guy who's worked as a clapper-loader on a couple of films.

I dunno – maybe I should keep lhooq-ing, and maybe Panzner's the real deal. But as someone who's passionate about culture, high, low, and round the corner – I can't see myself shelling out ten bucks or even ten euros per issue for stuff that's increasingly available gratis online by some more articulate and galvanizing thinkers than appear in this zine.

Tags: Arts, Review


Categorised in: Article

This post was written by outRageous!