January 12, 2014 2:53 am
Leave your thoughts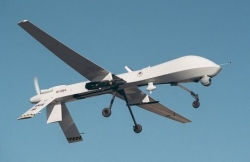 Due to the endless fighting amongst foreign and local militants, on the one side, and the Pakistani Army and US Predator drones on the other, every aspect of life in Pakistan's tribal areas, especially in North and South Waziristan, has become hell on earth.
The US Predator Drone attacks coupled with the long-standing presence of foreign militants in Northern and Southern Waziristan, the remote and lawless tribal areas of Pakistan have imprisoned local tribes and their leaders between outsiders who are using the tribal lands to wage a battle. South and North Waziristan have borders with the Afghan provinces of Paktika, Khost and Paktia. The use of US drone strikes in the tribal areas of Pakistan started in 2004, when the Pakistani Taliban's first ever commander Nek Muhammad was killed on the 18th June 2004. Initially, the Pakistani Government took responsibility for Nek Muhammad's death but afterwards, in 2006, American broadcast television network PBS Front Line reported that he was killed in a US drone attack.
During a recent visit to North Waziristan, I observed the locals in big trouble. Almost all day and night you will hear the sound of drones in the air, sometimes you will even be able to see them clearly. Similarly, you can observe the Taliban openly as well, carrying guns. On the roads you will also find many check points manned by the Pakistan army searching and investigating people in the long-standing lines.
Militancy rife in the region

A business man in Miranshah, headquarters of North Waziristan, told me during this visit that now a day here is an uncertain situation, "you can face anything in the form of drone attack or in the shape of militant abduction or punishment". He further said that, "Our businesses, schools and hospitals have been destroyed due to the war torn situation in the area' military operation or shelling happen at any time." He added that recently in the National Assembly session, Minister for States and Frontier Regions (Safron), Lt General (retd) Abdul Qadir Baloch informed the National Assembly that more then 1,029 educational institutions are non-functional in the Federally Administered Tribal Areas (FATA) of Pakistan. He was of the view that all this destruction happened because of the militancy in the area.

A BBC report revealed last year that, "during the last five years in the Federally Administered Tribal Areas (FATA) 485 schools and colleges had been destroyed, which affects a half million school going children and students."

Constant fighting and militancy in the tribal areas of Pakistan converts the region into a widespread arena for illegal drug or pharmaceutical smuggling since there is no ability for law enforcement to operate. According to the doctors in North Waziristan, it is difficult to control the illegal drugs or pharmaceutical materials. Speaking on condition of anonymity, one doctor noted, anecdotally, that recently there had been a marked increase in people seeking medical attention for psychological trauma visiting him and his pharmacy since the fighting and drone bombings had increased.

Additionally, in both North and South Waziristan, there is no polio vaccination taking place on the ground since Taliban commander Hafiz Gul Bahader in the North and Taliban Commander Nazir in South Waziristan banned polio vaccination in 2011. This declaration regarding no polio vaccination in the area was in response to US drone strikes and will continue until drone attacks stop in the region.

A tribal elder who is frightened by both the militants and the Pakistani security agencies spoke on the condition of anonymity. He said that the local tribesmen are facing big problems and challenges. While terming the current situations as an unannounced Third World War, he said that "we the tribal [people] are losing our traditions, values and culture while the whole world is fighting their own interest here". He explained that " once the militants capture your home then they would not be ready on any condition to leave the house."

The elder went on to say, "we are bound in our own areas; sometimes we feel fear because from the drone attacks and [sometimes] from the Pakistani army and [security] agencies that might declare us 'turncoats'. Also, you cannot neglect the militants as any time as they can do anything with you, because there is no single power, everyone is trying to be big beneficiary."

Punjabi Taliban Commander, Asmattulah Muaweya, who was criticised by former head of the Taliban in Pakistan, Hakimullah Mehsud, regarding a peace talk statement, told me in his exclusive interview that peace talks are important for Pakistan and the Taliban as well. He said the Pakistani government must be serious and should tell America clearly that they must stop their drone strikes in the tribal areas.

Tribespeople protest drones and children at risk from drone attacks

In 2009, the Pakistan army lunched a military operation in South Waziristan called operation Rahe Nijat (Path to Salvation) against the Pakistani Taliban militants Tehrik Taliban Pakistan (TTP) and the Islamic Movement of Uzbekistan and Arabs. According to information that was provided to the National Database & Registration Authority (NADRA) by a local NGO, military operations in South Waziristan caused 69,000 Mehsud tribal families to flee from their native homes.

A local journalist from South Waziristan who requested he not be named said that "approximately around two hundred of the Mehsud elders had been secretly killed, as they were raising [their] voices for the people". He said this was not only happening in South Waziristan but it happens in the entire tribal region of Pakistan. A social worker, who works with Internally Displaced Persons (IDPs), stated that after a long military offensive against the militants in South Waziristan government officials were pushing the Mehsud tribesmen to go back into these areas. However, the tribesmen persist that they will not return to their homes until the military leave the area or the militants are eliminated.

The writer is an Islamabad based freelance tribal journalist. He can be reached at gohar.mehsud@gmail.com

This article first appeared on http://activist1.wordpress.com/2014/01/11/waziristan-tribal-people-caught-between-drones-pakistan-army-and-insurgency/ and has been reprinted here with kind permission

Tags: Asia


Categorised in: Article

This post was written by Gohar Mehsud