February 1, 2014 12:00 am
Leave your thoughts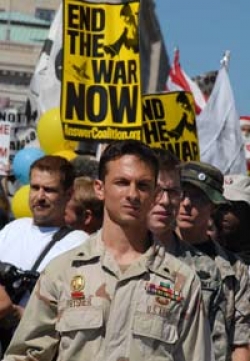 Before President Obama even began the State of the Union address, two people I knew in the audience, from two defining points in my life, were much more significant to me. I thought their presence reflected the "State of the Union" better than anything the President could have said.
Post-war life is good for Odierno, along with
the other generals, politicians and CEOs
in his circles.
The first guest was General Ray Odierno, now the Chief of Staff of the Army. One of my most invasive memories is of my time on an outpost with his 4th Infantry Division, relentlessly attacked, in a rural farming area called Hawija. I would see him from time to time-in much safer places, of course. Long nights huddled in a smoke-filled bunker, feeling like nothing but target practice, was no place for a general.
I remember him as the happiest (and highest-ranking) person I encountered in country, always jovial and excited. I remember thinking then, at age 19, that he was so happy because he knew that deployment could make his career. And he was right; commanding an armored division during the biggest invasion and occupation of a country since Vietnam would certainly do that; especially when your soldiers end up capturing Saddam Hussein. The future was looking bright for Odierno in 2003.
Odierno even slept in Saddam Hussein's main palace in Tikrit. Far away, his soldiers bled all over his outposts and drove over IEDs, earning him his "glory." Iraqi civilians in his area of operations experienced what would lead to major criticism of the "belligerence" of his tactics as a commander.
The other guest was Carlos Arredondo, the "cowboy hat wearing hero" of the Boston bombing, famously photographed rushing a victim with severed legs to safety.
The first time I ever spoke publicly at an anti-war event, back in 2006, it was sharing a panel with Carlos. His first of two sons, Alexander Arredondo, was killed in Iraq in 2004, in different part of the country from Odierno and me. He was just 20 years old. I didn't say much that day, but just sitting there with him and his partner, Melida, was a source of strength and inspiration that would never leave me.
Carlos took this striking memorial to his son
all over the country, for years, trying to end
the war by sharing his pain.

Carlos-at the time an undocumented immigrant-reacted to the death of Alexander by dedicating his entire life to anti-war activism, touring the country with a striking visual memorial to his son, talking to everybody he encountered along the way about opposing the war. He became an icon of the Iraq war-a shattered, mourning father, pulling a flag-draped coffin with his son's photo in front of the White House.

Odierno's career had been made. He shot up to Four-Star General by 2008. Like all general officers, especially of his privileged West Point-graduate variety, very lucrative post-retirement "advisor" positions in the defense industry have opened up. He got the top staff position in the Army under Obama in 2011.

Carlos's only surviving son, Brian, committed suicide that same year. It was just days before Christmas. He was only 24 years old. Suicide-another hallmark of the misery caused by that war for both veterans and families-became another cause Carlos would dedicate his life to.

Millions of lives were torn apart by the Iraq war. But not equally.

It was working-class and immigrant families who had to bear the hair-pulling horror of seeing their children come home in coffins. It was idealistic, college- and career-aspiring youth who were sent to be blown apart in those flimsy Humvees. It was Iraqi teachers, nurses, farmers, hotel workers-and their children, babies and grandparents-who were the so-called "collateral damage."

It wasn't the general officers who built their careers on having the most aggressive strategy, which they watched from computer screens in palaces while their soldiers were blown to pieces. It wasn't the families of the CEOs of the defense and energy industry giants, bursting with profits from Pentagon contracts, or the families of the politicians they take to dinner.

Some got promotions and career boosts. Some got bonus checks and fat dividends. But most are shredded, in body and mind. Most will spend the rest of their lives overwhelmed with trying to recover; many on crutches and canes, many with pills. Most will forever struggle to choke back tears whenever a reminder of those years enters their minds.

Carlos and Odierno may have been guests at the same speech, but they live in two very different worlds.

Whatever Obama said in his address, from employment and immigration to foreign policy, it was all about fixing things within a world like that-where only one class (which constitutes the majority of us) is made to make the biggest sacrifices, and another class-a much smaller one-is the supreme leader and benefactor.

A system set up like this can only replicate the same heart-wrenching tragedies for people like us.

No need to watch the State of the Union-we need a revolution.

This statement was originally published by March Forward!, an anti-war organization of veterans and service members, and republished here with kind permission. Click here to make a donation to support their work http://www.answercoalition.org/march-forward/

Tags: North America


Categorised in: Article

This post was written by Michael Prysner